Boris Johnson's plan to expand wind power welcomed, but 'funding doesn't match rhetoric'
Prime minister's 'newly found enthusiasm' for renewable energy must be followed with concerted action, experts say
Harry Cockburn
Tuesday 06 October 2020 16:22 Comments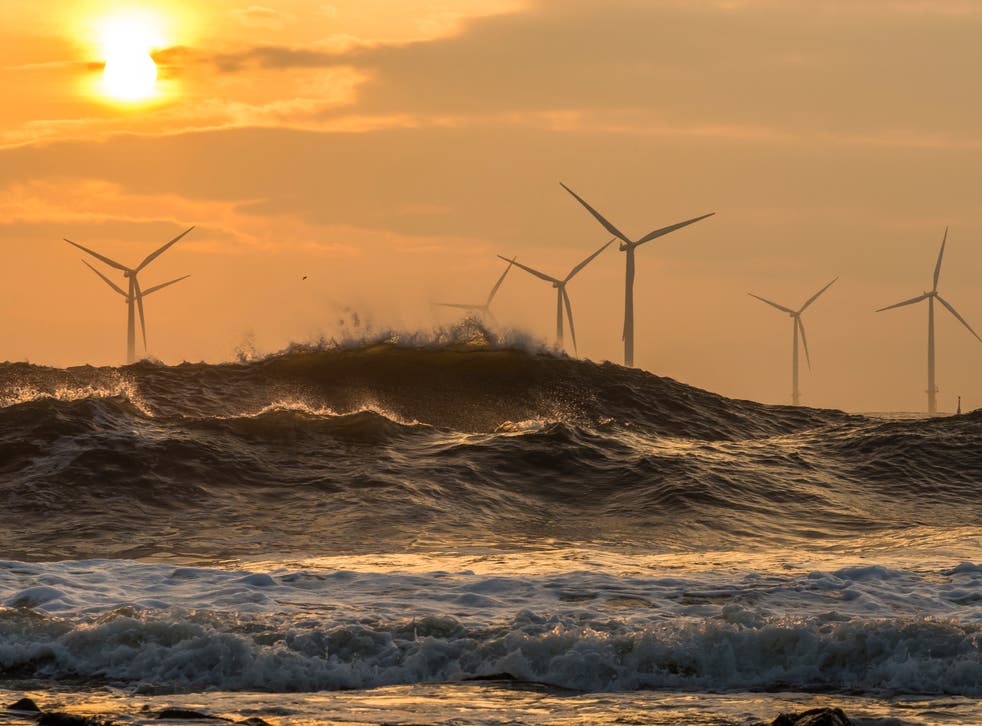 Boris Johnson's announcement of a plan to power every home in the UK with wind power has been welcomed by environmental campaigners and organisations, but some have said that the £160m which the prime minister has earmarked for kickstarting such a large expansion is not enough.
At the Conservative Party conference on Tuesday, Mr Johnson said he wanted to make the UK what he described as "the Saudi Arabia of wind", and said the sector would provide "hundreds of thousands, if not millions, of jobs".
Mr Johnson said: "I can today announce that the UK government has decided to become the world leader in low-cost clean power generation — cheaper than coal and gas — and we believe that in 10 years' time, offshore wind will be powering every home in the country, with our target rising from 30 gigawatts to 40 gigawatts."
The recognition that moving towards a greener economy could fire up industry and what Mr Johnson called "green-collar jobs" was hailed as a "lightbulb moment" by Greenpeace, but the organisation warned that it would require action in this parliament.
The government said the £160m investment "will see around 2,000 construction jobs rapidly created and will enable the sector to support up to 60,000 jobs directly and indirectly by 2030, in ports, factories and the supply chains, manufacturing the next generation of offshore wind turbines and delivering clean energy to the UK".
The small sum comes despite analysts suggesting that reaching 40 gigawatts (GW) of offshore wind capacity would require £50bn of capital investment and the completion of a turbine every weekday for the next 10 years.
In response to the prime minister's speech, Jonathan Bartley, co-leader of the Green Party, said: "For decades, Greens have been arguing that the UK is ideally placed to become a world leader in onshore and offshore wind power.
"But we have battled opposition from Conservative MPs locally and nationally as they sheltered their fossil fuel friends. Johnson's support for wind power suggests that the transition to green energy is now irreversible.
"However, the level of investment proposed by the prime minister is nowhere near matching his rhetoric. The £160m for wind power due to be announced today falls far short of the £48bn that analysts say is necessary. The government needs to set out where this investment will come from.
"Nor will it provide what we need to power every sector of the economy, most notably transport. The Green Party proposes that 70 per cent of the country's electricity should be provided by wind by 2030. The government's proposals fall far short of this."
Mr Johnson sought to win over those who remain sceptical about renewable energy by invoking the founding of the British Empire, and Walter Raleigh and Francis Drake, who depended on "offshore wind" to fill the sails of their boats.
"I remember how some people used to sneer at wind power 20 years ago, and say that it wouldn't pull the skin off a rice pudding," Mr Johnson said. "They forgot the history of this country. It was offshore wind that puffed the sails of Drake and Raleigh and Nelson, and propelled this country to commercial greatness."
In 2013, Mr Johnson himself told radio station LBC that wind turbines "couldn't pull the skin off a rice pudding".
Academics welcomed the new direction the prime minister is pursuing, but also warned that £160m would not be enough investment.
Professor Rafael Palacios, from the Department of Aeronautics at Imperial College London, told The Independent the announcement was "very good news", but said achieving 40GW of offshore capacity in a decade would not be straightforward.
He said: "£160m (probably spread through many years) is a very small amount to have a real impact on our climate change commitments, if that's the goal.
"But the change in rhetoric was very much necessary. Wind power has to be at the centre of our net zero target. It is the one resource that both exists in the UK and that meets any cost/benefit analysis with proven technology."
He said multiplying existing capacity by four, over 10 years was "definitely achievable" and said, poking fun at the government's coronavirus testing targets: "I wouldn't say it was a 'moonshot'."
But he warned: "It won't be straightforward. The key challenge is to bring down the cost of future floating farms which are a very long distance from the coast – that's where most of the untapped wind resource is and that is the one technology which is not yet mature enough, so that would need to be accelerated to meet this challenge. However, the success history and the speed of development of offshore wind suggests that it will be doable."
Dr Malte Jansen, from the Centre for Environmental Policy at Imperial College London, pointed out that windfarms built in the past were significantly smaller than the windfarms currently in the pipeline.
"When looking at the SSE/Equinor Dogger Bank windfarm, 3.2GW will be added in a single windfarm," he said.
"The cost issues have been overcome, as this windfarm will most likely pay back subsidies to the consumers," he added.
The executive director of Greenpeace UK, John Sauven, said Mr Johnson's "newly found enthusiasm" for renewable energy must be followed by action.
"The prime minister's recognition that last year's Tory manifesto commitment on offshore wind can generate jobs whilst cutting energy bills and carbon is a great lightbulb moment," he said.
"If carried through, it would help cement the UK's global leadership in this key technology. But delivering 40 GWs of power on to the grid by 2030 requires action in this parliament.
"We now need to see the prime minister's newly found enthusiasm is followed through by knocking down all the barriers that the offshore wind industry faces in delivering its ambition."
Friends of the Earth's head of policy, Mike Childs, said the change of direction from the Conservative leadership indicates that any argument over the strength of renewables "has clearly been won", and called for greater support for onshore wind.
He said: "Investment in offshore wind is certainly critical for powering a cleaner, fairer future, but Boris Johnson mustn't ignore the huge contribution onshore wind could make too.
"Government planning restrictions on onshore wind, introduced by his predecessor David Cameron, have had a devastating impact on the sector – they must urgently be reversed."
Dr Ajay Gambhir, a senior research fellow at the Grantham Institute for Climate Change and the Environment at Imperial College London, pointed out how rapidly the price of installing wind power has fallen.
He said: "Just six years ago, offshore wind in Great Britain still cost as much as £150/MWh, making it one of the most expensive electricity generation technologies. Recent projects have been commissioned with an expected cost of less than £40/MWh.
"This remarkable fall in cost, with potentially more to come, makes it unsurprising that this once-unloved technology is now seen as a bedrock of future zero-carbon electricity generation here."
The result of a surge in wind-power capacity, combined with the lowering price of installation, could also deliver cheaper power for UK consumers.
Jess Ralston, analyst at the Energy and Climate Intelligence Unit, told The Independent: "This ambitious medium-term target to up the offshore wind sector's input into the net-zero electricity system is equally as good for reducing carbon emissions as it is for consumer's wallets. Offshore wind is one of the cheapest and greenest renewable electricity sources around and at 40GW, as promised by 2030, it could account for around half of the UK's energy needs at the end of the decade. This would place us at a world-leading level of renewable generation – double the whole of Europe's current offshore wind capacity (around 22GW).
"This is a big plus for energy bills, as offshore wind costs have been massively reduced through the Contracts for Difference auctions over recent years, to the point where they are now 40 per cent below what we expected for 2030 (at around £69/MWh). They're even way down on what was expected just a few years ago, paving the way for future progress on price. So much so, we're on the brink of 'negative subsidy' – where the windfarms will end up paying back to the government (and therefore consumers) over their lifetimes – and as the majority of investment will be private too, this means the capital will be fronted by businesses rather than the public."
Register for free to continue reading
Registration is a free and easy way to support our truly independent journalism
By registering, you will also enjoy limited access to Premium articles, exclusive newsletters, commenting, and virtual events with our leading journalists
Already have an account? sign in
Join our new commenting forum
Join thought-provoking conversations, follow other Independent readers and see their replies