'A global conservation disaster': Fury as Botswana sells 60 elephant shoot permits to trophy-hunters
'The species will be more prone to disease and the risk of extinction is greater,' says wildlife activist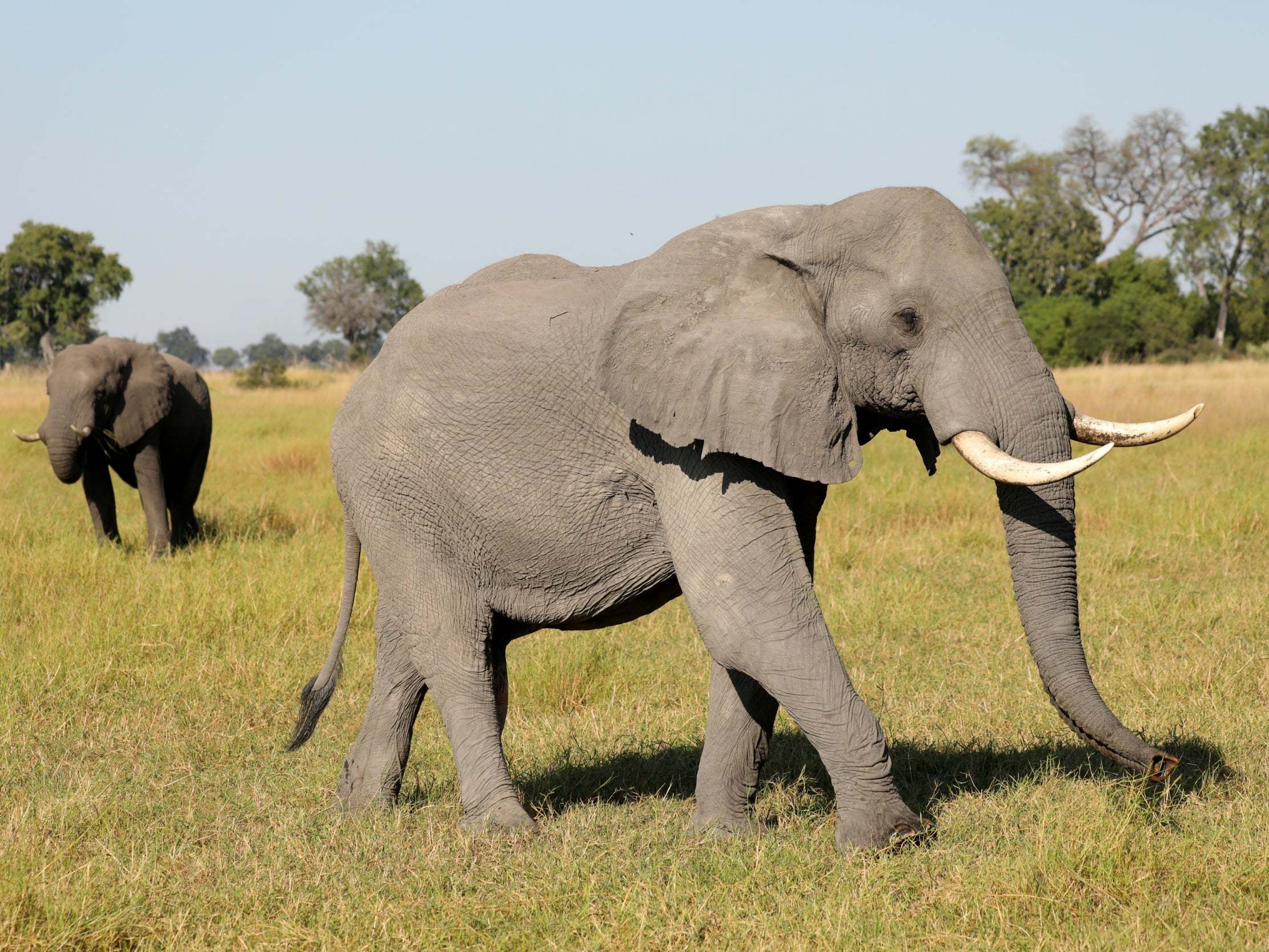 Botswana has sold licences to shoot dead dozens of elephants for tens of thousands of pounds each, in what experts are warning could be a "major global conservation disaster".
The country auctioned off hunts for 60 of the huge mammals for a total of 25.7m Botswanan pula – £1.8m, or more than £30,200 each.
Conservationists have told the country's leaders they risk hastening elephant extinction.
And African organisations that wanted to bid at the auction and put the money towards local community projects instead of shooting animals were angry at being excluded from the bidding.
The EMS Foundation tweeted afterwards: "Shame on you, President Masisi – we will not forget."
Protesters demand a UK ban on imports of 'trophy hunt' animal parts
Show all 15
Wildlife activists had lobbied against the decision last year by Mokgweetsi Masisi to end Botswana's five-year ban on big-game hunting.
The government has issued a quota for the killing of 272 elephants during this year's hunting season, from April to September.
A seventh lot at Friday's auction – to shoot 10 others - failed to meet the reserve price of 2 million pula (£141,000).
Africa's elephant population has plummeted by more than two-thirds in 40 years: from 1.3million in 1979 to 415,000 in 2015, official figures show, and the species is listed as vulnerable to extinction by wildlife body the IUCN. Poaching is the leading cause of the decline.
But Botswana has the world's biggest population of elephants – about 130,000 – almost one-third of the continent's total.
Their numbers in the country have grown since the 1990s, and as humans have expanded farmland, elephants have increasingly taken crops, prompting officials to promote hunting to ease the "human-elephant conflict".
However, some environmentalists fear licensed hunting could fuel demand for body parts and so encourage even more illegal poaching, opening the path to extinction.
Eduardo Goncalves, founder of the Campaign to Ban Trophy Hunting, told The Independent that attrition from trophy-hunting and poaching was greater than the annual birth rate of elephants in Africa.
"Scientists have noticed that trophy hunting and poaching of African elephants is leading to elephants having shorter tusks and that there are now more adult elephants with no tusks," he said.
"Trophy hunting is artificial selection. By targeting the biggest and strongest animals, it leaves the weaker, smaller animals behind. This means the best genes are being lost, so the species will be less able to adapt to accelerating climate change, it will be more prone to disease, and the risk of extinction is greater."
He said the move would be bad for some of Botswana's poorest communities, as it meant one-off trophy fees replacing income streams from nature tourism of $2m (£1.5m) over an elephant's lifetime.
A letter from wildlife experts and celebrities, including explorer Sir Ranulph Fiennes, to President Masisi when he was reconsidering the ban said: "Trophy-hunting of elephants often brings a slow, painful death. With its population dwindling and increasingly scattered, the impact of trophy-hunting could be disastrous and possibly contribute to the extinction of the species.
"This would be a major global conservation disaster – potentially the worst in living memory – and have tremendously damaging consequences for efforts to conserve endangered fauna and flora everywhere."
The country's government says the large sums of money from trophy-hunters benefit local communities.
But Leslie Olonyi, an environmental lawyer from Kenya, said: "African youth are now, more than ever, alive to the truth that elephants are part of our pride and heritage to conserve and hold in trust for future generations. Shortsighted politicians, poachers, trophy-hunters and their silver bullets must never be allowed to endanger this heritage."
Animal Defenders International appealed to people to protest outside the Botswanan embassy in their country.
Rosemary Alles, co-founder and president of the Global March for Elephants and Rhinos, said: "Studies have shown that local communities do not reap the benefits that they are promised from the hunting industry.
"Killing 272 elephants in Botswana will not control elephant numbers, it will not reduce human-elephant conflict and will not create jobs in areas where opportunities are scarce.
"Appropriate land-use planning including dedicated migratory corridors will aid elephant dispersal and increase the probability of amicable human elephant coexistence."
When the government last year decided to allow new culls, an environment ministry spokesperson said: "Predators appear to have increased and were causing a lot of damage as they kill livestock in large numbers.
"There is a negative impact of the hunting suspension on livelihoods, particularly for community-based organisations that were previously benefiting from consumptive utilisation [of wildlife]."
Tiro Segosebe, who lives in the capital, Gaborone, said: "Elephants have killed a lot of people and destroyed livelihoods. I think government is doing the right thing in reducing their numbers."
Last year, Botswana banned two professional hunters who shot dead a research elephant and tried to hide the evidence.
Join our commenting forum
Join thought-provoking conversations, follow other Independent readers and see their replies