BP targets one of the world's last unspoilt wildernesses after deal
Environmentalists are angry at the energy giant's plans to drill for oil in a remote region of the Arctic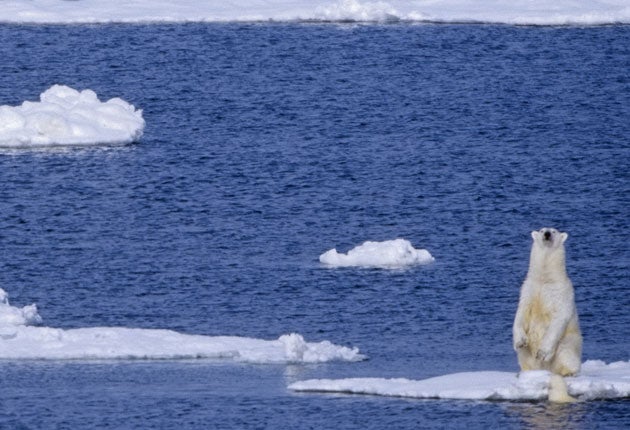 The Arctic is to become the "new environmental battleground", campaigners warned yesterday after BP announced plans to drill in one of the last great unspoilt wildernesses on earth.
Greenpeace and the World Wide Fund for Nature (WWF) have vowed to confront BP's American boss, Bob Dudley, over the agreement with the Russian state-owned oil giant Rosneft to explore the Kara Sea, north of Siberia. The British energy firm was branded the world's "environmental villain number one" by Friends of the Earth (FoE) yesterday in response to its move to exploit potential oil reserves in the remote waters.
Environmentalists are dismayed that BP, which announced the deal on Friday night, has decided to set up rigs in an area of great biodiversity and treacherous weather conditions. The region is one of the few remaining havens left for a number of endangered species, including polar bears, walruses and beluga whales. And while the waters of the Kara Sea are relatively unexplored, they are known to house key fish species such as halibut, capelin and Arctic cod.
The controversial decision to open the area up to oil drilling comes after the Deepwater Horizon rig explosion in the Gulf of Mexico last April. The disaster wrecked BP's reputation, and campaigners are concerned that the remote Arctic is even more susceptible to environmental disasters.
Speaking to The Independent on Sunday yesterday, Mike Childs, FoE's head of climate change, said: "BP, a number of years ago, were positioning themselves to be the greenest of the oil companies, promising to go 'beyond petroleum'. This latest move positions them quite nicely as environmental villain number one, given the huge impact they had in the Gulf of Mexico as well."
The oil giant "cannot be trusted" to drill oil in difficult waters, and any oil spill would be "completely catastrophic". He added: "The Arctic should be a no-go for fossil fuel extraction as it's one of the few pristine environments we have left. It's very fragile and we should be looking at ways to protect it, not seemingly trying to find ways of wrecking it."
Dax Lovegrove, head of business and industry relations at WWF-UK, said: "Oil spill response plans in the Arctic are even less adequate than we saw in the Gulf of Mexico. There is less infrastructure, like equipment to ring-fence oil spills and ships to skim off oil on the surface of the water."
Conservationists have previously complained about BP's work with Rosneft off Sakhalin Island in the north Pacific. WWF believes that the companies' constant seismic surveying has caused noise pollution harmful to the last 130 western grey whales, only 30 of which are female. Mr Lovegrove added that WWF will be "in direct contact" with Mr Dudley and Rosneft's president Eduard Khudainatov and reviewing its campaigning tactics in light of the deal.
Greenpeace is even more damning of the deal, which also sees BP and Rosneft take shares in each other worth a total of £10bn. Senior climate change campaigner Ben Ayliffe pointed out that the Greenland government last year refused to allow BP to drill in its Arctic waters.
"The Kara Sea is pretty much virgin territory," Mr Ayliffe said. "It's bad news. BP has a pretty average record of safety recently. We don't know if they've learnt anything from Deepwater Horizon."
Another Greenpeace spokesman warned yesterday that an oil spill in the Kara Sea could take nine months to clear up. "Imagine that same scenario in the Arctic where are thousands of miles from anywhere, where the drilling season is three or four months long. If you get a leak at the end of that cycle it could run for nine months before you could get back in the next year to try to stop it," said Chris Kronick.
BP is also pressing ahead with its joint venture partner Husky Energy in a $2.5bn project in Alberta, Canada. This involves extracting oil from what is known as tar sands, a difficult operation that releases high volumes of greenhouse gases.
Mr Ayliffe hinted that Greenpeace will campaign heavily on exploitation of the Arctic in 2011. "These two ventures mean it doesn't look like the leopard is changing its spots. After tar sands, BP is going into some of the planet's most pristine wilderness. Questions need to be asked of BP, like why should they be investing shareholders' money in such areas after spending $20bn on Deepwater Horizon."
The costs of the clean-up and compensation in the Gulf of Mexico are expected to reach at least $40bn. The anger over the disaster in the US has convinced BP that its best hopes for growth lie east rather than west.
The Government moved quickly to show its support for the Rosneft deal. The Energy Secretary, Chris Huhne, attended the signing of the agreement and welcomed the move. He said: "BP, as we all know, is coming out of a difficult period in its history, but this partnership shows that BP is very much open for business."
Mr Huhne was accused of betraying his principles by environmentalists. "This is supposed to be the greenest government ever and the Lib Dems in particular have actively pitched for the green vote for years. They are U-turning on the principles they claim to have," said Spencer Fitzgibbon, Green Party spokesman.
FoE's Mike Childs said: "It is disturbing that Chris Huhne is not too worried about the potential environmental impact on one of the most fragile environments in the world."
BP boss Bob Dudley has sought to convince the media and environmentalists that BP is now a much safer company. On Friday he said: "BP is sharing the lessons we learnt around the world. You will see BP take these lessons into the heart of the company."
A BP spokesman said that it would be meeting environmental groups to address their concerns. But US congressman Ed Markey called for a review of the deal.
"Even following the largest oil spill in US history, and potentially billions of dollars in fines outstanding, the Russian Bear is apparently bullish about BP," said Mr Markey. "BP once stood for British Petroleum. With this deal, it now stands for Bolshoi Petroleum."
BP and Rosneft: The main players
Bob Dudley
BP chief executive
The Russian-speaking American succeeded Tony Hayward as BP boss.
Tony Hayward
Former chief executive
Terrible with the media during the spill, but started early talks with Rosneft.
Chris Huhne
Energy Secretary
The Government needed to give tacit approval as deal is vital for energy security.
Eduard Khudainatov
Rosneft president
Became president of the state-run oil group in September.
Igor Sechin
Russia's deputy premier
Vladimir Putin
Russia's Prime Minister
Dudley has had to make his peace with Putin, after he was forced to flee Russia over BP's joint venture with TNK.
Join our commenting forum
Join thought-provoking conversations, follow other Independent readers and see their replies