Brazil is not the environmental villain, Bolsonaro tells UN
'We are victims of one of the most brutal disinformation campaigns about the Amazon and the Pantanal wetlands,' Bolsonaro told fellow global leaders on Tuesday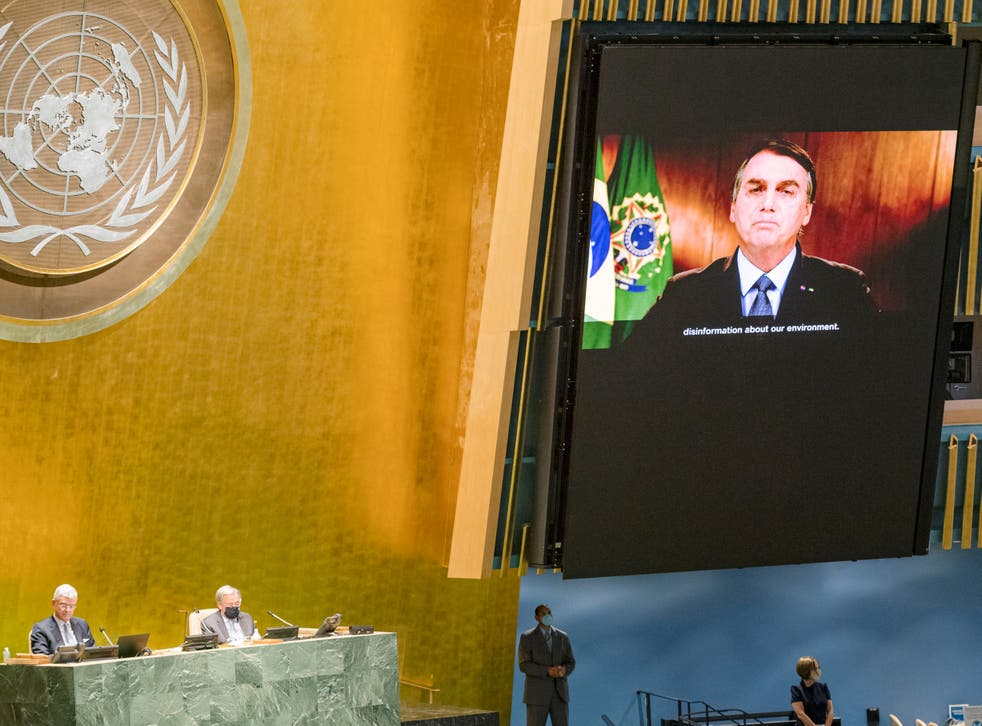 Jair Bolsonaro said that Brazil had been smeared as an environmental villain during his speech before the United Nations General Assembly.
The populist president, dubbed the "Trump of the Tropics" defended his administration's record in protecting the Amazon rainforest, telling fellow global leaders on Tuesday that his country has been wrongly portrayed.
"We are victims of one of the most brutal disinformation campaigns about the Amazon and the Pantanal wetlands," Mr Bolsonaro said in a pre-recorded message. The 75th meeting of UNGA is being held largely virtually due to the coronavirus pandemic.
He continued: "The Brazilian Amazon is well known to be very rich. That explains why international institutions support such campaigns based on ulterior interests, joined by self-serving and unpatriotic Brazilian associations, with the objective of harming the government and Brazil itself."
He also emphasized Brazil's role as the world's largest food producer. As the pandemic rages on, Brazil still feeds more than one billion people worldwide through its agribusiness sector which, Mr Bolsonaro said, respects "the best environmental legislation on the planet".
Last week, a group of European countries published a joint statement urging Brazil to take action in the Amazon. They said deforestation is making it "increasingly difficult" for businesses and investors in Brazil to fulfill their environmental, social and governance criteria.
Fires have spiraled out of control in Brazil's Pantanal, the world's largest tropical wetlands, with the number of blazes surpassing 16,000 so far in 2020 — considerably more than any full year on record, since 1998. This year, the Pantanal has already burnt 185 per cent more than in 2019.
Deforestation in Brazil's Amazon region may have reached a 14-year high in the 12 months through July, according to preliminary data published last month by the country's space agency INPE.
The fires raging across Brazil are often criminally set by farmers, ranchers and land-grabbers to clear land for agriculture. The blazes not only contribute to the climate crisis but are causing devastating biodiversity loss and harming indigenous communities.
Mr Bolsonaro came to office in 2019 promising to open more of the Amazon to development such as farming and mining.
In Mr Bolsonaro's debut appearance at the assembly in 2019, he struck a defiant tone, railing against the media and socialism. He declared Brazilian sovereignty over the Amazon and denounced what he termed "radical environmentalism.″
In May, he put the army in charge of protecting the rainforest. Two months later, he banned setting agricultural and forest fires for 120 days as the country entered the dry season. Brazilian law requires permits for fires to clear brush and open land for farming, ranching or logging, but the requirement is widely ignored.
Mariana Mota, Public Policy Coordinator at Greenpeace Brazil, said: "Bolsonaro and his government have dismissed the environmental catastrophe facing Brazil and attacked those working to protect life on this planet.
"Bolsonaro uses hate speech and rhetoric as a smokescreen to divert attention from the real danger his government poses - not only to Brazil, but to the global climate. Global political and business leaders must immediately condemn his call for violence and demand an end to his destructive agenda."
On Monday, protesters wearing face masks demonstrated outside the UN building in midtown Manhattan with signs that read "Brazil in flames" ("Brasil em Chamas") and "No forest; No future."
Wires contributed to this report
Register for free to continue reading
Registration is a free and easy way to support our truly independent journalism
By registering, you will also enjoy limited access to Premium articles, exclusive newsletters, commenting, and virtual events with our leading journalists
Already have an account? sign in
Register for free to continue reading
Registration is a free and easy way to support our truly independent journalism
By registering, you will also enjoy limited access to Premium articles, exclusive newsletters, commenting, and virtual events with our leading journalists
Already have an account? sign in
Join our new commenting forum
Join thought-provoking conversations, follow other Independent readers and see their replies