Brexit: Government urged to revive fishing for endangered tuna in UK waters after Britain leaves EU
Environmental groups question campaign to restart recreational fisheries for bluefin: 'If it was a land animal of a similar conservation status, then it would be a ridiculous idea'
Josh Gabbatiss
Science Correspondent
Friday 02 November 2018 16:26 Comments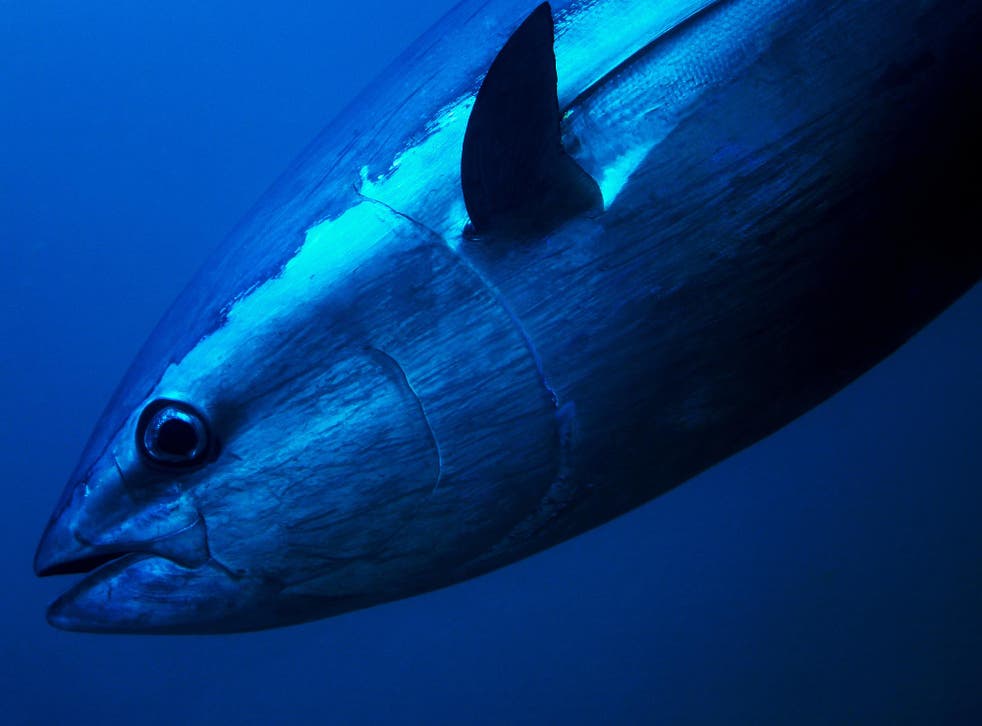 Brexit provides an opportunity to revive big-game fishing for endangered tuna in British waters for the first time in decades, according to campaigners.
Numbers of bluefin tuna appear to have increased in British waters over the last three years, and campaigners say the time is ripe to begin targeting the massive fish.
The Angling Trust and campaign group Bluefin Tuna UK met with two supportive MPs on Wednesday to launch a campaign calling for a "world leading" new catch-and-release fishery.
However, environmental groups have warned against the proposal, which they say would cause unnecessary harm to fish that have just recovered from "the brink of collapse" and are still considered endangered.
Bluefin tuna were subject to a global stock recovery programme starting in 2007 that saw limits placed on the number that could be caught both in commercial and sports fisheries.
Under EU rules, the UK is not allowed to catch any bluefin tuna, with the vast majority of Europe's quota allocated for commercial operations in Spain, Italy and France.
After Brexit, the government will be able apply to the International Commission for the Conservation of Atlantic Tuna (ICCAT) in a bid to establish its own bluefin fishery for recreational anglers.
A historic moment: thousands march to demand Final Say on Brexit

Show all 65
North Cornwall MP Scott Mann said he supported efforts to take this opportunity because he wanted to lure big game fishers from Florida and Mexico to the Cornish coast.
"It would be a massive boost to our coastal communities if the government was to take up these proposals and allow local anglers to enjoy world class catch-and-release big game fishing right on our doorsteps," he said.
Britain was home to a thriving tuna fishery until the 1950s operating primarily out of Scarborough, until overfishing saw stocks plummet.
With knowledge of tuna numbers still thin on the ground, however, environmentalists said it was too premature to declare a full recovery for the species in British waters.
"If it was a land animal of a similar conservation status, then it would be a ridiculous idea," said John Hourston from Blue Planet Society.
He noted that the apparent influx of tuna may simply be the result of certain shoals from warmer waters migrating northwards as climate change causes ocean water temperatures to rise.
"There is a very good chance that there is exactly the same number of bluefin tuna, but they have just moved into British waters," he said.
"We are right in the boundary between temperate and cold water seas – that boundary can fluctuate and it will bring warmer water species with it."
Due to the potential for damage and even death resulting from catch-and-release methods, Will McCallum from Greenpeace said any decision to allow tuna fishing would have to be based on rigorous research.
Support free-thinking journalism and attend Independent events
"This is exactly the kind of research that was not, for example, taken into account when the ICCAT decided to increase quotas last year to an unacceptably risky level," he said.
David Mitchell, head of marine at the Angling Trust said anglers would actually be able to help with monitoring efforts by tagging fish that they caught prior to release.
"The authorised involvement of committed and conservation minded anglers in the fishery would not only add significantly to our knowledge of these tremendous fish but would guard against moves to reinstate unsustainable commercial harvesting and the inevitable illegal fishing," he said.
Overall the campaigners described their proposal as a "win-win" that would bring conservation and economic benefits.
A spokesperson from the Department for Environment, Food and Rural Affairs said: "We have a strong track record in championing sustainable fishing and it is important that quotas are always guided by the latest scientific evidence."
Register for free to continue reading
Registration is a free and easy way to support our truly independent journalism
By registering, you will also enjoy limited access to Premium articles, exclusive newsletters, commenting, and virtual events with our leading journalists
Already have an account? sign in
Join our new commenting forum
Join thought-provoking conversations, follow other Independent readers and see their replies