UK needs to ramp up sustainable farming to maintain food security, government advisers say
'We have an opportunity with Brexit to reform our farming policy,' says Professor Piers Forster 
Phoebe Weston
Science Correspondent
Thursday 08 August 2019 15:27 Comments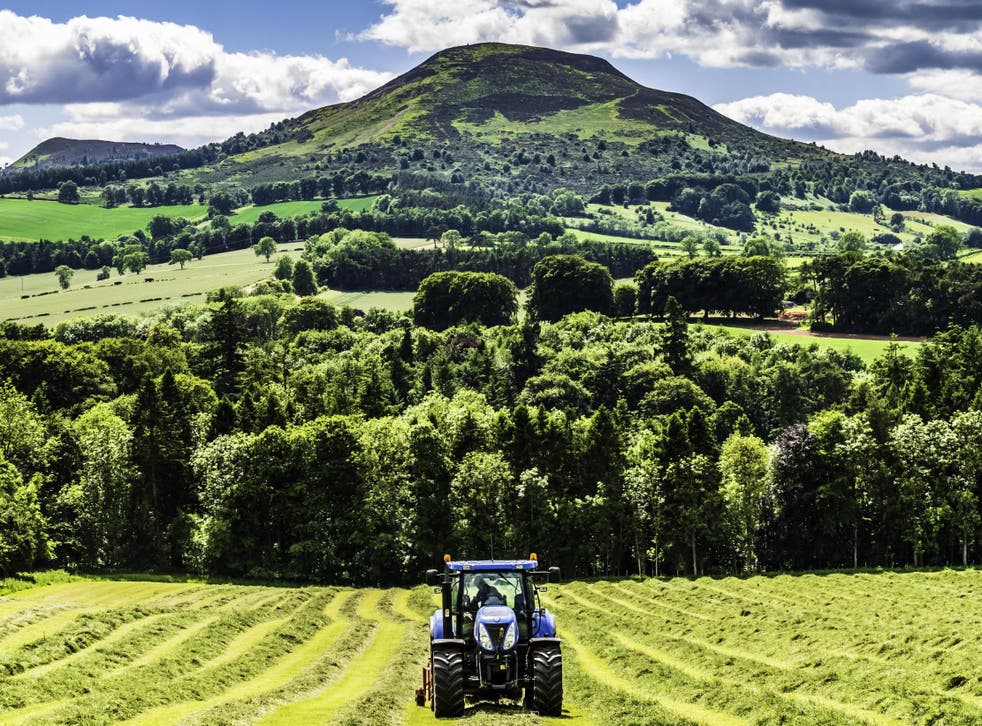 The UK needs to rapidly ramp up sustainable farming practices in order to maintain long-term food security and reduce emissions, government advisors have urged in the wake of the latest United Nations (UN) climate report.
The Intergovernmental Panel on Climate Change (IPCC) has revealed humans have already damaged around a quarter of ice-free land on Earth. However, farming more sustainably and conserving peatlands, grasslands and replanting forests at a local level could repair land and help curb global warming, scientists said.
"It's a very timely report for the UK as we have an opportunity with Brexit to reform our farming policy to make it a sink of carbon rather than a source," said Professor Piers Forster from the University of Leeds, who was not involved with the report.
Corinne Le Quere, a member of the UK Government's advisory Committee on Climate Change, described the latest report as a "stark warning" that the world must change how it uses land to limit warming to 1.5C above pre-industrial levels
"The IPCC's findings chime with our advice to government: the UK needs to reduce food waste, promote healthy diets, and use land sustainably, including planting more trees and restoring degraded soils," she said. "All of these steps will help to improve people's lives whilst reducing the harmful emissions which cause climate change."
"Act now or swim later" - Children worldwide protest climate change

Show all 38
Experts behind the UN report said red meat had high greenhouse gas footprint because of the emissions livestock give out as well as the impact of land being cleared to grow crops for animal feed.
The report says we should be eating balanced diets with plant-based foods such as grains, vegetables and pulses, and animal-based food produced in sustainable systems.
Pasture-Fed Livestock Association (PFLA) general manager Russ Carrington said cattle and sheep which are fed wholly on grass and pasture can be "part of the solution" to global warming rather than the problem.
He said: "Products coming from animals that are only ever fed grass and pasture and never any grains help build soil fertility and capture carbon, encourage wildlife, create high animal welfare and produce healthier meat and dairy products."
He said it made sense to graze cattle and sheep, rather than feeding them grain such as soy.
"There is also growing evidence that well-managed soils using grazing animals can help mitigate global warming by capturing carbon in soils," he added.
Vicki Hird, from the charity Sustain – the alliance for better food and farming, said the report "makes clear that unless we rapidly change course on land use and farming, alongside reducing fossil fuel use, we won't be able to prevent the climate crisis".
She called for support for nature-friendly farming, and strong measures to eliminate food waste and support a move to a balanced diet with more plants, and less and better livestock.
Greta Thunberg makes powerful climate change speech at the French parliament
The Department for Environment, Food and Rural Affairs (Defra) says the UK farming policy is being reformed in the wake of Brexit to reward environmental actions.
A spokesperson said: "We are reviewing our food system to ensure it is more sustainable, taking steps to accelerate tree-planting and peatland restoration, and introducing a flagship environment bill to address the biggest environmental priorities of our age."
The National Farmers' Union (NFU) has said it wants UK farming to be net zero by 2040 but it not looking to reduce livestock production.
A spokesperson said: "With 65 per cent of UK farmland best suited to growing grass, this means using our grasslands, which are also a huge store of carbon, to produce high quality beef and lamb. British farmers are determined to continue reducing methane emissions through a variety of methods, including dietary changes and breeding techniques. Alongside this, we are also looking for ways to continue to improve soil health and increase organic matter within our soils, which is one of our greatest assets."
Additional reporting by Press Association
Register for free to continue reading
Registration is a free and easy way to support our truly independent journalism
By registering, you will also enjoy limited access to Premium articles, exclusive newsletters, commenting, and virtual events with our leading journalists
Already have an account? sign in
Join our new commenting forum
Join thought-provoking conversations, follow other Independent readers and see their replies