Britain's beaches rated the worst in EU for levels of poor quality bathing water
Campaign group calls for 'investment in water quality to ensure that we don't become the dirty man of Europe'
Ian Johnston
Environment Correspondent
Wednesday 25 May 2016 14:16 Comments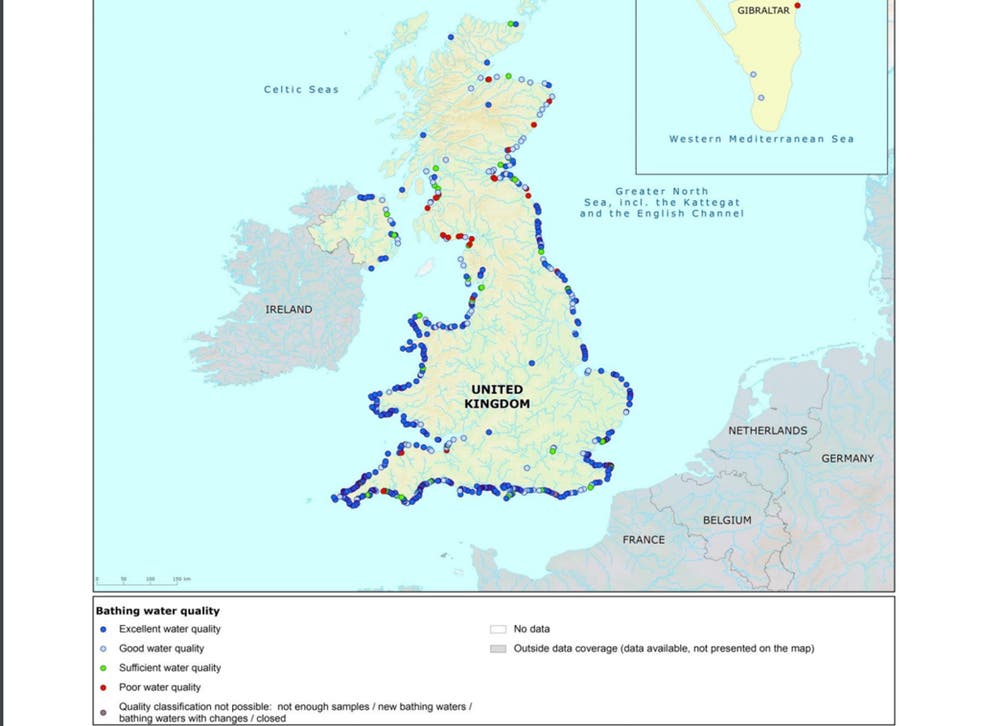 Britain has the highest level of "poor water quality" bathing sites in the European Union and the number of "excellent" quality has slumped by more than a fifth since last year, according to an EU-wide report.
The figures prompted the Marine Conservation Society (MCS) to warn that the UK risked returning to the days when it was seen as "the dirty man of Europe".
However it added that EU regulations on clean bathing water had seen a significant improvement in quality since the UK joined in the 1970s.
The report, by the European Environment Agency, said: "Forty years ago, large quantities of uncontrolled, untreated or partially treated wastewater were discharged into many of Europe's waters.
"European legislation and national water policies as well as many years of investment in the sewerage system, better wastewater treatment and the reduction of pollution from farms have led to Europe's bathing water being much cleaner today than it was 40 years ago.
"Looking forward, it is important to continue understanding the effectiveness and efficiency of the policy."
However the report noted that in "some EU Member States" more than three per cent of bathing sites were of poor quality in 2015.
This list was headed by the UK with 4.9 per cent or 31 bathing beaches and lakes – up from 0.9 per cent in 2014 -- followed by Ireland on 4.4 per cent, the Netherlands on 3.4 per cent and Bulgaria with 3.2 per cent.
And the number of British bathing sites of excellent quality fell from 485 in 2014 to 377 last year, a decline of more than 22 per cent. This meant 59.5 per cent of UK beaches were excellent for swimming, the third lowest figure in the EU after Slovakia (48.5 per cent) and Romania (32 per cent).
However the total of beaches of "at least sufficient" quality remained high at more than 94 per cent with a small number of beaches not rated.
The Bathing Water Directive was first issued by European officials in 1976, when popular tourist beaches were notorious for the raw sewage floating in the sea.
A spokesman for the MCS said: "The Bathing Water Directive has led to enormous improvements in bathing quality of the UK's beaches, compared with the situation just a few decades ago."
But he added that this year's figures for the UK were a cause for concern.
"We still need investment in water quality to ensure that we don't become the dirty man of Europe or we don't earn the reputation again as the dirty man of Europe," the MCS spokesman said.
The MCS has also expressed concern about the Government's practice of stripping beaches of their status as designated bathing sites, which has happened to Staithes in Yorkshire and a number of other sites, despite their use for swimming by the public. It warned this could be a way to avoid breaking the standards without actually improving water quality.
UK news in pictures

Show all 50
The Department for Environment, Food and Rural Affairs (Defra), which deals with water quality in England, said the standards of quality had recently been increased so that the "excellent" classification was about twice as tough as the previous guideline.
"Our bathing waters are cleaner than ever, with 97 per cent meeting new, tougher standards," it said in a statement.
"But we're not complacent and we're continuing to work with water companies, local authorities and communities to drive up standards on beaches and lakes across England."
Defra said in 1988 just 19 per cent of bathing waters were good quality or better compared to 90 per cent in 2015.
Register for free to continue reading
Registration is a free and easy way to support our truly independent journalism
By registering, you will also enjoy limited access to Premium articles, exclusive newsletters, commenting, and virtual events with our leading journalists
Already have an account? sign in
Join our new commenting forum
Join thought-provoking conversations, follow other Independent readers and see their replies