Britain's bluebells now face a fight for their very survival
Our native flowers are under threat from a Spanish variety whose numbers have doubled in the past 15 years
Jamie Merrill
Saturday 25 April 2015 21:16 Comments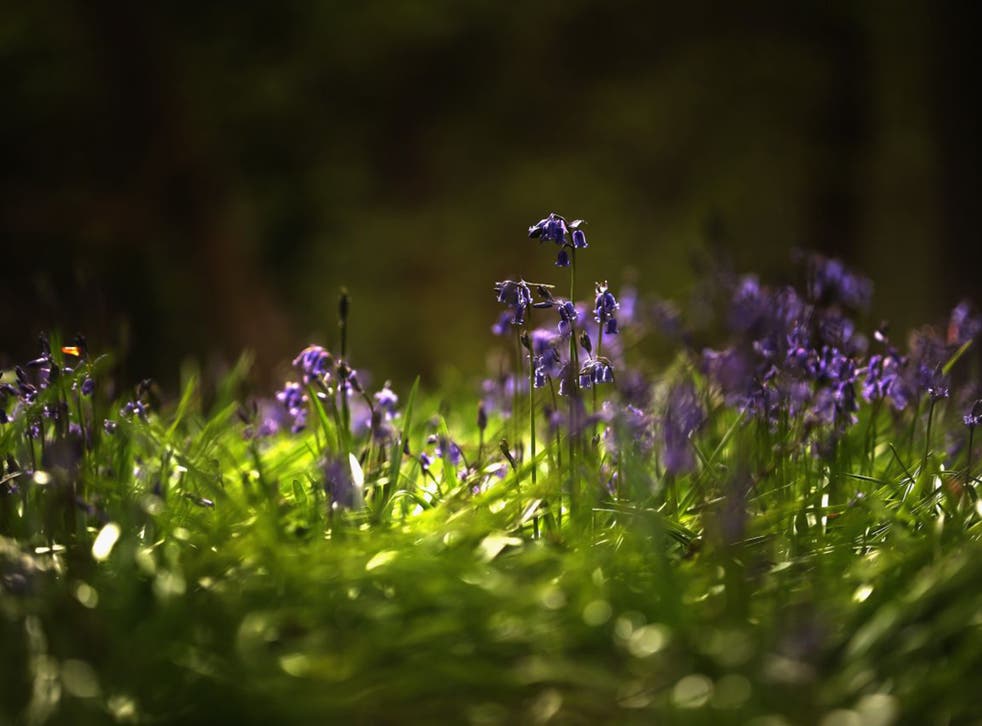 The sickly scent of a Spanish interloper is getting stronger and stronger, a conservation charity has warned. While thousands of us enjoy the sight of the violet bloom of the bluebell at this time of year, how many of us realise that increasingly we are falling for a devilish foreign charmer? And it is getting serious, for, according to the charity Plantlife, the invading Spanish bluebell has doubled in numbers in the past 15 years.
Hyacinthoides hispanica arrived on our shores 300 years ago and has been spread inadvertently by gardeners ever since. It can now be found in one in six native bluebell woodlands. Unlike the English bluebell (Hyacinthoides non-scripta) the Continental plant has broad leaves, a pale flower and a scent reminiscent of old onions. It can also crossbreed with native bluebells, leading to fears of genetic contamination.
"We love native bluebells for their wonderful scent of cooking apple, mango, lychees, ginger and freshly mown grass, but that plant is in real danger," said Dr Trevor Dines, a botanist for Plantlife. "The threat is that genes from these Spanish bluebells will dominate native plants and within 50 years we could lose all the special characteristics we love in our native plants."
The English bluebell is leading a Plantlife poll to identify Britain's favourite wildflower. But the charity was dismayed to see that the plant had been removed from the Oxford Junior Dictionary this year, along with words such as "acorn" and "buttercup" to make way for newcomers such as "broadband" and "cut and paste".
The most incredible flowers in the world

Show all 9
In response to the escalating threat from European invaders and etymologists, Plantlife is adding its voice to a call for 2,000 volunteers to join the first National Plant Monitoring Scheme this summer. Each volunteer will be given a scorecard of plant species and an area to survey. Botanists hope the results will improve their understanding of the threat posed by invasive species, climate change and over-development of British plant life.
Dr Dines said it would be "impossible" to stop the spread of Spanish bluebells but that their progress could be slowed by not planting non-native species near woodland.
Register for free to continue reading
Registration is a free and easy way to support our truly independent journalism
By registering, you will also enjoy limited access to Premium articles, exclusive newsletters, commenting, and virtual events with our leading journalists
Already have an account? sign in
Join our new commenting forum
Join thought-provoking conversations, follow other Independent readers and see their replies