UK renewable energy industry is about to 'fall off a cliff', says new research
The dour forecast comes as the industry celebrated a record-breaking year in 2015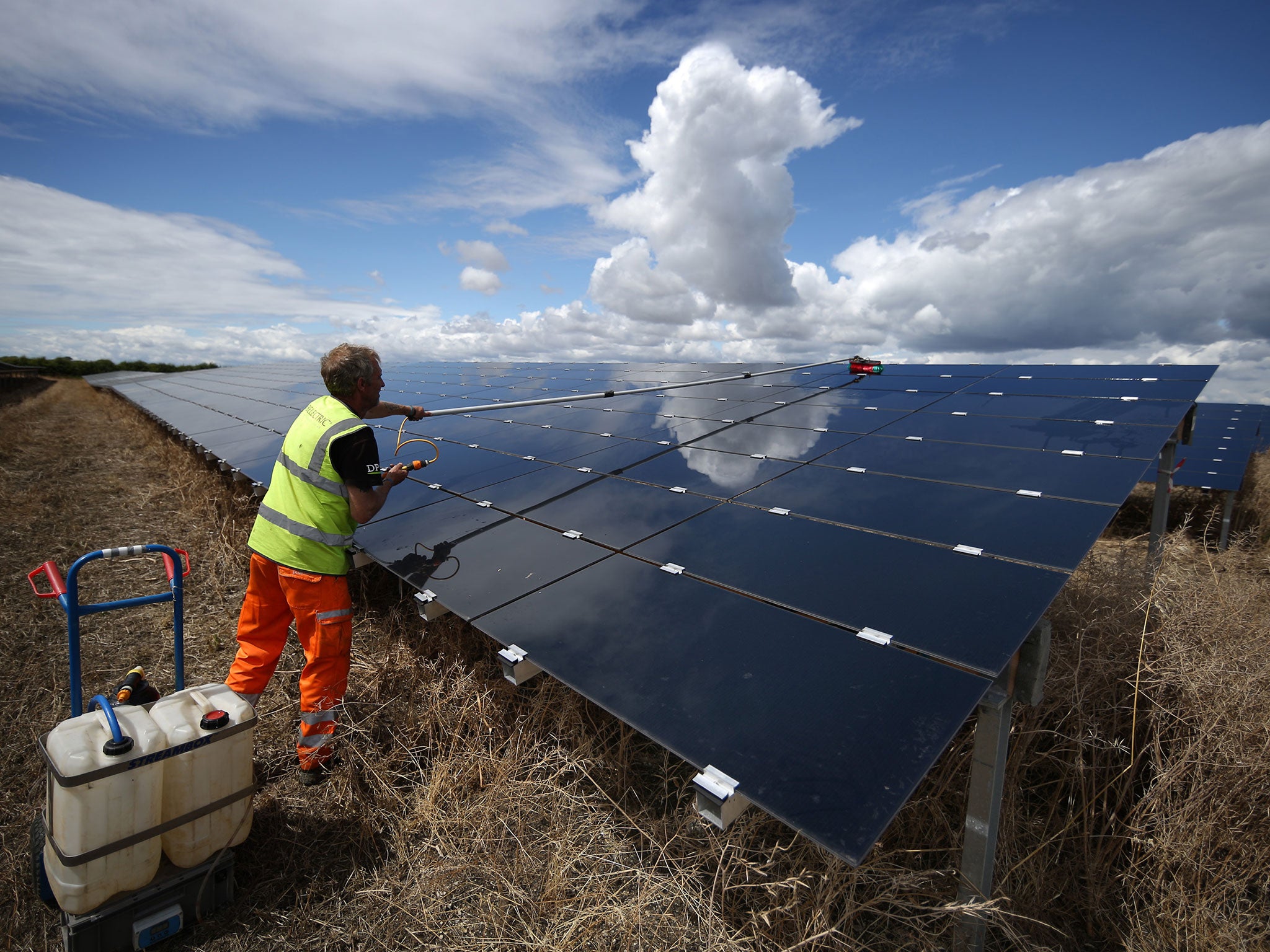 Britain's renewable energy industry is about to "fall off a cliff" just at the point it would come into its own, analysis for The Independent reveals.
The dour forecast comes as the industry celebrated a record-breaking year in 2015, with billions of pounds poured into solar and wind energy and more homes powered by nature than ever before.
But experts have warned this is all about to grind to a halt as the Government abandons its commitment to green energy and instead invests in fracking and nuclear power.
The impact of the Government's end to wind-farm subsidies and the carrying-out of its manifesto pledge to "halt the spread of onshore windfarms" has been laid bare with research for The Independent. The figures from Bloomberg forecast that over the next five years the country will lose at least 1 gigawatt of renewable energy generation – enough to power 660,000 homes.
After 2020, the new renewables infrastructure will collapse to almost nothing because of a lack of investment and the blossoming industry could wither, the figures suggest.
"The Government is kicking the onshore wind industry off the ladder too soon," said David Hostert, an analyst at Bloomberg New Energy Finance, which carried out the research. "Without some form of change in policy support, we could see investment drop off a cliff after 2019."
New figures from Bloomberg further underlined the damage the government was inflicting on the renewable energy industry, critics said. These showed that investment in onshore wind farms more than doubled to a record £2.6bn last year.
Combined with offshore wind – a more expensive form of energy, which the Government is championing – total wind-power investment jumped to an all-time high of £11bn last year.
Meanwhile, solar-power investment slumped from a record £5bn in 2014 to £3.5bn last year following cuts to large-scale generators. Solar investment is expected to fall further this year after the Government cut support to household panels by 65 per cent last month.
This comes as wind farms powered a record 11 per cent of the UK's electricity last year, up from 9.5 per cent the year before, according to the National Grid. This means that enough wind power was generated to meet the needs of 8.25 million homes, or 30 per cent of UK households, up from 6.7 million in 2014.
Mr Hostert's forecasts are based on an analysis of the prospects of those onshore wind farms that have received planning permission for a new development being able to afford to build it.
In some cases providers, such as big six companies EDF and npower, have already abandoned proposed onshore windfarms in the wake of the Government changes. In others the cancellations are yet to come, Bloomberg forecasts.
Critics of the Government say onshore wind power is the best and cheapest opportunity the UK has of hitting its environmental targets. But the industry still needs support before it can stand on its own two feet, according to analysts, who point out that nuclear and fossil-fuel power stations also receive subsidies.
Dr Doug Parr, chief scientist and policy director at Greenpeace UK, said: "Wind and solar energy are at the point of becoming really competitive with fossil fuels, but failure to support them for another few years will result in huge losses of potential jobs."
Shadow Energy Secretary Lisa Nandy added: "The Chancellor's decision to overhaul the Government's entire energy policy is going to put off the construction of new clean-power stations we urgently need to keep the lights on, control costs and create new jobs."
A spokesman for the Department for Energy and Climate Change said: "Our priority is providing clean and secure energy while keeping bills as low as possible. To do this, we have driven down the cost of renewables, helping new technologies stand on their own two feet while still meeting our renewable energy commitments."
Join our commenting forum
Join thought-provoking conversations, follow other Independent readers and see their replies