Half of British drivers in favour of clean air zones, survey claims
Eight in 10 say they think urgent action needs to be taken to reduce emissions, poll founds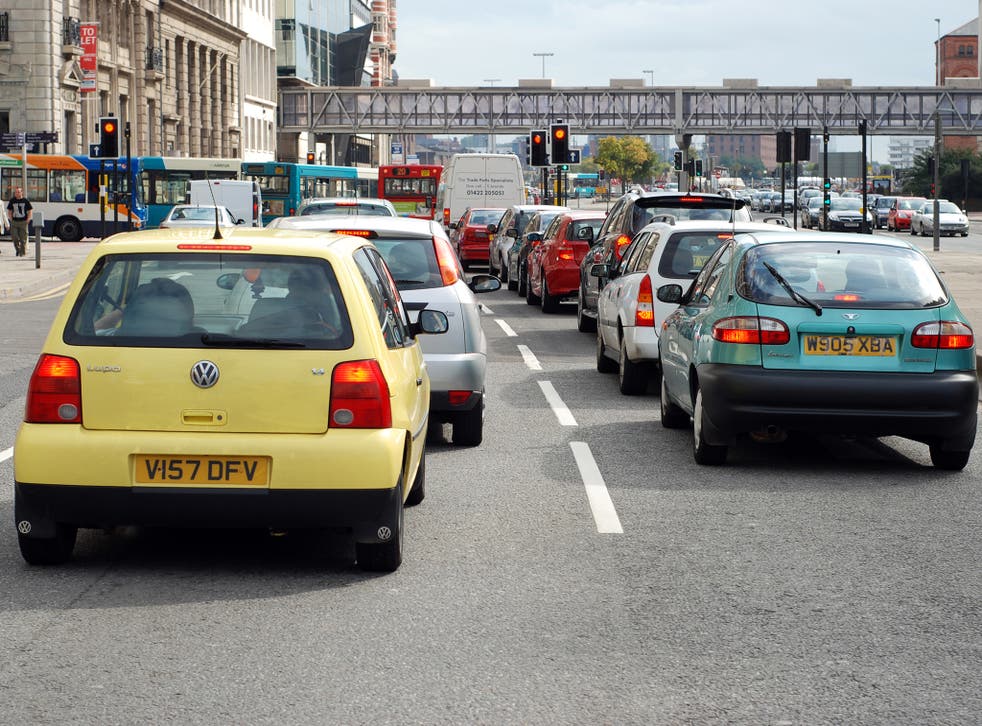 Half of motorists are in favour of clean air zones – even if they are charged for entering them, a survey has claimed.
Birmingham and Leeds are among the cities set to introduce the zones to improve air quality where drivers will potentially require drivers to pay a fee.
The scheme is part of the government's air quality plan, announced in July 2017, which aims to reduce pollution and make the air cleaner throughout the UK.
London already has its own ultra-low emission zone which from 8 April will see higher polluting vehicles charged £12.50 a day to enter.
The survey of 2,000 UK adults found around a third think there is a significant problem with pollution where they live and eight in 10 said they thought urgent action needs to be taken to reduce emissions.
The worst countries in the world for air pollution deaths

Show all 10
"Despite the potential dent to our wallets, the research shows there is significant support for charging schemes that tackle pollution in our major towns and cities," said Jon Lawes, managing director of financial solutions company Hitachi Capital UK, which commissioned the survey. "It's clear those polled believe something needs to be done – and fast."
Half of the respondents polled said they are "too reliant" on their car, despite ​over 40 per cent of British people travel by car to work. Just 12 per cent use public transport and 10 per cent walk.
Over 50 per cent of those polled agreed we should make greater use of public transport and leave our vehicles at home more often. Six in 10 said they believed the move towards electric vehicles is a good thing but just 10 per cent have owned or currently do own one.
Many agreed that free charging ports and more of them, reassurances over how long the battery lasts and greater financial incentives would encourage them to get an electric vehicle.
Previous attempts to reduce emissions and congestion have had mixed results, according to those polled. Seventy-nine per cent said they believed bus lanes have made no difference to the number of cars on the road, while eight in 10 said they thought car share lanes have had no impact on air quality. Sixty-five per cent thought the same about cycle lanes.
Mr Lawes said: "Whilst it's very encouraging that the poll shows more and more drivers see alternative fuel vehicles as the long-term solution to reducing air pollution where other schemes haven't worked, these findings highlight the obstacles that still need to be overcome to persuade drivers to truly embrace greener alternatives.
Support free-thinking journalism and attend Independent events
"Although the £25 million scrappage incentive scheme recently announced to help Londoners is welcome, both private and business vehicle owners are facing financial pressure in upgrading to greener options in the short term.
"Our own research has found that the migration to alternative fuels could deliver fuel cost savings running into billions of pounds for vehicle owners, whilst advances in alternative fuel vehicle performance and infrastructure are certainly changing driver perceptions. So while there may be a short-term cost to consumers and businesses, by encouraging people to invest in greener vehicles, the benefits in the long term will be significant, not only financially but environmentally too."
SWNS
Register for free to continue reading
Registration is a free and easy way to support our truly independent journalism
By registering, you will also enjoy limited access to Premium articles, exclusive newsletters, commenting, and virtual events with our leading journalists
Already have an account? sign in
Register for free to continue reading
Registration is a free and easy way to support our truly independent journalism
By registering, you will also enjoy limited access to Premium articles, exclusive newsletters, commenting, and virtual events with our leading journalists
Already have an account? sign in
Join our new commenting forum
Join thought-provoking conversations, follow other Independent readers and see their replies