Budget 2015: Greener car discounts to be removed to pay for new road-building fund
Osborne said the current system of discounted vehicle excise duty for greener vehicles 'isn't sustainable and it isn't fair'
Jamie Merrill
Wednesday 08 July 2015 18:24 Comments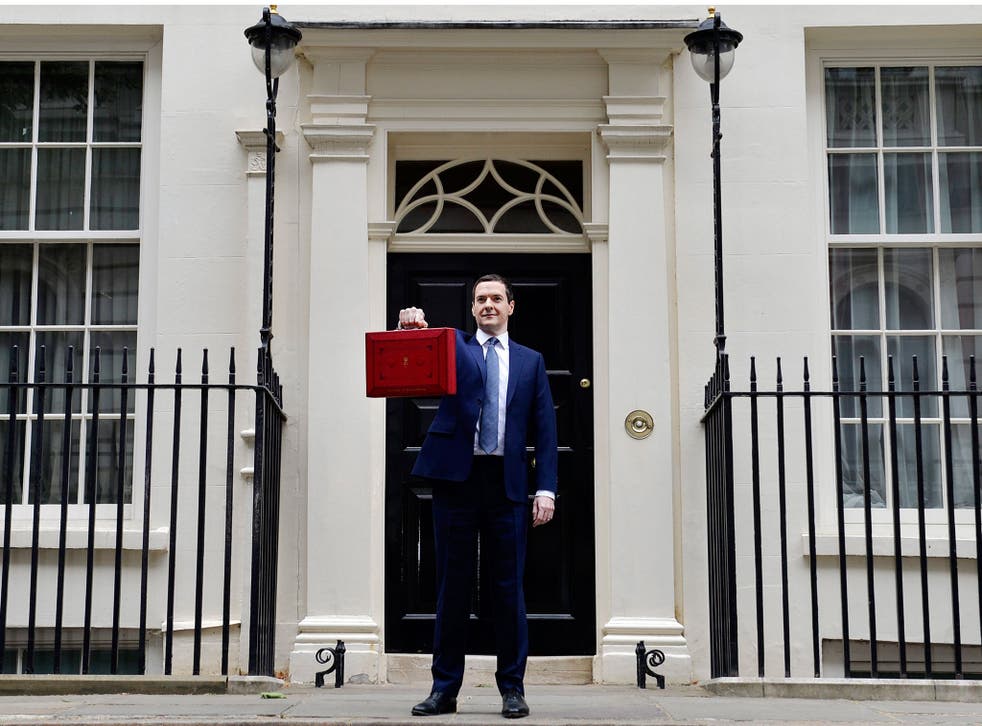 Tax on new vehicles is to be overhauled by removing exemptions for greener cars and hiking up charges for more expensive saloons and SUVs, with the proceeds being ploughed into a dedicated road-building fund.
In a move that signals the end to system designed to encourage lower carbon motoring, George Osborne said the current system of discounting or waiving vehicle excise duty (VED) for greener vehicles "isn't sustainable and it isn't fair", as he explained that by 2017 over three-quarters of new cars would be certified as low-emissions vehicles and therefore not liable for VED.
Under the new scheme, announced on 8 July, VED will be split into three bands; zero emissions, standard and premium. Most new cars will pay the "standard" rate of £140, except in the first year of ownership when tax will continue be linked to C02 emissions.
What does five more years of the Tories mean for Britain?

Show all 8
The scheme will come into effect in 2017, after Mr Osborne told parliament the current VED scheme was unfair. He said "If you can only afford an old second car you have to pay more tax… only a Labour government could have designed something so regressive."
The most expensive and polluting "premium" cars, including luxury saloons and off-roaders costing more than £40,000, will pay more with a £310 supplement for the first five years of ownership.
"Zero emission" electric cars will continue to pay no road tax; however it will be buyers of new low-emissions vehicles, such as hybrids of smaller engined cars, who will be hardest hit by the reforms as they move up the "standard" VED band after a year of ownership. Currently owners of many low-emission vehicles pay no or very little VED.
Existing cars won't be affected by the reforms, which will also extend the deadline for the first MOT of new cars and motorbikes from three years to four years.
Mr Osborne also said he would continue to freeze fuel duty this year, and in a move that has already drawn fire from cycling and environmental groups, the chancellor has promised to return the VED system "to the use for which it was originally intended", by creating a dedicated new road fund, which will be introduced in 2020.
He said: "Every single penny will go into the sustained investment our roads so badly need. Tax paid on people's cars will be spent on the roads they drive on."
Friends of the Earth senior economics campaigner David Powell said: "Money raised from taxing cars shouldn't be spent on yet more roads, which will simply encourage more traffic. The Chancellor should boost public transport instead, and make our cities better for walking and cycling to help stop air pollution claiming lives."
Motoring groups, including the RAC and AA, broadly welcomed the moves, but said the "devil will be in the detail" of the VED plans, amid suggestions the changed would discourage new car buyers from consider emissions when choosing a car.
RAC chief engineer David Bizley said: "A big question mark remains however over how the new changes will affect people's inclination to buy low carbon dioxide emitting, fuel efficient vehicles."
Register for free to continue reading
Registration is a free and easy way to support our truly independent journalism
By registering, you will also enjoy limited access to Premium articles, exclusive newsletters, commenting, and virtual events with our leading journalists
Already have an account? sign in
Join our new commenting forum
Join thought-provoking conversations, follow other Independent readers and see their replies