Budget endangers net-zero climate target passed by Theresa May just nine months ago
Academics and green groups slate 'truly awful' Budget that sees chancellor 'threatening attainment of UK's net-zero target'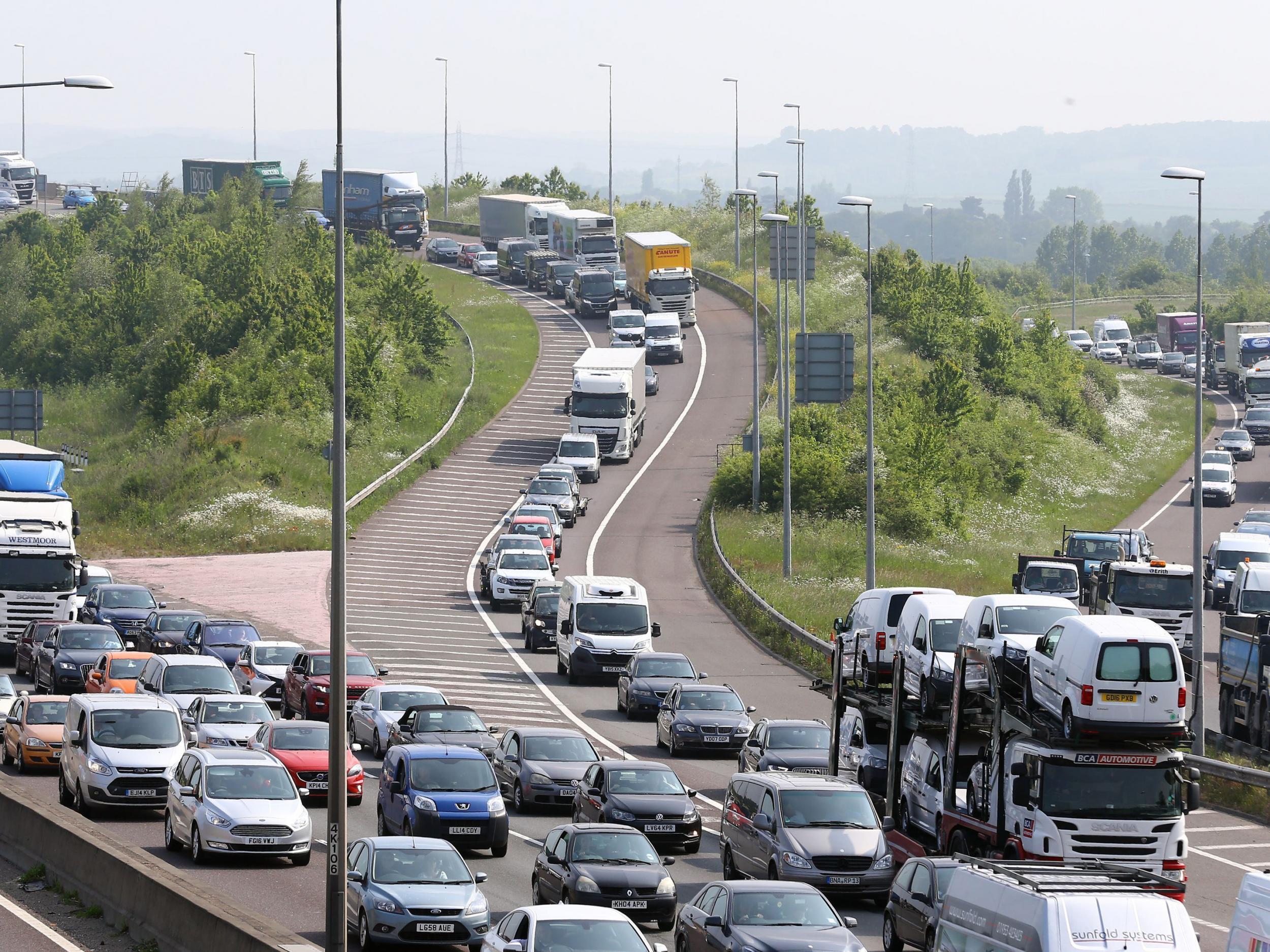 The Budget unveiled by the government makes it more difficult for the UK to meet its net-zero carbon climate target, academics and environmentalists have warned.
The chancellor, Rishi Sunak, was accused of undermining the goal set by Theresa May just nine months ago, after he froze fuel duty yet again – a policy that has cost a cumulative £50bn since 2011.
As well as making it even cheaper to drive compared with public transport fares, the chancellor announced a £27bn, 4,000-mile road-building programme compared with just £1bn for green transport.
Environmental groups said that Budget on Wednesday was "truly awful" and that it "completely destroys any pretence of UK government leadership".
The Budget comes just months before the UK is due to host the international COP26 summit, where other countries will be asked to make their own contributions to cutting their carbon emissions.
"It is a mistake to freeze the fuel-duty escalator for the 10th year in a row, threatening attainment of UK's net-zero target, and damaging the UK's credibility in advance of hosting the UN climate conference in December," said Steven Sorrell, professor of energy policy at the University of Sussex Business School.
"Car drivers have enjoyed a large price cut in real terms since 2010, since the price of gasoline and diesel has not kept pace with inflation. At the same time, public transport fares have risen faster than inflation, and bus travel has declined.
"Cheap fuel prices have encouraged people to purchase gas-guzzling SUVs, which now account for one quarter of new car sales. Carbon emissions from transport are rising, and cars now emit more CO2 than power stations. These trends are not sustainable."
Professor Sorrell said the global fall in oil prices had provided a political "opportunity" to reinstate the escalator and argued that "much of the burden" would fall on high-income groups.
Rebecca Newsom, head of politics at Greenpeace UK, said: "Far from 'getting it done' for climate and nature, the chancellor has completely missed the opportunity to address the climate emergency.
"Instead, by announcing £27bn for new roads, it seems he's driving in the opposite direction. Ending the red diesel tax-break, and the Nature for Climate Fund announcements, are important steps. But they are just a fraction of what is needed to get the UK on track to delivering net zero before COP26."
She added: "The government must lead by example if it's to have any leverage to encourage other countries to increase their ambition at the global climate summit this year."
Speaking in the debate following the Budget, Green Party MP Caroline Lucas said the chancellor's speech was peppered with "plenty of green rhetoric" but that "Treasury decisions continue to drive the climate emergency".
Fatima Ibrahim, co-executive director of Green New Deal UK, said: "Today's Budget was neither bold nor brave in the face of the climate crisis. It certainly didn't 'get it done' for all of us worried about a liveable future."
Ms Ibrahim said the net-zero goal had been "pushed back" and that the move was "an indication of how serious this government is taking the climate crisis".
"This is not a policy choice of a climate pioneer set to take the international stage – it is one of a laggard."
Friends of the Earth's head of policy, Mike Childs, said: "This Budget contains a massive road-building programme which completely destroys any pretence of UK government leadership ahead of this year's crucial climate summit. Funding for cleaner cars, EV [electric vehicle] charging, action on plastics, and more trees are just a few green sprinklings on a truly awful Budget."
Oxfam's head of government relations, Toni Pearce, said that "in this key year for action on the climate emergency, the chancellor is tinkering around the edges while delaying the big decisions".
Climate change: Decade's defining issue in pictures
Show all 20
Last year, the government's own climate watchdog and advisory body, the Committee on Climate Change, warned that "tougher targets do not themselves reduce emissions" and that "policy ambition and implementation now fall well short of what is required".
Green policies included in the Budget were relatively small-scale, with a promised expansion of carbon-capture "clusters" to help industry reduce their carbon emissions. A similar project launched by the last Labour government was cancelled by the coalition in 2011.
The chancellor's £1bn for green transport included £403m to extend grants for new electric vehicles until 2023, and extra funding for electric car charging points. He also pledged £640m for a tree-planting programme, and the subsidy for so-called "red diesel" was removed for some sectors of the economy. The Treasury says more climate policies will be coming later in the year ahead of COP26.
"The Treasury's net-zero review will set out the government's strategic choices ahead of COP26 later this year. Today's Budget takes the first steps," Mr Sunak told MPs.
Join our commenting forum
Join thought-provoking conversations, follow other Independent readers and see their replies