Burping cows: Should we be prolonging or eliminating livestock farming?
As Extinction Rebellion occupy cities around the world, Sam Hancock takes a look at a start-up aiming to transform the cattle industry's gassy contribution to climate change
Wednesday 09 October 2019 15:15 BST
Comments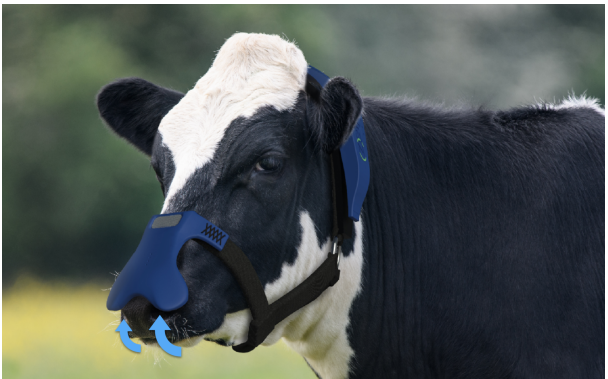 On Monday morning at 10am, Extinction Rebellion, along with thousands of protesters, gathered at Westminster to begin its international rebellion in London. Fighting peacefully for the government to declare a climate and ecological emergency, to act immediately to halt wildlife loss and to reduce greenhouse gas emissions to net zero by 2025.
This latest movement is scheduled to take place until next week, occupying cities around the world, including Sydney, Islamabad and Quebec, although, as the climate activist group has made clear for over a year now, this is not an issue that will end next week or any other week, until we all start taking action.
At the same time, on the same day, brothers Francisco and Patricio Norris, and their full-time team of eight, who are the brains behind a small start-up called Zelp, made the trip to their Wandsworth office and continued their bid to neutralise the well-known environmental hazards of livestock farming. Theirs is a movement, and business, that formed in 2017 and has worked tirelessly to get its emission-fighting product to market ever since.
Flatulent cows have been one of many hot topics called out in climate change discussions as of late, but it seems our black and white friend's other end, as it were, has been all but forgotten in the plight to reduce the dangerous amount of methane emissions that cows release into the air. Burping cows now produce more methane than the entire world's transportation put together.
More than that, methane is 85 times worse for global warming than carbon dioxide and yet according to the UN Food and Agriculture Organisation, demand for beef and dairy products is set to rise by 70 per cent in the next 30 years.
It's not all doom, gloom and bodily gases, though. Zelp, which stands for Zero Emissions Livestock Project, has established itself as the unmasked Marvelesque figure assuming the mission of not just reducing the methane that cows emit, which is one of the biggest known dangers for the world's ozone layer, but actually transforming the contents of their hearty belches altogether.
How? Facemasks. Wipe the image of burping cows wearing Mudd masks, watching Sex and the City and gossiping about their farmhand, a Yorkshire Mr Big, straight out of your head. It's not that kind of facemask. Instead, the Norris duo have engineered a removable, non-intrusive mask that attaches onto a cow's head and filters their burps, allowing methane to be turned into carbon dioxide and water vapour.
Extinction Rebellion launch fortnight of action at Marble Arch, London
Show all 8
"My parents are livestock farmers, and so were my grandparents and great-grandparents before them, so it's always been in our family. But in the past few years, we faced the reality of the contribution that we, and so many other families making a living in this way, are making to the ongoing climate crisis," Francisco, an Argentinian native, tells me.
"My background was in design and engineering, which led me to do a master's at the Royal College of Art when I moved to London. When I was given a full year to tackle a project of my choosing, I, with my brother, started putting together the research for what is now Zelp: we quickly realised that what we needed to build was something that would oxidise the methane emissions given out by cows."
The end product, which Francisco says has had "more than 15 different designs so far, all of which included their own engineering time, behavioural trial and consumer reaction study", began as a nose ring, but has now taken the facial mask form. "Initially, a nose ring seemed the most plausible because such a huge majority of cows wear them, but after multiple trials we found that the general attitude towards cows wearing rings is negative," he says.
"Some animals don't actually have a copper ring fitted, so you'd need to go through the process of attaching one which seemed expensive, lengthy and ultimately invasive for the cows."
"We also worried about the ring getting tangled or caught in fencing and other appliances which could cause injury," he adds. "It's important to us that what we produce doesn't interfere with an animal's routine, whether that's self-grooming, drinking water or eating food, and they're able to behave as though they aren't wearing it."
In a twist of fate, though, the new design Zelp came up with is actually better equipped to do its job: breaking down methane and transforming it into the much cleaner co2 and water vapour. "After some optical gas imaging studies, which we performed to see where the gas was actually going after animals exhaled, we realised it was, obviously, coming from the mouth and nose, but rising really very quick – quicker than we had first anticipated," he tells me. "That's because methane comes out hotter and bit lighter than your average gas, so the new design actually deals with this better and is really well fitted to receive this direction of travel."
With a hard plastic frame that bonds to a very flexible rubber, Zelp's mask can boast ease to its clients and customers – our flatulent friends included. "The materials we've used mean that in the event the mask hits the ground or gets stuck on pretty much anything that might be in your typical field, it will simply peel away and cause no harm to the cow wearing it."
Mindful of the impact that Zelp are working so hard to have on the environment, I take its proposition straight to the climate crisis holy grail. "We don't endorse specific products," Zion Lights, Extinction Rebellion's media coordinator and national spokesperson, tells me two weeks prior to the international rebellion, and the night before their pre-worldwide takeover newspaper is printed.
"People need to understand the scale of the climate emergency we are in, which will only happen when the government, media and all industries begin to act as if the truth is real. We need appropriate responses to the scale of the climate and ecological emergency, and agriculture is just one of the industries that are involved in that," she adds.
There's an cow-shaped elephant in the room, the obvious issue with Zelp's product. Luckily, Francisco mentions it before I have to awkwardly broach the topic myself. "I can understand why someone at Extinction Rebellion, or just someone who wants a solution to climate change or perhaps dramatic and immediate change in general, might see what we're doing as prolonging this issue rather than solving it," the Zelp co-founder admits.
"But the truth is, the world isn't ready to stop consuming beef and dairy yet: the 70 per cent increase in demand expected in the coming decades proves that. So, if that's the case, what we can do now is roll out our product quickly [Zelp is aiming to be in production and selling by the end of 2020] and get stuck in, reducing up to 60 per cent of the methane that cows are currently producing."
The Norrises, who tell me they're "totally aware that the most obvious solution to ending harmful gas emissions is to shift consumer behaviour and end the consumption of livestock products altogether", went to lengths to ensure that Zelp's product was, and is, positioned to be transitionary: "it's a transition period". "We're the in between of where society is now and where it will be in the informed future, where people are consuming alternative products in the form of plant-based proteins," Francisco says.
"But that will take time and right now, as movements like Extinction Rebellion show, we don't have time. The livestock industry is huge: it employs hundreds of millions of people, it's worth $2 trillion and it feeds a large amount of the global population – with that domination, we need to tackle what we can now. That's what Zelp is all about."
It's a hard pill to swallow, particularly for someone who's conscious of the planet's wellbeing and in complete support of Extinction Rebellion's three demands, but I understand where Francisco is coming from. Sadly, as is proven by the more than 1,000 arrests that have already taken place this week in London alone – as well as our prime minister's typically Victorian approach to describing "rebels" as "uncooperative nose-ringed crusties" – the world isn't ready to admit what is glaringly obvious: that Extinction Rebellion is right and we need to act now – or, in actual fact, that we needed to act some time ago.
Support free-thinking journalism and attend Independent events
Until then, perhaps Zelp is our best shot at combatting at least one of the many dangers that stands to destroy the world around us. And until governments around the world are ready to admit defeat, and make industries like livestock farming illegal, we should be looking forward to the transition period that Francisco and Patricio not only speak of, but are enabling through their invention.
"If things keep going the way they're going, then we should be out there doing what we want to do for the environment by next year – the sooner the better in our eyes," Francisco says to me, as our conversation comes to an end. I think I speak for the large majority of us, burping cows included, when I say the sooner the better in our eyes, too.
Join our commenting forum
Join thought-provoking conversations, follow other Independent readers and see their replies