Buses that suck pollution out of the air to be rolled out in Southampton
If 2,500 buses were fitted with the cleaning filter as much as 588kg of particles could be removed from air each year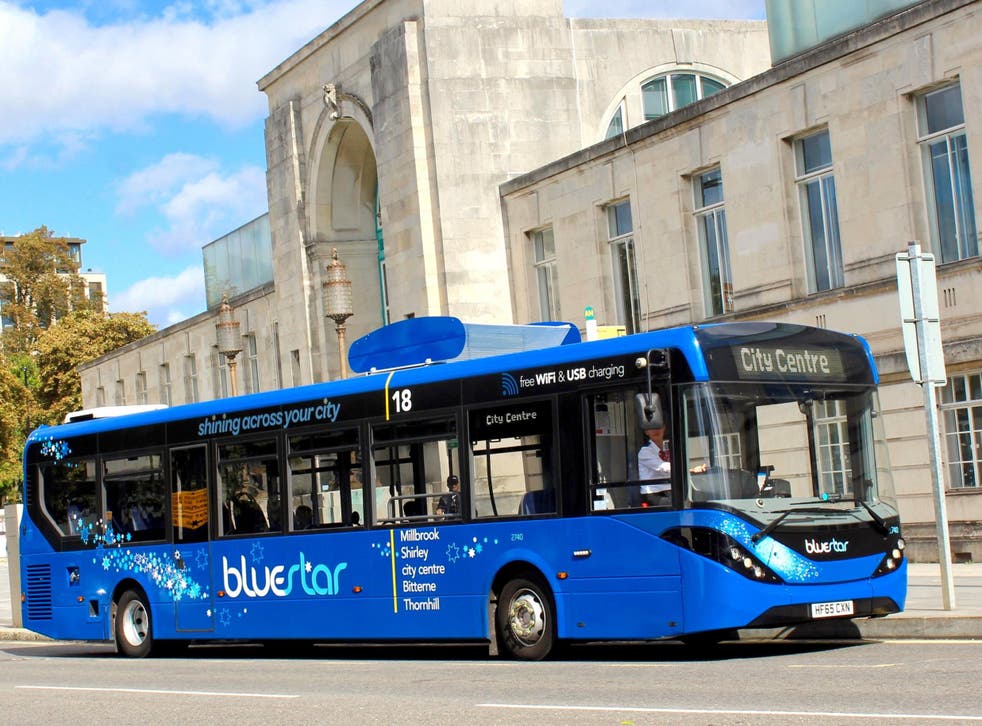 A bus company is bringing a fleet of pollution-busting buses to Southampton that suck in dirty air in a bid to clean up the city.
Go-Ahead Group announced its plans to expand a fleet of buses fitted with air-filters after a 100-day pilot that saw one of the buses travel 9,000 miles while cleaning the air.
The trial, started in September 2018, saw the Bluestar bus extract 65g of particulate matter from the city air – the equivalent of a tennis ball.
Southampton was chosen as the location for the pilot following a 2018 World Health Organisation report, which warned that the city was at its limit of unsafe air pollution.
The company planned to now install filters on all five of its Bluestar buses travelling Route 7 – an 11.5 mile path running across the city.
UK news in pictures

Show all 50
Go-Ahead said it hoped to expand to other cities around the UK, including Manchester, Oxford, Brighton & Hove, Newcastle, Norwich, Durham, as well as parts of Sussex and Kent.
Chief executive David Brown said: "We already know that a fully loaded double-decker can take up to 75 cars off the road, reducing congestion and pollution.
"Now we have hard data showing that buses with the fitment of an air filter can actively improve air quality."
The company estimated the expanded fleet within Southhampton could remove as much as 1.25kg of particulate matter from the air every year – and if fitted on 2,500 buses as much as 588kg
Register for free to continue reading
Registration is a free and easy way to support our truly independent journalism
By registering, you will also enjoy limited access to Premium articles, exclusive newsletters, commenting, and virtual events with our leading journalists
Already have an account? sign in
Register for free to continue reading
Registration is a free and easy way to support our truly independent journalism
By registering, you will also enjoy limited access to Premium articles, exclusive newsletters, commenting, and virtual events with our leading journalists
Already have an account? sign in
Join our new commenting forum
Join thought-provoking conversations, follow other Independent readers and see their replies