California condor: Shock therapy helping to bring rare vulture back from the brink
The birds have developed an unfortunate habit of flying into power cables
Tom Bawden
Sunday 16 August 2015 18:50 Comments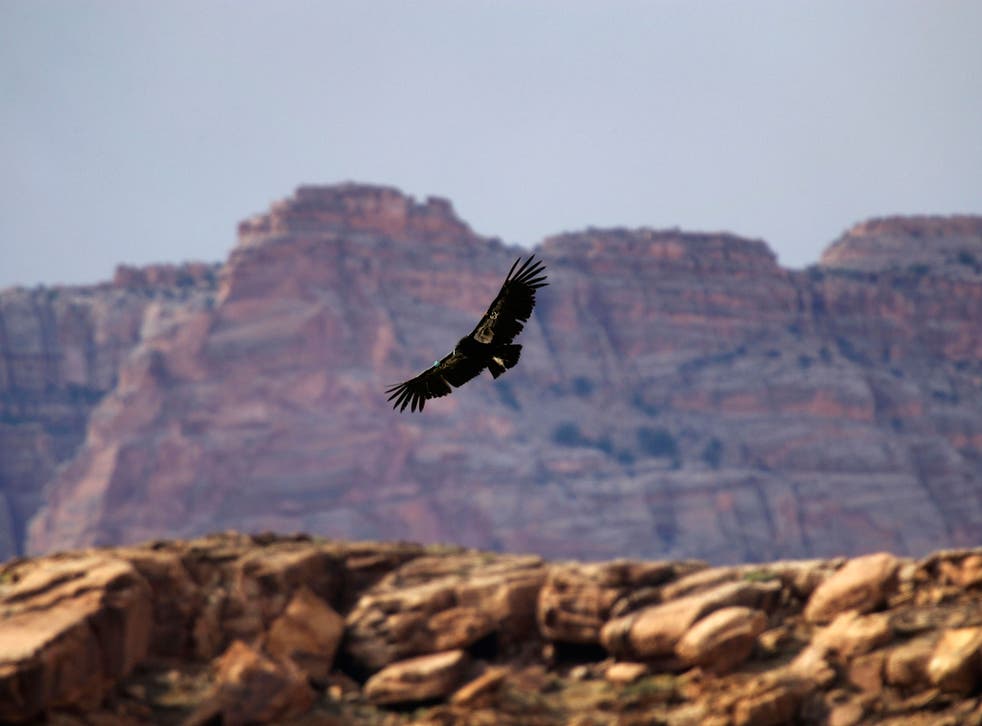 Shock therapy may be closely associated with the psychiatric treatment of humans but a version of the technique is being used to help bring the California condor back from intensive care.
North America's population of its biggest avian species had collapsed to just 22 by 1987 when the remaining wild birds were captured for their own protection.
The vulture species, which has a wingspan of up to three metres and is found in Arizona and Utah as well as California, has gradually been released back into the wild since 1992.
Unfortunately, with no experience outside of captivity, the newly released birds had a habit of flying into power cables and dying soon after leaving their cages.
"As they go in to land at a carcass or to roost for the night, they just don't see the power lines," Bruce Rideout of San Diego Zoo told The New Scientist. "They have a very large wingspan, which can bridge the gap between power lines, resulting in electrocution if they touch the two lines at once,"
However, a solution was on hand. The condors are caught several times a year for routine monitoring and health screening and, as part of the process, a new element was introduced – putting the birds in training pens, with artificial utility poles that dispensed a painful electric shock.
It has proved to be a very effective technique, according to a study of California condors in the journal Biological Conservation. Deaths from electrocution among birds released into the wild have fallen from 66 per cent before it was introduced to just 18 per cent today.
This has helped the annual mortality rate for adult condors drop from 38 per cent to 5.4 per cent by 2011 – just above the rate needed for the population to remain stable.
As a result, the bird's population, which had been decimated by poaching, lead poisoning and habitat destruction, has grown to about 150.
"Utility lines are not a significant problem anymore," Mr Rideout said.
Despite the turnaround, the number of birds is still very low and care needs to be taken to enable it to become a self-sustaining population.
Lead poisoning remains a big threat, exacerbated by the bird's slow but efficient digestive system, affecting the nervous system and fertility and which can lead to kidney failure and death.
They typically take in the lead by eating carcasses that have been shot.
A partial ban on the use of lead ammunition throughout the condor's range in 2008 seems to have had little effect. A study from 2012 found that about a fifth of wild birds in California had blood levels that were so high they required medicine to prevent sickness and death.
Register for free to continue reading
Registration is a free and easy way to support our truly independent journalism
By registering, you will also enjoy limited access to Premium articles, exclusive newsletters, commenting, and virtual events with our leading journalists
Already have an account? sign in
Join our new commenting forum
Join thought-provoking conversations, follow other Independent readers and see their replies