Illegal cannabis farms in California are poisoning endangered birds, say scientists
Study adds to environmental concerns about impact of toxic pesticides and other chemicals used in cultivation of the drug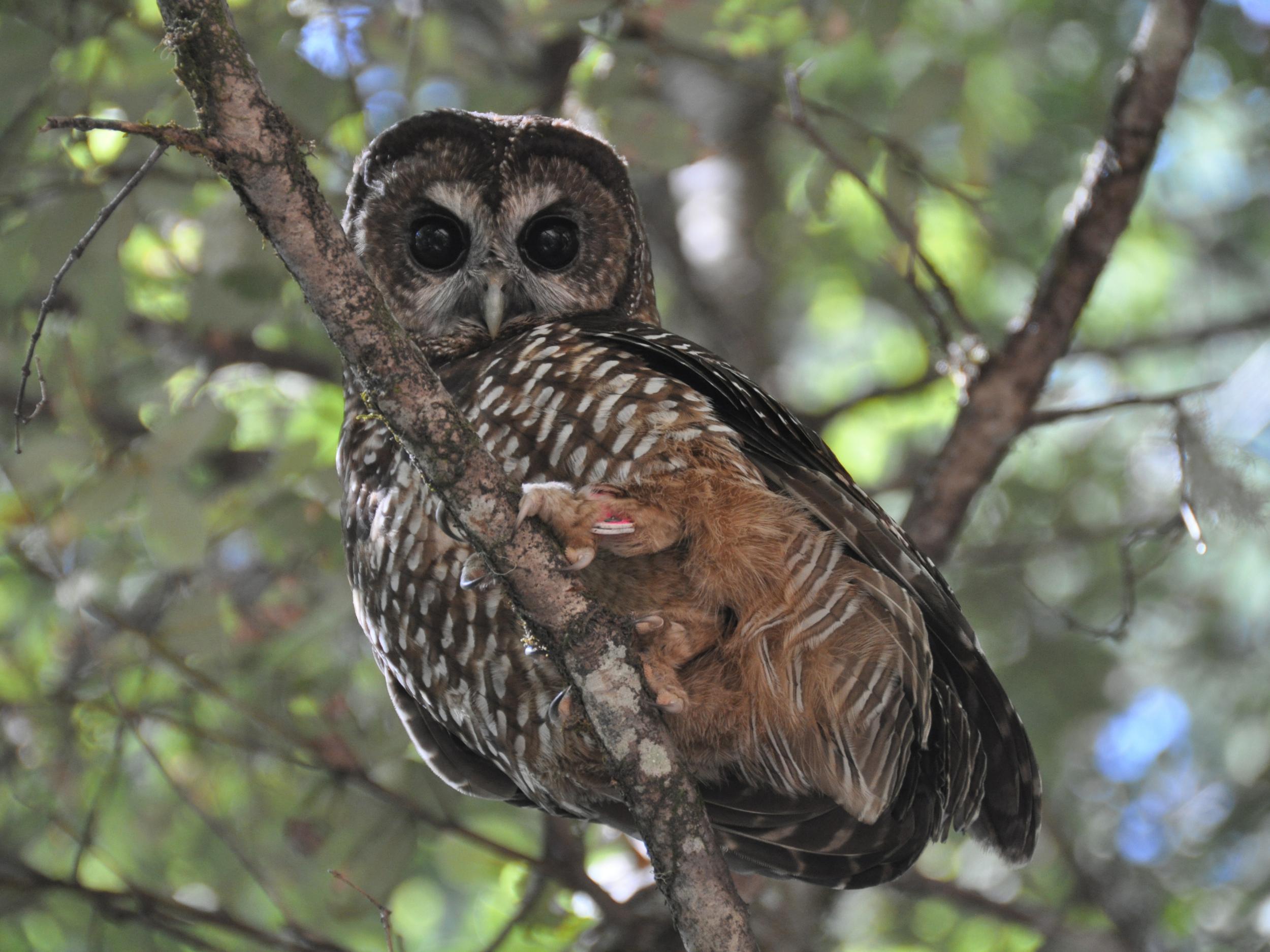 Endangered birds are being exposed to rodent-killing chemicals in California, likely as a result of illegal cannabis farms.
Sampling of endangered owls from north-west California revealed the majority tested positive for rat poison.
Researchers studying the owls suggest illegal cannabis cultivation is to blame for the increased presence of anticoagulant rodenticides in the natural environment.
These results add to concerns about the environmental impact of toxic chemicals used in the cultivation of illegal cannabis.
Critically endangered species
Show all 10
According to state estimates, there are up to 50,000 marijuana farms in California, accounting for over 90 per cent of all illegal US cannabis farming.
Though the state has just legalised the drug for recreational use, only around 16,000 farmers are expected to seek licences to grow it legally.
"There are a lot of incentives for continuing to grow illegally," Washington fish and wildlife deputy chief Mike Cenci told Reuters, noting a dislike among growers for taxes and red tape.
The continuation of illegal cannabis farming, which resource managers think may actually increase in magnitude now cannabis has been legalised, is bad news for Californian wildlife.
Illegal growers use fertilisers and pesticides that have been banned in the US for years, such as carbofuran.
These pesticides are known to cause harm to both humans and animals.
"When you have thousands of unpermitted growers and only a handful of biologists that regulate that for multiple counties, we're deeply concerned that there aren't sufficient conservation protective measures in place," said Dr Mourad Gabriel, the lead author of the new study and an expert on cannabis contamination issues at the University of California, Davis.
Dr Gabriel and his colleagues found that 70 per cent of northern spotted owls – listed as an endangered species – and 40 per cent of barred owls had been exposed to rodenticides.
The results of the new paper were published in the journal Avian Conservation and Ecology.
In the case of the owls, problems arise because forested areas are being converted into marijuana farms.
Not only do these farms creep into owl habitat, breaking up the forest provides the perfect environment for the predatory birds to hunt their prey.
"Spotted owls are inclined to feed along forest edges," said Dr Gabriel.
As grow sites break up the forest landscape and create edges, they provide sources for the owls to be exposed to harmful chemicals.
"If no one is investigating the level at which private marijuana cultivators are placing chemicals out there, the fragmented forest landscapes created by these sites can serve as source points of exposure for owls and other wildlife," said Dr Gabriel.
Though the impact of rat poison on owls is not well understood, studies have recorded non-lethal effects such as decreased size of chicks and number of eggs being laid, as well as increased mortality following injury.
The researchers want to use the owls they sampled – all of which were collected dead in the field – to help protect the owls still inhabiting the forests of north-west California.
"We're using our collections to build a concrete scientific case for increased forest monitoring and species protection before it's too late to intervene," said Dr Jack Dumbacher, curator of ornithology and mammalogy at the California Academy of Sciences.
Join our commenting forum
Join thought-provoking conversations, follow other Independent readers and see their replies