California set to become first US state requiring solar panels on new homes
State 'is about to take a quantum leap in energy standards'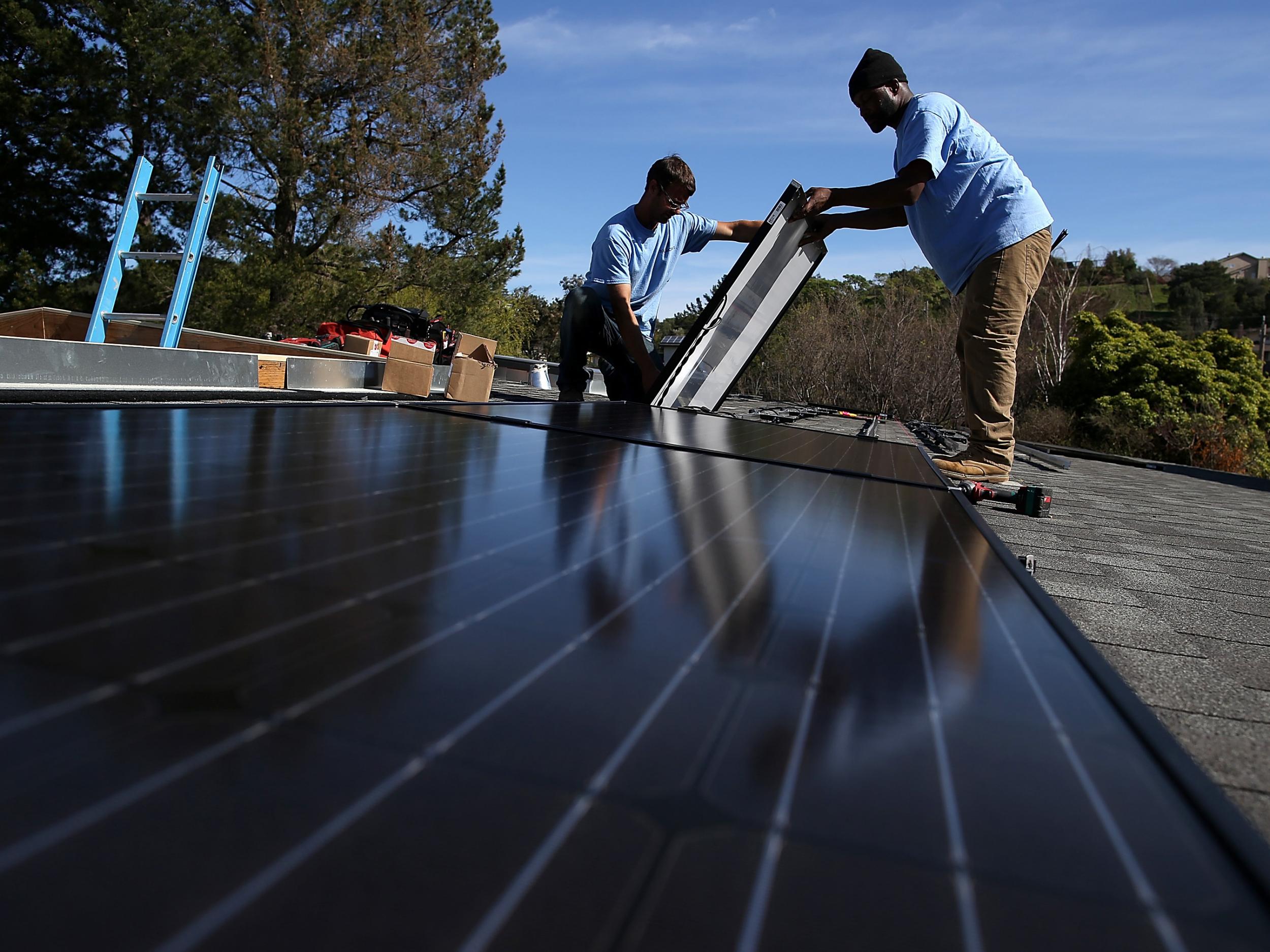 California is set to become the first US state to make solar panels mandatory on most newly built homes.
The state's Energy Commission is due to vote next week on new energy standards that would require virtually all new homes to be constructed with solar panels from 2020.
Currently around 20 per cent of single-family homes are constructed with solar capacity built in, but if the new standards are approved as expected this proportion will rise sharply.
"California is about to take a quantum leap in energy standards," Bob Raymer, technical director for the California Building Industry Association, told The Mercury News.
"No other state in the nation mandates solar, and we are about to take that leap."
The new requirement would apply to all homes over three stories tall.
Besides the wider implementation of solar power, the new guidelines would also call for increased reliance on electricity over natural gas and increased battery storage.
The new mandate dates back over a decade to a goal by the energy commission to improve the efficiency of homebuilding so that "newly constructed buildings can be net zero energy by 2020 for residences and by 2030 for commercial buildings".
"Net zero" would mean that all homes produce enough solar power to offset all electricity and gas they use.
Tesla's enormous battery in Southern Australia
The new mandate does not actually demand homes must be net zero, as state officials stated this goal is not yet cost effective.
CR Herro, vice president of environmental affairs at real estate development company Meritage Homes, said the new energy standard would add up to $30,000 (£22,164) to the cost of home construction.
However, he noted that over the 25-year lifespan of the home's solar system, the owner's reduced operating costs would save them up to $60,000.
Despite this, the added costs were criticised by homebuilder and design consultant Bill Watt, who said they would push house prices further out of reach for many.
"We're not building enough housing already," said Mr Watt, who is former president of the Orange County Building Industry Association.
"Why not just pause for a little while, focus on the affordability and housing issues, then circle back?"
The news was welcomed by environmental groups, with Pierre Delforge, energy efficiency programme director at the Natural Resources Defense Council, describing the move as "another important step towards the environmentally-friendly, healthy and affordable home of the future".
The co-called Golden State has a good record on solar energy – with a large proportion of California's power supply already generated by renewable methods.
On particularly sunny days, the state's already ample solar capacity has been known to produce so much power that electricity prices turn negative.
While there was a massive worldwide increase in renewable energy investment in 2017, particularly in solar power, the US as a whole actually saw a slight dip.
Join our commenting forum
Join thought-provoking conversations, follow other Independent readers and see their replies