California wildfires: Haunting images show devastation caused by latest blaze
Images show Zogg and Glass fires as they rip through northern California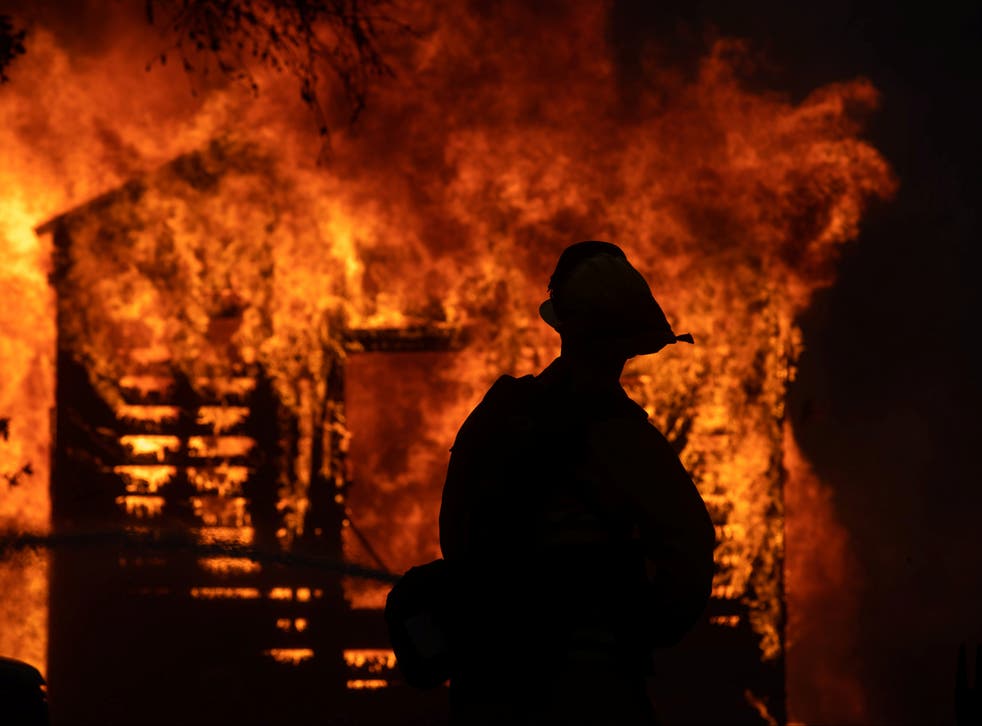 New chilling images show the destruction and devastation caused by the latest California wildfires. 
In the already-scorched wine country, the pictures show firefighters, residents and animals attempting to battle and flee from the gruesome flames.
The two fires, which began on Sunday in separate parts of northern California, have resulted in nearly 70,000 people having to evacuate - as well as three people being killed.
The blazes come as the region nears the third anniversary of deadly wildfires that erupted in 2017 - including one that killed 22 people.
Governor Gavin Newsom was forced to declare a state of emergency on Monday evening, as the temperature and weather conditions showed no sign of easing up. 
Officials have named the two fires Zogg and Glass.
More than 1,200 people were evacuated in Shasta County for the Zogg Fire, which spread over 23 sq miles as of Monday.
The Glass fire broke out before 4am on Sunday - merging with two other fires to rage through Napa and Sonoma counties on Monday - tripling in size to around 56.6 sq miles without any containment. Some two dozen homes burned, the San Jose Mercury News reported.
A local Santa Rosa man used a garden hose to fight flames at a neighbour's house in the Skyhawk neighbourhood until firefighters could relieve him.
Residences are widely scattered in the forested area in the far northern part of the state, as is clear from the images. The region was torched just two years ago by the deadly Carr Fire — infamously remembered for producing a huge tornado-like fire whirl.
The causes of the new fires were under investigation.
Numerous studies in recent years have linked wildfires in America to the ongoing climate crisis affecting the planet due to the burning of coal, oil and gas. 
Scientists say climate change has made California much drier, meaning trees and other plants are more flammable.
The ongoing damage does not only affect human life, but animals too as communities are torn apart by the fires.
The latest fires erupted as high pressure produced powerful gusts blowing towards the coast while drastically reducing humidity levels and increasing temperatures.
So far in this year's historic fire season, more than 8,100 California wildfires have now killed 29 people, scorched 5,780 sq miles, and destroyed more than 7,000 buildings.
Shasta County sheriff Eric Magrini, when announcing the three casualties, warned residents to listen to official advice and - as hard as it may be - to leave their house when instructed to do so.
"When you get that order, evacuate immediately. Do not wait," he told reporters on Tuesday.
Additional reporting by agencies
Join our new commenting forum
Join thought-provoking conversations, follow other Independent readers and see their replies