Campaign to save Sheffield's trees reaches High Court
More than 10,000 of the 36,000 trees lining the streets of Sheffield will be felled, according to campaigners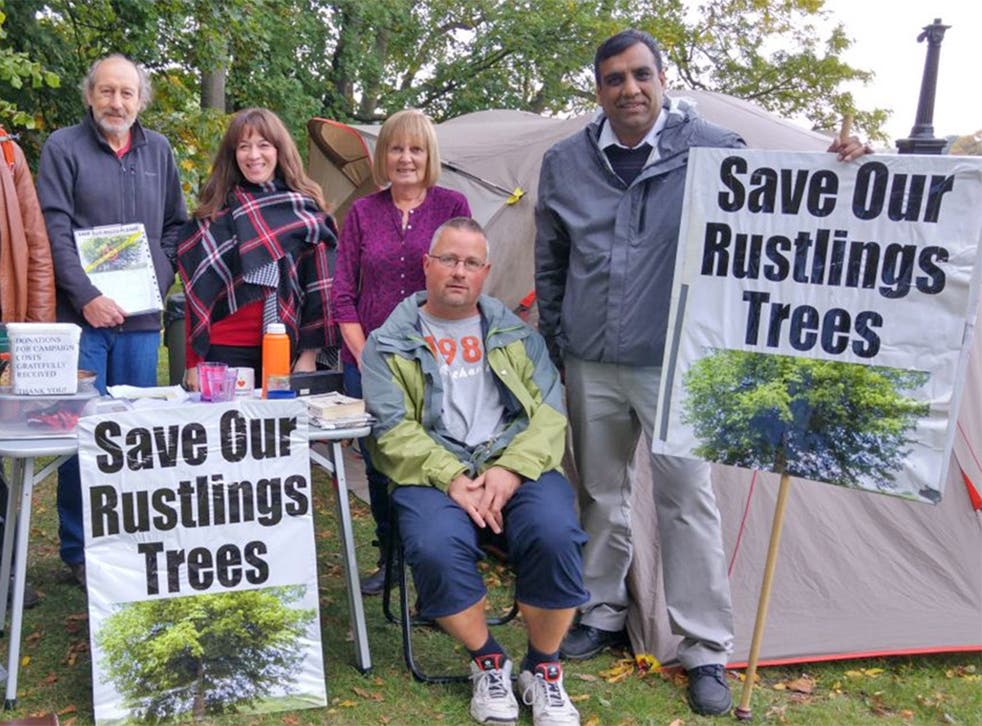 A bitter dispute between campaigners and councillors over a controversial programme to cut down thousands of trees has continued at a hearing at the High Court in London.
Anger at plans by Sheffield City Council to fell vast numbers of trees in a major road maintenance programme has prompted growing protests in recent months.
The row over the loss of trees, with more than 3,500 already felled and thousands more under threat, is in contrast to the council's claim that: "Sheffield is the greenest city in Britain."
And former deputy prime minister Nick Clegg, the Liberal Democrat MP for Sheffield Hallam, branded the council's tree removal scheme as a "national scandal" in an email to council leader Julie Dore last month.
"When I helped to secure the £1.2 billion of Government money to fix Sheffield's roads, no one expected that money to be used by Sheffield City Council to chop down hundreds of healthy mature roadside tree against the wishes of the public," he told her.
There are some 36,000 trees lining the streets of Sheffield. More than 10,000 will be cut down, according to the council's own estimates.
UK news in pictures

Show all 50
But campaigners fear that 75 per cent of the city's street trees could end up being felled under the scheme.
The council's Streets Ahead programme is a £2.2billion contract with construction firm Amey Hallam Highways to carry out road improvements over the next 25 years. This includes getting rid of trees which are deemed to be dead, dying, or diseased, as well as any which are damaging roads or blocking parts of pavements. Several thousand trees have been lost since the programme began in 2012. But campaigners claim that healthy mature trees are being cut down so that they can be replaced by saplings, which avoids the costs of having to prune the older trees.
Protestors succeeded in getting a temporary injunction against any further tree felling, except where trees are an immediate danger to the public, by the High Court last month. But this has been appealed by Sheffield City Council.
The case has been heard at the High Court, with campaigners seeking a judicial review of the council's refusal to removing trees as parts of the road maintenance scheme.
Retired actor Dave Dillner, who has brought the claim on behalf of the Sheffield Tree Action Groups, was optimistic. "I am hopeful, we'll have to wait and see," said the 69-year-old, speaking outside court.
Barrister Charles Streeten, representing Mr Dillner, argued that the council had not fully consulted on the issue and had failed to follow proper procedures, such as assessing the environmental impact of its actions.
But in legal arguments presented in advance of the hearing in front of Mr Justice Gilbart, lawyers for Sheffield City Council dismissed the claim as being "devoid of any substance" and "misconceived." They insisted that all trees which are removed will be replaced with "large, suitable specimens of a variety of species" and that "the great majority of street trees will be retained."
In a statement, a spokesperson for the council said: "Sheffield City council will comment fully when the outcome of the legal proceedings is understood."
The hearing was adjourned until 23 March, when the judge will reserve his decision to a later date.
Register for free to continue reading
Registration is a free and easy way to support our truly independent journalism
By registering, you will also enjoy limited access to Premium articles, exclusive newsletters, commenting, and virtual events with our leading journalists
Already have an account? sign in
Register for free to continue reading
Registration is a free and easy way to support our truly independent journalism
By registering, you will also enjoy limited access to Premium articles, exclusive newsletters, commenting, and virtual events with our leading journalists
Already have an account? sign in
Join our new commenting forum
Join thought-provoking conversations, follow other Independent readers and see their replies