Can motorsport ever be eco-friendly?
Rob Sharp gets behind the wheel of Britain's raciest hybrid to find out
Thursday 31 January 2008 01:00 Comments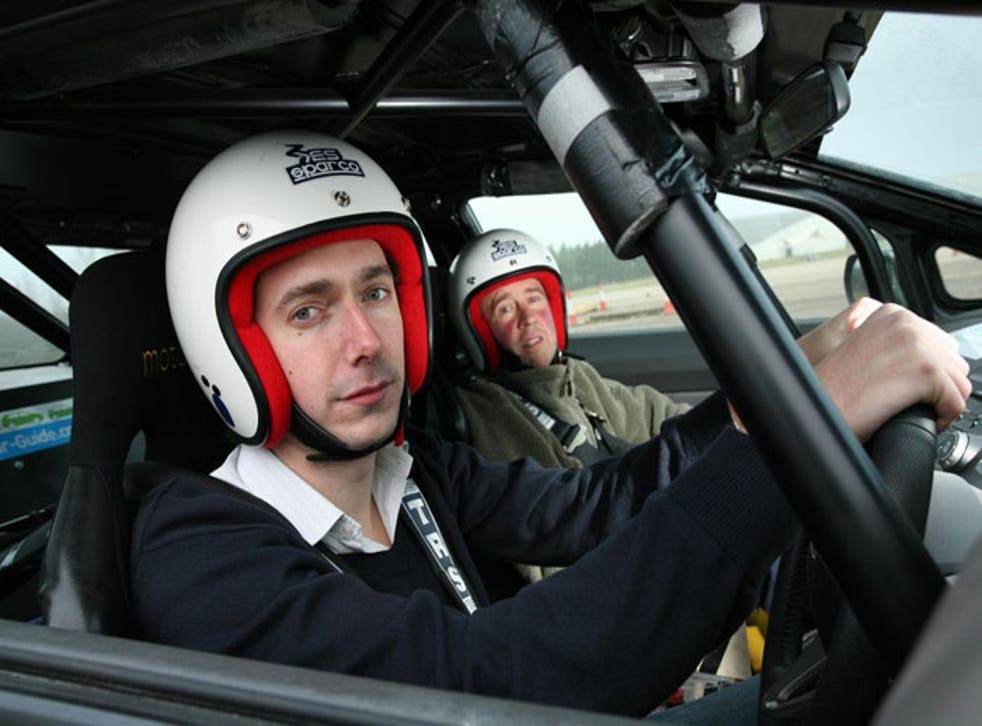 The testing facilities at Millbrook, near Bedford, are no ground zero for the green movement. For starters, they film James Bond movies here, test-drive new sports cars and even see the odd tank churning up the undergrowth: not the most ecologically aware ways to spend an afternoon. But on a rainy winter's day, two entrepreneurs with a passion for motorsport show how they have revolutionised the "environmental friendliness" of rally driving, and still have time to show off their handbrake turns.
Paul Andrews and his business partner, Bill Meeson, who met at school, have developed a new, eco-friendly sports car, and achieved this – almost literally – in their garden shed. They have adapted two Honda Hybrid cars (vehicles that combine electric and petrol power, and are thus more environmentally friendly) for use in the competitive world of rally driving. This is the first time hybrid cars have been used in a rally competition, and these vehicles – while admittedly not being the most streamlined or snazzy of rides – are optimised to compete with conventional rally cars. In doing so, they output exceptionally low emissions of CO2 and toxins, and give a level of fuel efficiency never seen before in the sport.
All of which means that if you care to don one of the white helmets that Andrews and Meeson wear to career around Millbrook's many twists and turns, it is hard initially to notice the difference between their vehicle and a normal rally car. As G-forces smash you back into your seat to the sound of squealing tyres and smouldering rubber, you can enjoy the knowledge that you have committed a good environmental deed; relatively speaking, of course.
Read the Cyclotherpy blog at independent.co.uk/cyclotherapy

Andrews and Meeson have been friends since attending Preston Catholic College in Lancashire in the 1970s. There, it was common for the school's pupils to go into the aerospace or vehicle manufacturing industry, or into academia. But Meeson went into the military and Andrews, who had always been interested in cars, studied mechanical engineering at university, though it was not long before they were reunited through their love of motorsport.

In the 1990s, the long-term friends clubbed together to buy their own specialist rally car, and soon were competing in rallies around the country. Even though they were "low budget" they were outdriving many of their better-funded adversaries.

The pair were obsessed by developing a low-emissions engine and, as well as racing, had decided to finalise designs for a motor made more efficient by the shape of its combustion chamber; if an engine was more efficient, they reasoned, it would also be more environmentally friendly.

"There is an optimum shape to give good burn efficiency," says Andrews. "This concept got us close to it. It allowed the engine to breathe very efficiently. It was a combination of gas-flow characteristic and shape that led to it generating more power for less fuel." He continues: "It came to the point that if we didn't do it then it wouldn't happen. We had facilities to set up our own workshops; we suddenly had the capability to do it ourselves."

He and Meeson were still funding their "hobby" by maintaining their careers; Meeson was a qualified solicitor and Andrews had a business selling vintage cars, and used this to subsidise his workshop, located in an outbuilding at his farmhouse.

In 1998 the pair put in an application to the Department of Trade and Industry for a Smart Award for £45,000; grants existing to help small businesses convert ideas for new products into prototypes. This allowed them to build an engine from scratch using a block of aluminium. This they describe as a four-stroke, with "a unique combination of valves" which they describe as a totally different concept from anything seen before.

They used a motorcycle engine and built complicated parts of it from scratch. "It was area that interested both of us," continues Andrews. "We had a Holy Grail moment when the first prototype ran; we had worked on this idea for 15 years and suddenly it was coming together."

They punctuated this serious work with more fun activities, such as competing in the Shell Eco-marathon. This annual competition sets the challenge for people to design, build and drive a vehicle using the least amount of energy. Around this time they had also been researching their work through racing pedal-cars; a niche sport involving four-wheel recumbent bicycles which reach 30mph. "It teaches about all the areas you need to focus on; including aerodynamics and efficient chassis design," says Andrews. "We would race these machines three or four times a year, all around Britain."

But the idea for their engine was stalling. After taking the concept to a business incubator, they were bitterly disappointed. There they had trouble meeting anyone they thought would be directly useful to the project.

It was then that they started doing research into hybrid-drive systems; poring over specialist technical journals. They suddenly realised the suitability of such systems for motorsport. They approached Energy Efficient Motorsport (EEMS), a government initiative that aims to promote the environmental sustainability of the sport, in January 2005, and used money that EEMS supplied to adapt a basic car to see if the hybrid would "suffer the punishment" in a rally situation. They competed in rallies in Lancashire and Wales, performing very well. In 2006 the car was fuelled using bioethanol, and it began to place as the best in its category.

After a short time of driving at Millbrook, one can begin to detect the adaptations the entrepreneurs have made to the Honda. While a normal rally car would have a very harsh transmission, the Honda hybrid seamlessly employs a combination of its petrol engine and electric motor working with the transmission. When the car is accelerated, it uses petrol and electric power at the same time, and the electric motor gives the engine around 15 to 20 per cent of additional power. When the vehicle squeaks to a halt, the energy normally dissipated by braking is stored as electricity within a cell and reused when the vehicle powers up once again.

It is hoped that having endured the "high-stress" environment of competitive motorsport, the work can be adapted into more mainstream areas. They can also bask in the glory of having won the attention of some of motorsport's top brass. Peter Wright, who works as a technical consultant for the FIA, the governing body for motorsport worldwide, emphasises that Formula One is soon to follow suit, by employing energy-saving technology. The sport is to introduce brake energy recovery – where cars store energy normally lost during braking for reuse for powering the vehicle – in 2009.

Wright says: "I think what [Andrews and Meeson] are doing is what the British are very good at: two men pushing something independently. The reason there are not many hybrids racing is because there aren't many hybrids in general. But it is good that motorsport pushes this technology very hard."

However, Andrews believes that without further support the project is in danger of not progressing fast enough to exploit the impetus gained. "We are held back by funding. Our focus now is to attract backing that will allow the project to make a raft of exciting developments over the next 12 months. Everything else is in place."

Hot wheels – motorsport gets the environmental message

* Green motorsport – while seemingly an oxymoron to the hardcore environmentalists out there – is making inroads. Last week one of motorsport's glamour get-togethers – the A1GP World Cup – became the first series in the world to fill its tanks with biofuel.

* To accompany the trend, even politicians are revving their engines for environmentally-friendly motoring. In November, Lord Drayson, the Government's former defence-procurement minister, resigned his post to compete in the 2008 American Le Mans Series in a souped-up, green, biofuelled vehicle.

* The British Touring Car Championship will be the first motor-racing series in the world to place a limit on carbon-dioxide emission levels. Other organisations to have clambered aboard the green train include BMW, which has imported eight of the 100 hydrogen-powered BMW 7-Series saloons which it has built into the UK. They are being loaned to VIPs, business leaders and various other important types.
Register for free to continue reading
Registration is a free and easy way to support our truly independent journalism
By registering, you will also enjoy limited access to Premium articles, exclusive newsletters, commenting, and virtual events with our leading journalists
Already have an account? sign in
Join our new commenting forum
Join thought-provoking conversations, follow other Independent readers and see their replies