Car tyres polluting huge swathes of seas and rivers, contaminating more than previously thought, say scientists
Microplastics from vehicle wheels could be damaging untold miles of waterways, experts find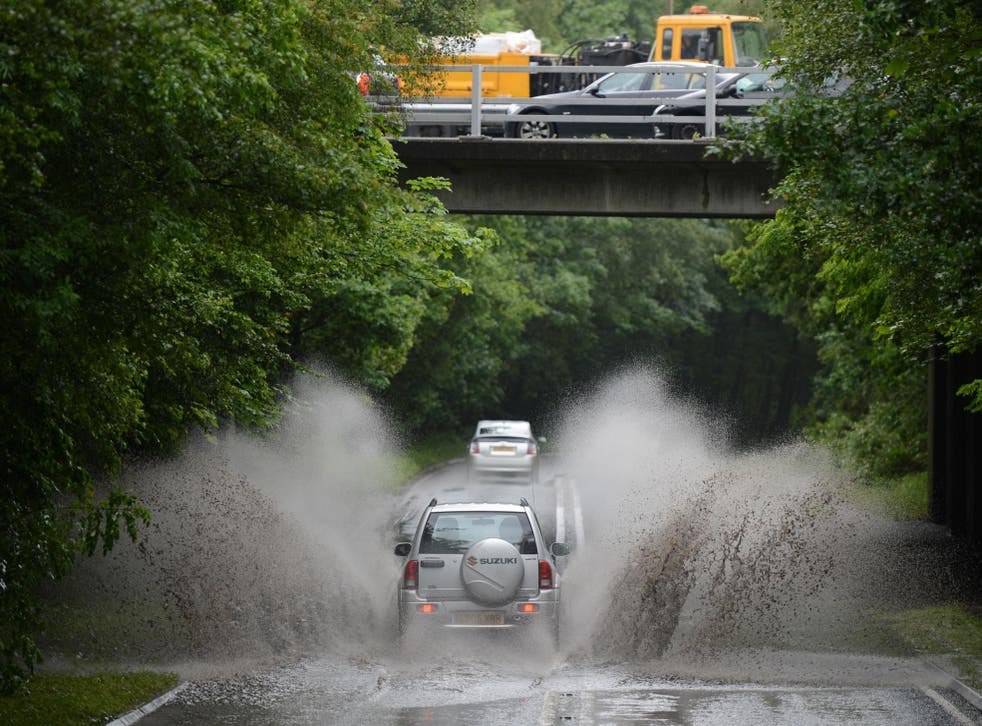 Pollution of rivers and the sea by fragments from vehicle tyres is much worse than previously suspected, putting millions of square metres of waters at risk of contamination, scientists say.
Tyre particles are a major source of the microplastics in waterways, being carried through the atmosphere or by rainwater into rivers and sewers, the experts found.
The hauling of fishing nets and pots, causing ropes and netting to fragment, also causes "substantial" numbers of microplastic pieces to be shed into the oceans.
The research, funded by the government, identifies tyre particles as a major source of microplastics in the seas and rivers, in addition to decomposing bottles, bags and other detritus that choke marine life.
Microplastics – fragments of plastic less than 5mm long – have been found in fish and shellfish bound for human consumption, and it has been estimated that an average European seafood eater consumes 11,000 plastic particles a year.
Plastic pollution in UK rivers: In pictures

Show all 10
Seabirds, fish, turtles and whales globally - from the deep seas to the Arctic - ingest microplastics, which damage their growth and reproduction, research has previously shown.
A 2017 report by the International Union for Conservation of Nature found that tyres account for more than one-quarter – 28 per cent – of microplastic waste in the world's oceans. Friends of the Earth (FoE) estimates that up to 19,000 tonnes of tyre fragments get into UK waterways, rivers and seas each year.
In the new study, experts at the University of Plymouth found tyre particles were a "significant and previously largely unrecorded" source of marine microplastics. Researchers estimated tyre pollution could be contaminating 100 million sq m of the UK's river network and more than 50 million sq m of estuarine and coastal waters.
Although they are considered "rubber", vehicle tyres are made from a complex blend of synthetic materials and chemicals, including different types of plastic, according to FoE.
The Department for Environment, Food and Rural Affairs says the findings will be used to guide research already under way on the effect of human activities on the marine environment.
Last year an investigation found the lung development of children could be stunted by the release of microplastics from tyres.
The new study, which cost nearly £200,000, said that although clothing fibres are widely distributed in environments worldwide, tyre particles "were typically denser and more heterogeneous [different] in shape and size than textile fibres". The authors said their findings suggested more tyre debris than clothing fibres were escaping into the environment but that it was too early to judge their effects on marine life.
Changing fabric designs to reduce fibre loss from clothing would have more effect than fitting filters to washing machines, the researchers said, after another study recently showed that normal wear and tear when wearing clothes is just as significant a source of microplastic pollution as washing them.
On damage from fishing gear, the report says: "We estimate that even under very modest loading a new rope could release roughly 40 microplastic pieces per metre hauled, whereas an older rope could release over 700 pieces per metre hauled."
Prof Richard Thompson, head of the international marine litter research unit at the University of Plymouth, who led the study, said: "Scientists have long suspected that tyre debris is posing a hidden threat to the marine environment. However, there have been few studies measuring abundance in aquatic environments.
"This study gives us a real insight into the importance of tyre wear as a source of microplastics. However, there are still many unknowns, and compared with other forms of microplastics, we know relatively little about tyre wear particles. So it is important to continue to take steps to reduce emissions of better understood sources like fibres from textiles and the fragmentation of larger items."
The UK has already banned microbeads in toiletries, and a ban on sales of plastic straws and stirrers and plastic-stemmed cotton buds takes effect later this year.
An AA spokesperson told The Independent that particles that come off tyres usually stay close to the road, but that authorities should both work to prevent tyre pieces getting into drainage and also improve public transport. "For people needing to get to work the car is by far the most flexible and financially efficient way of doing that," he said, which reflected a failure by local authorities to provide good alternatives.
Join our new commenting forum
Join thought-provoking conversations, follow other Independent readers and see their replies