Cars and pedestrians don't mix well, concludes study into shared-space schemes
Former Paralympian calls for an immediate moratorium on all such schemes
Tom Bawden
Friday 03 July 2015 19:13 Comments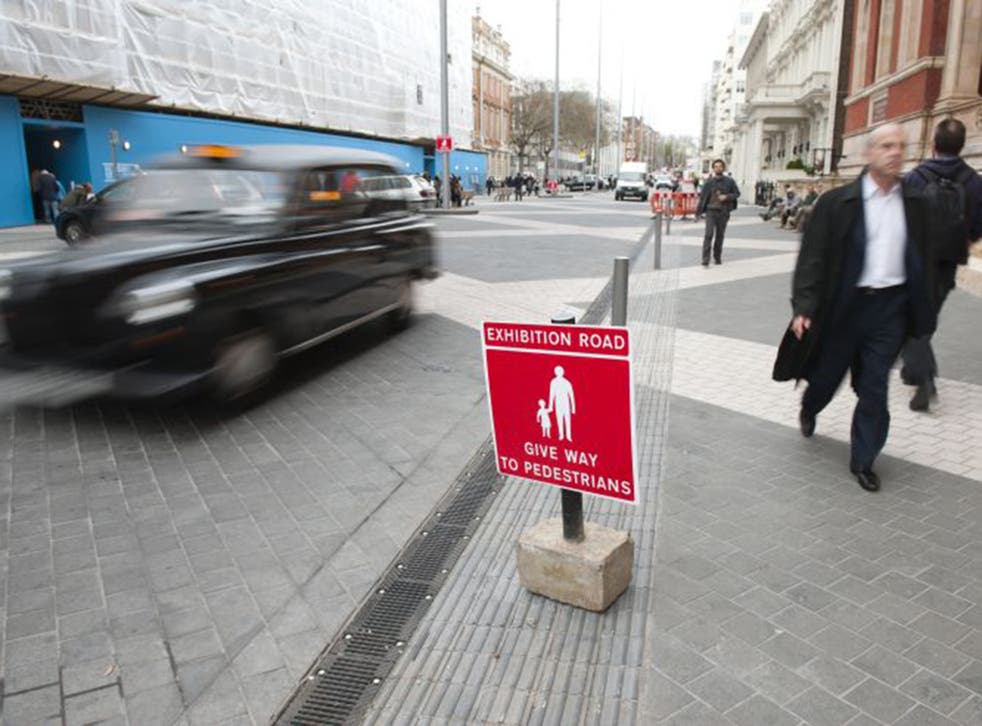 Traffic and pedestrians should no longer be made to share street space, as the modern trend for removing kerbs and road surface markings has turned town centres into "dangerous Third World traffic free-for-alls", a former Paralympian has warned after conducting a review.
So-called shared-space schemes have sprung up in more than 100 areas in the UK, after local authorities adopted the counterintuitive idea of improving safety by removing the dividing lines between people and cars.
The idea, pioneered in the Netherlands, is that by putting buses, cars and lorries together with pedestrians, all parties are forced to co-operate and concentrate.
But a survey has found that most people are now against shared-space schemes.
"The reality is that people feel terrified to go in these areas – be they pedestrians or motorists – because nobody has the right of way," said Lord Holmes, a gold-medal-winning Paralympic swimmer and Parliament's sole blind member, who commissioned the survey.
"Town centres are being turned into dangerous Third World traffic free-for-alls, which is ridiculous," he said. "We have travelled so far in our development and now we are taking huge steps backwards based on architectural conceit and planning folly."
Lord Holmes' survey of 600 people found that 63 per cent rated their experience of shared spaces as poor, with 35 per cent saying they avoided them altogether. One respondent described the concept of shared spaces as "lethally dangerous", while a driver said it was an "absolute nightmare that I avoid if I can".
Lord Holmes is calling for an immediate moratorium on all such schemes, which are also facing a legal challenge from five visually impaired people who are suing their local authorities for removing pedestrian crossings as part of shared-space projects.
A DfT spokesman said: "It is for local authorities to assess the suitability of introducing a shared-space scheme on their roads. As part of this we expect them to take into account the needs of the whole community, particularly disabled people."
Register for free to continue reading
Registration is a free and easy way to support our truly independent journalism
By registering, you will also enjoy limited access to Premium articles, exclusive newsletters, commenting, and virtual events with our leading journalists
Already have an account? sign in
Register for free to continue reading
Registration is a free and easy way to support our truly independent journalism
By registering, you will also enjoy limited access to Premium articles, exclusive newsletters, commenting, and virtual events with our leading journalists
Already have an account? sign in
Join our new commenting forum
Join thought-provoking conversations, follow other Independent readers and see their replies