Central Europe under water: Floods wreak havoc in Germany and Hungary
Tens of  thousands of people forced to evacuate their homes as further dramatic rises in the levels of the swollen Elbe and Danube rivers continued to cause chaos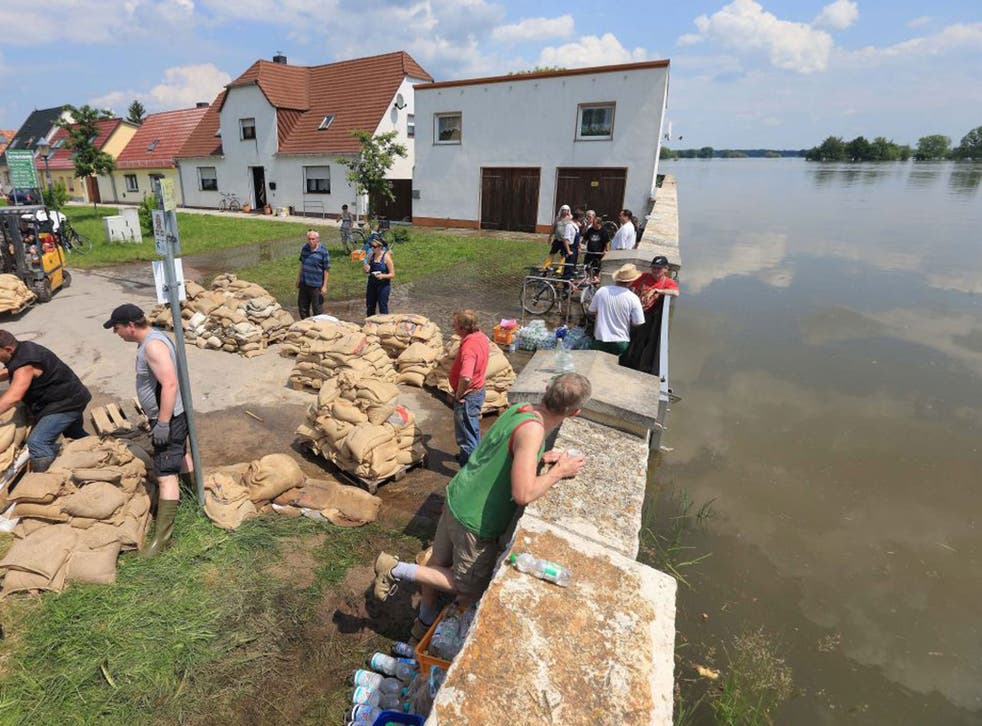 Tens of thousands of people were being forced to evacuate their homes across swathes of Germany and Hungary today as further dramatic rises in the levels of the swollen Elbe and Danube rivers continued to cause some of the most devastating floods ever experienced in Central Europe.
In the east German city of Magdeburg, flood waters from the Elbe rose eighty centimetres higher than during Germany's so called 2002 "flood of the century" today. Some 23,000 residents were forced to flee their homes as soldiers, rescue workers and volunteers battled furiously to shore up leaking dykes..
City officials said an entire district of Magdeburg faced the possibility being submerged and there were fears that an electricity supply station would be flooded and force power supplies to be shut off completely. " You just cannot imagine what people are having to deal with," declared German President Joachim Gauck after touring flood hit towns today.
The flooding northwards along the Elbe was expected to continue and even worsen this week as waters from river's hugely swollen tributaries flow into the main river south of Magdeburg and head north west.
In southern Germany thousands of people were struggling with a massive clean up operation following devastating Danube river floods which hit parts of Bavaria last week. Meteorologists said heavy rain was forecast for southern Germany and that further flooding in the region could not be ruled out.
So far at least fifteen people have died in Central Europe since the flooding began a week ago. In Germany alone, 70,000 firemen, 11,000 soldiers and tens of thousands of volunteer rescue workers are battling the floods.
Today the Elbe cities of Wittenberge, and Lauenburg were also hit by severe flooding and officials said they expected water levels would remain high for days.. Elbe towns as far north as the state of Schleswig-Holstein were being evacuated as a precaution. By contrast 10,000 residents evacuated from the town of Bitterfeld, further south, were being allowed to return home today as the Elbe floodwaters receded.
In Germany, police said the already horrendous problems caused by the floods were exacerbated by letters circulated early on Sunday by a suspected leftwing group, which threatened to deliberately damage sections of already weakened river dykes in order to create chaos.
The letters signed by a group calling itself the "anti-German, anti-fascist flood brigade" threatened to strike at dykes in order to "harm people across Germany". Police said they were taking the threats seriously and had stepped up helicopter surveillance and road patrols throughout flood-hit areas.
In Hungary, thousands of volunteers, rescue workers and even prison convicts were reinforcing dykes along a 470 mile stretch of the swollen river Danube today as the country prepared for record flooding. Some 2,000 residents were evacuated from the village of Gyorujfalu in western Hungary because a dyke threatened to burst.
Small towns and villages have already been cut off and in the capital, Budapest the Danube is expected to reach record levels early tomorrow. Istvan Tarlos, the city's mayor said that in the worst case up to 55,000 people would need to be evacuated from their homes.
Register for free to continue reading
Registration is a free and easy way to support our truly independent journalism
By registering, you will also enjoy limited access to Premium articles, exclusive newsletters, commenting, and virtual events with our leading journalists
Already have an account? sign in
Register for free to continue reading
Registration is a free and easy way to support our truly independent journalism
By registering, you will also enjoy limited access to Premium articles, exclusive newsletters, commenting, and virtual events with our leading journalists
Already have an account? sign in
Join our new commenting forum
Join thought-provoking conversations, follow other Independent readers and see their replies