Cheap power under our feet
UK borrows Iceland's geothermal techniques to tap the heat at the centre of the Earth to solve our energy woes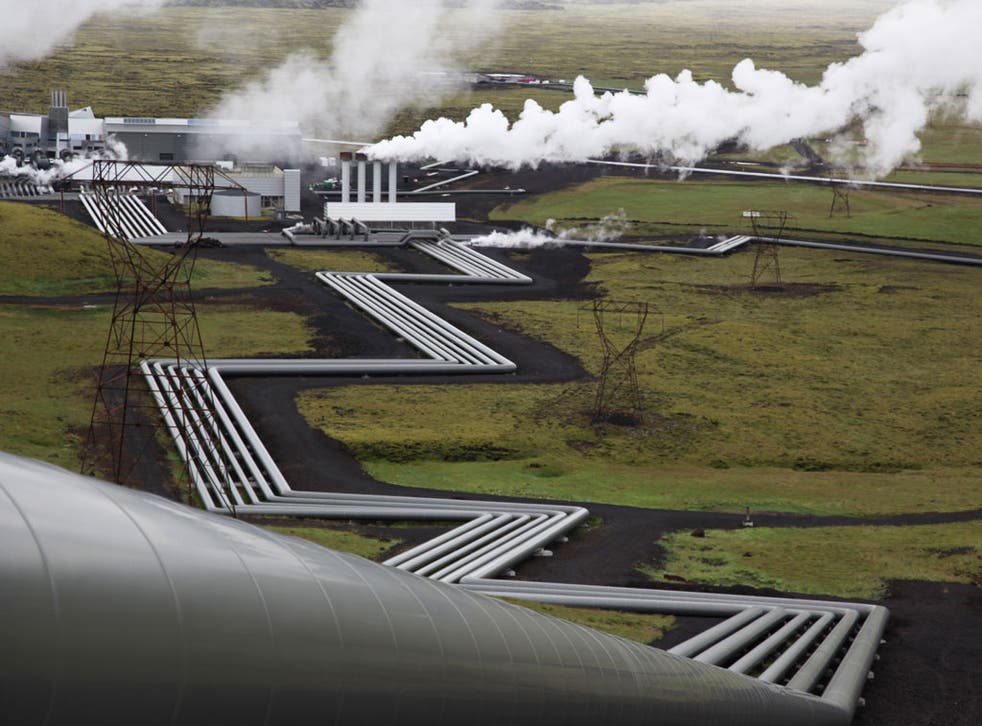 Hot rocks technology, which uses the heat of the Earth's core to generate power, will soon become a reality in Britain. Plans have been unveiled to tap into geothermal resources at five sites, including one in Manchester with the potential to heat 7m homes. And planning permission has been granted to two projects in Cornwall, considered to be the leading county in hot rocks technology, including a £32m scheme at the Eden Project.
Ministers have struck a deal with their Icelandic counterparts to share technical advice, drawing on their experience in capturing the power of their geysers. Supporters of the technology are increasingly confident that reforms to renewable energy subsidies will make more projects commercially viable.
The technology is surprisingly simple. Water is either pumped into the ground, or drawn from a deep well, and pumped back to the surface, where it is used to heat homes directly or to produce steam to drive a turbine that generates electricity.
A study by Sinclair Knight Merz, engineering consultants, found deep geothermal resources could provide 9.5 gigawatts (GW) of renewable electricity, equivalent to almost nine nuclear power stations and 20 per cent of the UK's electricity demand. It could also provide more than 100GW of heat, enough to meet the UK's entire demand for heating homes and buildings.
Hotspots are spread across the UK, but they are more likely to be found in the Lake District, Yorkshire, Lincolnshire, Cheshire, Dorset and Hampshire. Parts of Scotland and Northern Ireland are also considered promising.
To date only one geothermal heat plant, in Southampton, exists. But developers believe they are close to a major technological breakthrough that will make it commercially viable and a source of green energy.
GT Energy, which has developed projects in Ireland, has now unveiled plans for the UK's largest geothermal heating project, exploiting the Cheshire Basin beneath Manchester. After drilling down 3.2km, water will pumped back to the surface at temperatures of around 100C, before being used to heat homes on the Oxford Road corridor and pumped back underground again.
Padraig Hanly, chief executive of GT Energy, said: "The boon of geothermal is it is the only form [of green energy] that can be delivered in urban areas that doesn't have impacts. It is constant; it doesn't matter if the wind isn't blowing or the sun isn't shining."
The company has signed a memorandum of understanding with E.on, one of the big-six energy companies, to develop a total of five projects in the UK. The capital investment totals £300m-£400m. Homes could see heating bills cut by 10 to 15 per cent. The technology is new in the UK, but there are more than 30 plants in Paris and around 80 in Germany.
Join our new commenting forum
Join thought-provoking conversations, follow other Independent readers and see their replies