China builds huge solar power station which could power a million homes
The proposed power station will measure 10 square miles and generate 200 megawatts of solar energy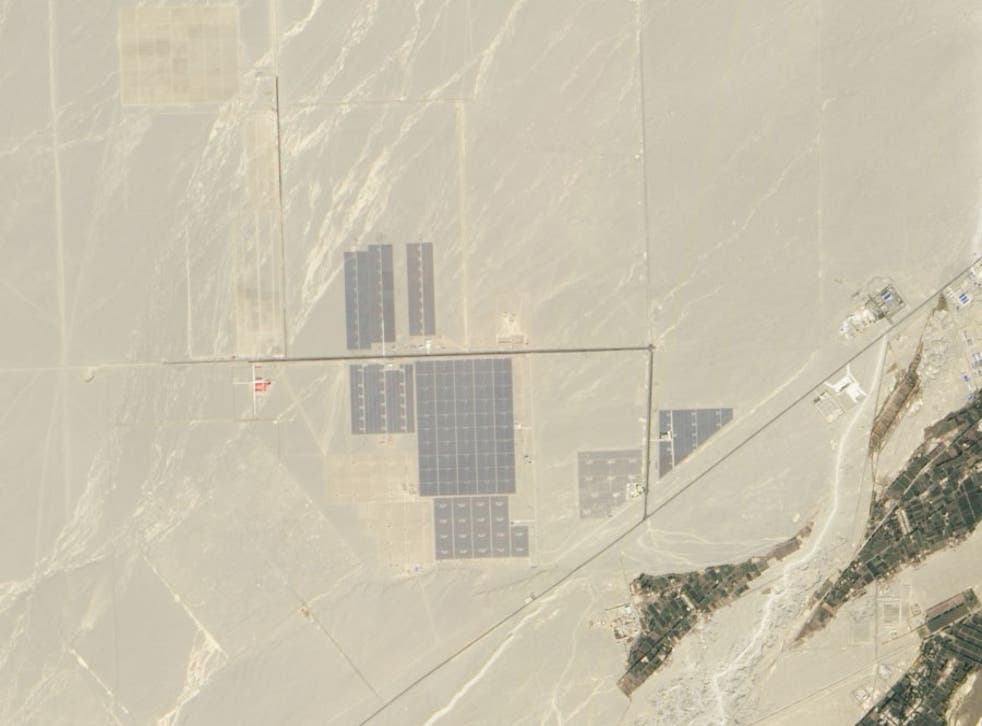 China is set to build a giant solar power station in the Gobi desert, which could generate enough energy to supply one million homes.
The proposed power station will measure 10 square miles and generate 200 megawatts of solar energy.
The plans will fall in line with the Chinese government's ambitious initiative to reduce the country's fossil fuel energy by 20 per cent by 2030 in addition to cutting its green house gas emissions.
Construction began six years ago on the country's first large –scale power station, according to National Geographic.
Recent photos from NASA satelites show that the solar panels making up the plant cover an area roughly three times bigger than was seen three years ago.
China is quickly becoming a world leader in solar power.
According to the International Energy Agency, the country produces two-thirds of all solar panels and it gained more solar capacity than any other country in the world last year.
China invested $83.3 billion dollars last year into renewable energy, more than any other country, according to a report from the UN Environment programme.
The United States, despite being the second highest investors in renewable energies, invested less than half this amount.
Jennifer Morgan, director of the climate program at the World Resources Institute told National Geographic: "China is largely motivated by its strong national interests to tackle persistent air pollution problems, limit climate impacts and expand its renewable energy job force."
She added that China, presently the greatest emitter of greenhouse gases, will be able to meet its pledge if it continues with its new emphasis on renewables.
Chinese Premier Li Keqiang said: "China's carbon dioxide emission will peak by around 2030 and China will work hard to achieve the target at an even earlier date," according to Reuters.
A global boom in solar power could be on the cards, according to Bloomberg New Energy Finance, as panels get cheaper and batteries become more advanced.
By 2040, they predict, in moves led partly by China, solar power could account for one-third of new electricity.
Register for free to continue reading
Registration is a free and easy way to support our truly independent journalism
By registering, you will also enjoy limited access to Premium articles, exclusive newsletters, commenting, and virtual events with our leading journalists
Already have an account? sign in
Register for free to continue reading
Registration is a free and easy way to support our truly independent journalism
By registering, you will also enjoy limited access to Premium articles, exclusive newsletters, commenting, and virtual events with our leading journalists
Already have an account? sign in
Join our new commenting forum
Join thought-provoking conversations, follow other Independent readers and see their replies