China's ban on imported plastic leads to 'impending crisis' for UK waste recycling
UK at risk of environmental pollution as waste management companies lack capacity to dispose of recyclable materials appropriately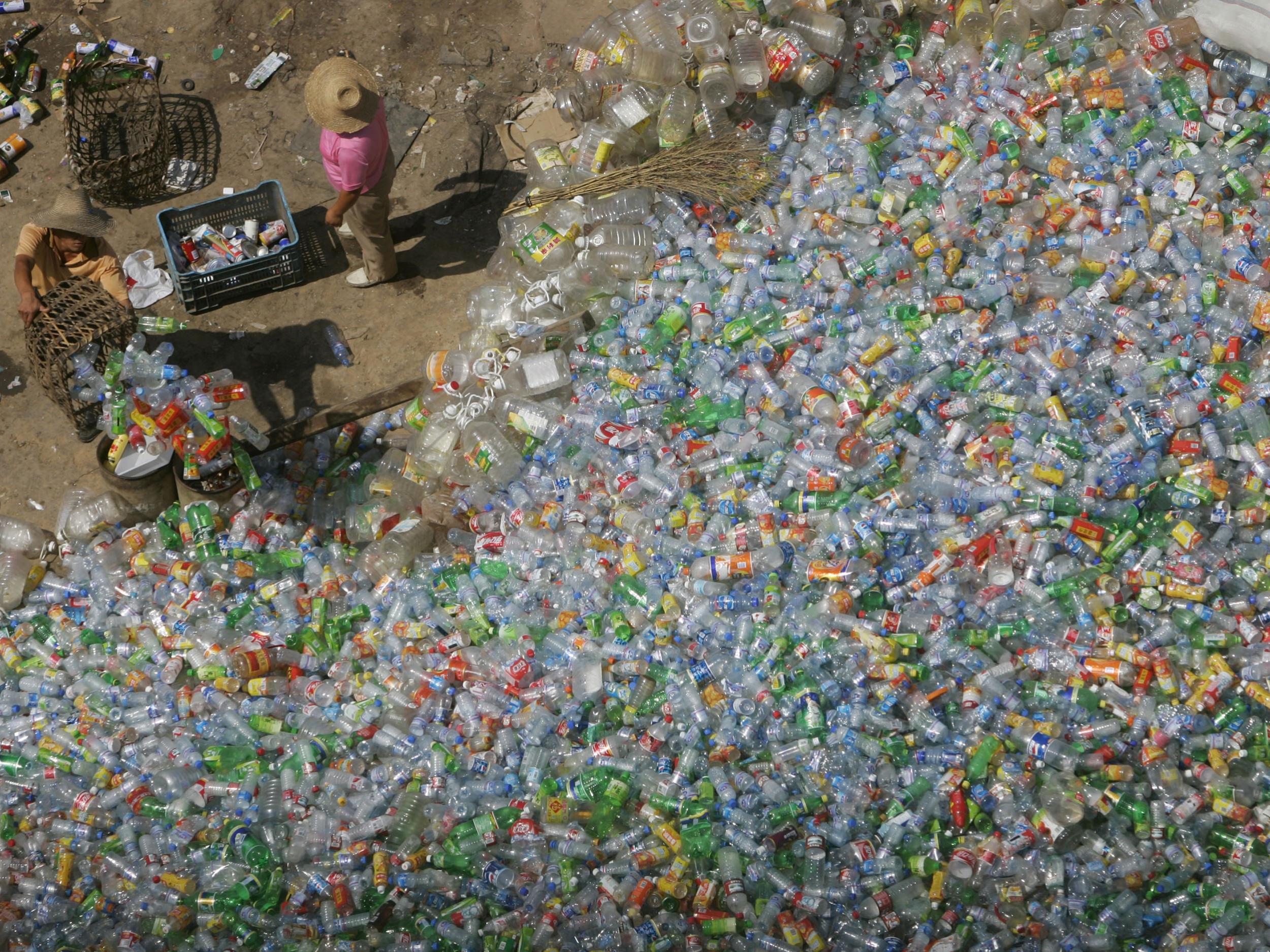 China's ban on imported plastic puts the UK at risk of environmental pollution owing to the recycling industry's lack of capacity, according to an investigation by Greenpeace UK.
The UK exports almost two-thirds of its total waste to China, with UK businesses shipping more than 2.7 million tons of plastic waste there and to Hong Kong since 2012.
China will stop imports of recyclable waste from early next year, including mixed paper, plastic bottles and 24 types of solid waste, saying much of the waste it imports from the UK and other countries is too hazardous to recycle.
Environment Secretary Michael Gove recently admitted he didn't know what the impact of the decision will be.
"It's … something to which – I will be completely honest – I have not given sufficient thought," he told MPs.
"Instead of confronting our growing problem with throwaway plastic at home, we have been shipping it off to places like China where it's easier for us to ignore," said Elena Polisano, oceans campaigner for Greenpeace UK.
"Now that China has decided they've had enough of our waste, it's obvious that the UK's recycling system simply can't cope with the mountain of plastic waste we generate."
The ban could force councils up and down the UK to stop collecting some plastic, while waste companies are considering incineration and burying recyclable plastic waste in landfill sites.
"There's a lot of uncertainty in this," Adam Read, external affairs director at waste management company Suez, told Greenpeace UK.
According to Mr Read, the lack of clear strategy and capacity in the national recycling industry, combined with uncertainty caused by Brexit and the new China ban, could cause serious problems in the UK.
"I think there's an impending crisis," he said.
Simon Ellin, chief executive of the Recycling Association, described the ban as a "game changer for the UK" with a potentially detrimental effect to the environment.
"We've relied on China for so long for exporting our plastic waste", he said. "Almost half of our paper and cardboard ends up in China because of the lack of money invested in recycling waste in the UK".
Mr Ellin said UK plastic was often mixed with other materials. The "poor quality" waste has led to China no longer accepting what it calls "foreign garbage".
"Our plastic waste isn't good enough for new, higher Chinese standards", Mr Ellin said. "When we're buying paper, they don't want it mixed. We've got to improve – and they [China] have a point".
He said the blame lies partly with retailers and designers for "too many examples of bad packaging", and urged the UK Government to invest in recycling plants and infrastructure.
The Government has previously been warned by the Recycling Association about the need to invest in new recycling plants.
Vast sea of plastic and pollution in the Caribbean: in pictures
Show all 11
A Defra spokesperson said: "We are continuing to work with the waste industry and the Environment Agency to understand the impact across the sector of the Chinese government's proposed restrictions on waste imports.
"We are also looking at ways to process more of our recycling at home as part of our resources and waste strategy."
The China ban could open up a new opportunity for the UK to "take recycling to the next stage" with a shift in cultural attitudes towards recycling, said Mr Ellin.
"Let's start taking recycling seriously and we could be like Japan, where the cleanliness is exceptional, in 20 years," he said.
Join our commenting forum
Join thought-provoking conversations, follow other Independent readers and see their replies