President Xi Jinping announces China's pledge for carbon neutrality by 2060
The Chinese leader called for a 'green revolution' in a pre-recorded message at the UN General Assembly on Tuesday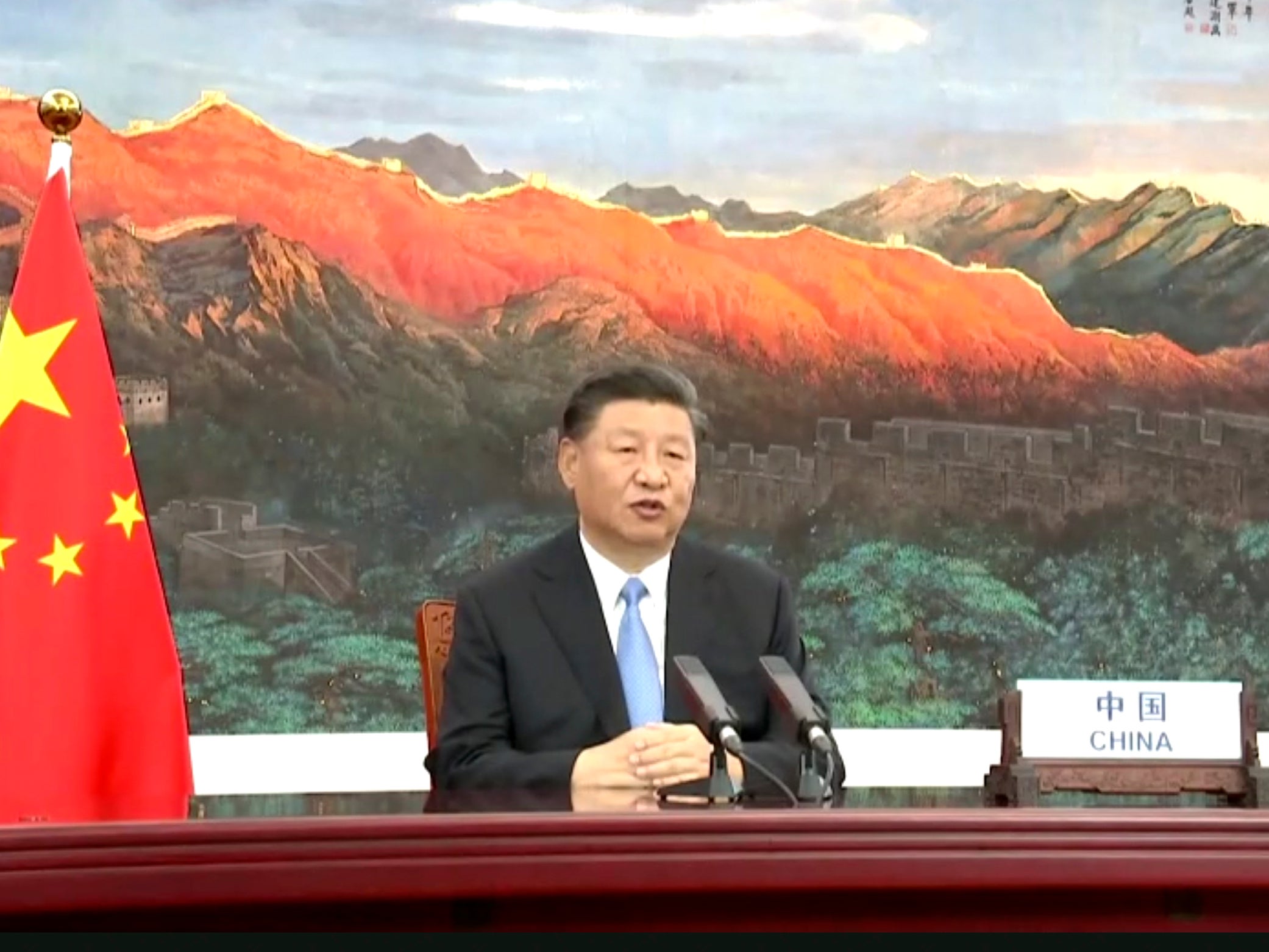 Leer en Español
Chinese president Xi Jinping has announced a plan for China to reach carbon neutrality by 2060.
Calling for a "a green revolution", Mr Xi also said on Tuesday that China would aim to have carbon dioxide emissions peak before the end of the decade. 
He spoke in a pre-recorded speech to the 75th United Nations General Assembly, the majority of which is happening remotely due to the coronavirus pandemic. 
It is a significant announcement in the global climate crisis and the first time that China, the largest greenhouse gas emitter in the world, has made such a pledge.
"Humankind can no longer afford to ignore the repeated warnings of nature and go down the beaten path of extracting resources without investing in conservation, pursuing development at the expense of protection, and exploiting resources without restoration," Mr Xi said.
He went on to note that the Paris Agreement – which aim to curb global warming well below 2C – is an outline of the "minimum steps to be taken to protect the Earth, our shared homeland". 
Mr Xi told fellow UN leaders that all countries must take "decisive steps" to honour the Paris accords a conciliatory note in sharp contrast to President Trump, who has vowed to remove the US from the global agreement.
President Trump used his UN speech to attack China, saying that "the United Nations must hold China accountable for their actions" over the Covid-19 outbreak.
Mr Trump went on to blame China for ocean pollution, overfishing, coral reef destruction, and releasing mercury into the atmosphere. 
He claimed the US has reduced its carbon emissions by more than any other signatory to the Paris Agreement.
The US president said: "Those who attack America's exceptional environmental record while ignoring China's rampant pollution are not interested in the environment. They only want to punish America, and I will not stand for it."
At a virtual summit earlier this month, EU leaders had urged China to aim for climate neutrality by 2060 or face punitive carbon tariffs.
"The EU is setting the bar high — carbon neutrality by 2050. And we count on China to show similar leadership by implementing the Paris Agreement," said European Council president Charles Michel.
Richard Black, director of non-profit organisation the Energy and Climate Intelligence Unit, called China's announcement "a very significant step forward", noting that the country was key in fighting climate change not just as the biggest emitter but also as the biggest energy financier and market.
"The announcement today is also a major fillip for the European Union, whose leaders recently urged President Xi to take exactly this step as part of a joint push on lowering emissions, showing that international moves to curb climate change remain alive despite the best efforts of Donald Trump and [Brazilian leader] Jair Bolsonaro in the run-up to next year's COP26 in Glasgow,"  Mr Black said.
But China's carbon pledge comes at a precarious moment on the international stage for the superpower. There's outrage over Beijing's severe restriction of civil rights in Hong Kong following its imposition on the semi-autonomous city of a sweeping national security law, and over widespread accusations of mass detentions and cultural genocide against Muslims in the Xinjiang region. 
And there's wariness also over China's rising pressure and military threats against Taiwan, the self-governing island democracy that Beijing claims as its own territory.
Wires contributed to this report
Join our commenting forum
Join thought-provoking conversations, follow other Independent readers and see their replies