Chinese government continues to support the sale of pangolin parts for use in traditional medicine, says report
Oliver Poole
Tuesday 13 October 2020 16:47 Comments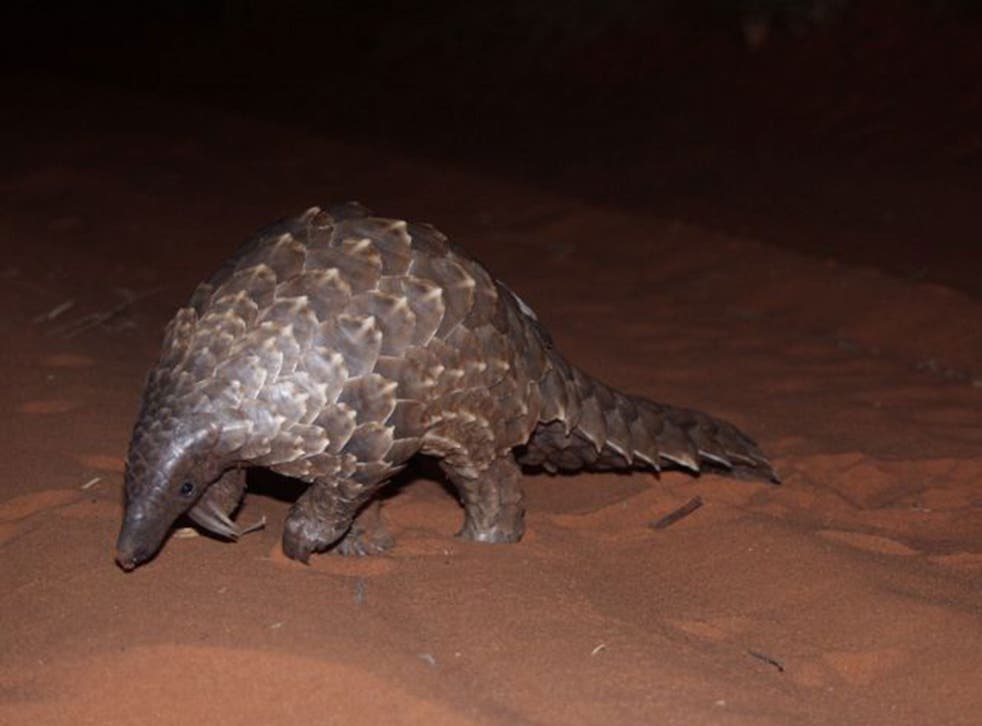 Despite a high profile crackdown the Chinese government continues to support the sale of pangolin parts for use in traditional medicine, according to a new report.
The Environmental Investigation Agency (EIA) found that 221 companies remain licensed to sell pangolin scale products, including global pharmaceutical company China Beijing Tong Ren Tang Group – whose shareholders include major Western financial institutions.
The report, Smoke & Mirrors, also revealed that pangolin scale-products manufactured in China are available for purchase on worldwide e-commerce platforms such as eBay and Alibaba's Taobao.
In February, China made headlines with a permanent ban on the consumption of wildlife, including pangolins. In June they announced a ban on the usage of pangolin scales in traditional Chinese medicine, as well as increasing protections for its native pangolin populations.
Pangolins were reportedly on sale at the Huanan Seafood Market in Wuhan, believed to be the source of the coronavirus pandemic. Pangolins are seen as a luxury product in many cultures for their meat and scales. In Traditional Chinese Medicine (TCM), the scales are believed to induce lactation in women.
Pangolins are known to carry coronaviruses and some believe that the animals played an intermediary role in hosting the Sars-CoV-2 virus that leads to the Covid-19 disease.
Chris Hamley, EIA Senior Pangolin Campaigner, said: "Amid mounting concerns about the role of the wildlife trade in causing the coronavirus pandemic, it is critical that the Chinese Government ends all legal use of pangolin scales, instead of allowing the multi-billion dollar TCM industry to carry on as usual."
"By keeping the door open for the TCM industry to exploit pangolins, the Chinese Government is undermining international efforts to end the global pangolin trafficking crisis and fuelling transnational organised crime."
The EIA had previously found that while pangolin scales had been removed from the raw ingredients list of the official 2020 Pharmacopoeia, a reference book on traditional Chinese and Western remedies, they were still listed within some 80 sanctioned traditional remedies.
All eight species of pangolin, the four native to Africa and the four native to Asia, are listed on Appendix I of Convention for the International Trade in Endangered Species (CITES), meaning they are endangered and merit special protections.
The Independent launched its Stop the Illegal Wildlife Trade campaign in order to seek an international effort to clamp down on poaching and the illegal trade of wild animals.
The report concluded by urging the Chinese government to "unambigiously prohibit commercial use of wildlife" and to "remove pangolins and other globally threatened species entirely from the TCM pharmacopoeia and other nationally approved medicine lists".
Mr Hamley added: "Most TCM medications do not use the body parts of globally threatened wildlife and experts in the field have proposed specific herbal substitutes that can replace pangolin scales".
Register for free to continue reading
Registration is a free and easy way to support our truly independent journalism
By registering, you will also enjoy limited access to Premium articles, exclusive newsletters, commenting, and virtual events with our leading journalists
Already have an account? sign in
Join our new commenting forum
Join thought-provoking conversations, follow other Independent readers and see their replies