Chinese paddlefish: One of the world's largest fish declared extinct
Species failed to survive overfishing, habitat fragmentation and loss of biodiversity, scientists believe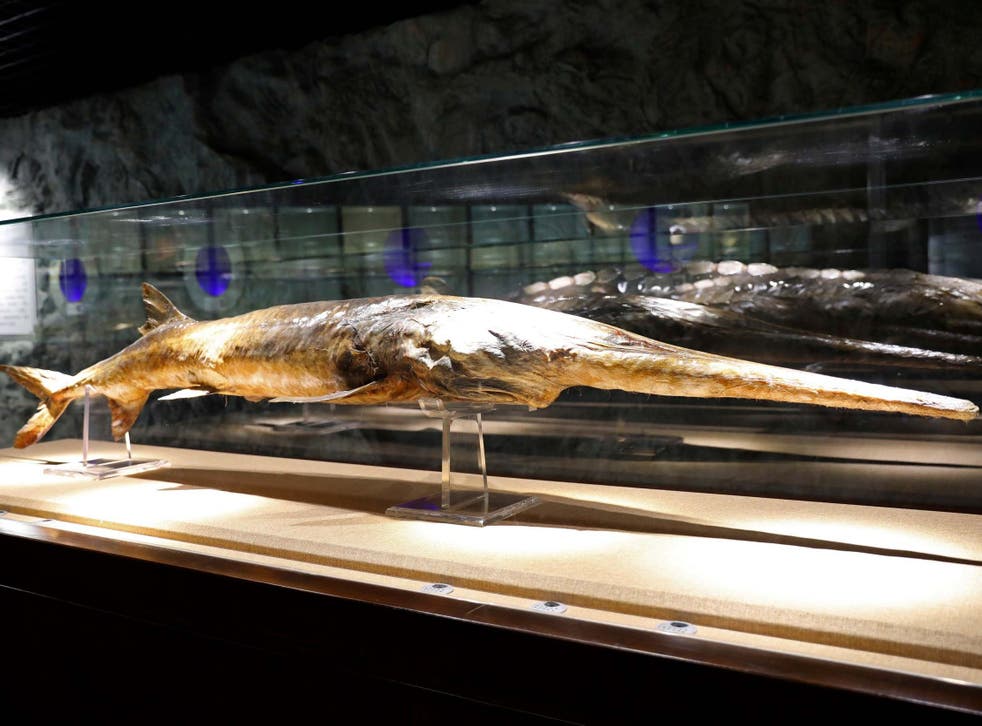 One of the world's largest freshwater fish has been declared extinct.
The Chinese paddlefish, which grew as long as 7 metres, lived in the Yangtze River in China and had a lineage dating back at least 34 million years.
Scientists believe it failed to survive overfishing, habitat fragmentation and a loss of biodiversity in its native habitat.
A research paper published in the journal Science of the Total Environment said populations of the fish, also known as the Chinese swordfish, had declined drastically since the late 1970s.
"As no individuals exist in captivity, and no living tissues are conserved for potential resurrection, the fish should be considered extinct," the paper said, pointing to criteria for inclusion on the International Union for Conservation of Nature's (IUCN) Red List.
Science news in pictures

Show all 20
In the 1970s the Gezhouba Dam was built on the main stream of the Yangtze and the opening of the Three Gorges dam project followed in 2003, the same year the last live Chinese paddlefish was sighted.
Surveys in 2017 and 2018 counted fish species in the river, but did not encounter a single specimen of the Chinese paddlefish.
The researchers estimate the fish became extinct between 2005 and 2010.
"The extinction of the paddlefish is a huge loss and reflects the critical status of the Yangtze River ecosystem," said Pan Wenjing, a forest and oceans manager at Greenpeace East Asia.
"The ecology of the Yangtze River is close to collapse due to human activity in past decades," she said. "China has launched its campaign trying to recover the Yangtze River's environment, and some ambitious policies have been introduced, such as the 10-year ban on fishing activity."
Register for free to continue reading
Registration is a free and easy way to support our truly independent journalism
By registering, you will also enjoy limited access to Premium articles, exclusive newsletters, commenting, and virtual events with our leading journalists
Already have an account? sign in
Register for free to continue reading
Registration is a free and easy way to support our truly independent journalism
By registering, you will also enjoy limited access to Premium articles, exclusive newsletters, commenting, and virtual events with our leading journalists
Already have an account? sign in
Join our new commenting forum
Join thought-provoking conversations, follow other Independent readers and see their replies