Energy minister accused of contradicting herself by using threat of Russia to justify fracking
Claire Perry has warned of reliance on Russian gas despite previously indicating this is not a concern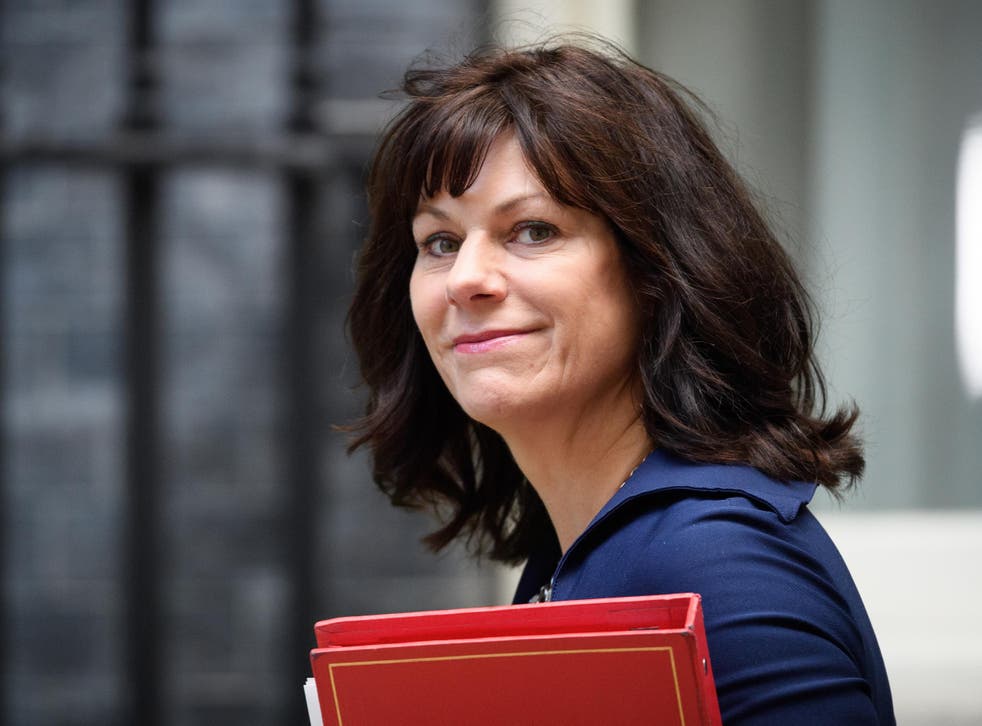 Energy minister Claire Perry has been accused of making a "muddled" case for fracking in the UK,
Ms Perry spoke out in support of the controversial fossil fuel technology, claiming shale gas extraction was needed to ensure the country is not dependent on gas from Russia.
However, this appears to contradict previous statements she made, which saw her claim that Britain was "in no way reliant" on Russian gas.
Official figures from the Department for Business, Enterprise and Industrial Strategy (BEIS) show that less than 1 per cent of the UK's gas supply comes from Russia.
But in an interview with The Times over the weekend, Ms Perry said environmentalists who want to block fracking are unrealistic in their ambition to switch to 100 per cent renewables now.
"What are they going to cook their kids' tea on? It's likely to be gas and do we actually want to be reliant on Mr Putin for our gas supply?" she said.
To avoid reliance on Russian supplies she wanted to exploit the shale gas "that's right beneath our feet", she added.
How fracking works and where it could happen

Show all 2
She echoed this sentiment in a recent Westminster debate when she responded to a question about public support for fracking by saying many people understand that in light of the Salisbury poisoning "actually being reliant on foreign energy sources is not the right place to be".
In an article published in The Sun in May, Ms Perry also claimed that as North Sea reserves decline the UK must import more of its gas.
"Although we are in no way reliant on Russian gas despite what the Russians would have you believe," she wrote.
Responding to the energy minister's comments, the Campaign to Protect Rural England (CPRE) said they did not chime with her previous position on British gas supplies.
Daniel Carey-Dawes, senior infrastructure campaigner at CPRE said: "Using the threat from Russia to justify the UK's investment in fracking, against the wishes of local communities and advice of leading climate scientists, is an unhelpful diversion from the real issues at stake."
Most gas imported to the UK comes from Norway, and a report from BEIS on gas security states that Britain benefits from a "system built on supply diversity".
"As the minister's conflicting statements demonstrate, the case for fracking is muddled," said Mr Carey-Dawes. "Fracking risks industrialising the countryside against the wishes of local communities, and the Government's plans to fast-track fracking will deny those communities the right to have their say. These proposals must be dropped."
The Independent has contacted Ms Perry for comment, but had not heard back at the time of publication.
Opponents of fracking say if it rolled out across England it will cause damage to local environments, while locking the UK in to a future of fossil fuel production at a time when cutting carbon emissions is key to avoiding the worst effects of climate change.
Support free-thinking journalism and attend Independent events
BEIS has not made any estimates on the proportion of gas demand that could be met using UK fracking wells. However, independent analysis commissioned by Friends of the Earth found that more than 6,000 wells would be needed to replace half of all gas imports.
This week has seen fracking operations begin in England for the first time in seven years, amid protests by local groups in Lancashire.
Earlier this week three anti-fracking campaigners were freed from prison on appeal after their sentences were ruled "manifestly excessive".
Support for fracking stands at 18 per cent, but Ms Perry has urged the public to trust the science-led exploration of the UK's shale gas reserves.
Join our new commenting forum
Join thought-provoking conversations, follow other Independent readers and see their replies