800 million people at risk as climate breakdown causes Asia's vast glaciers to shrink
'It could cause people to migrate and if you can't migrate, it might cause conflict as people will need to fight with their neighbours for food'
Phoebe Weston
Science Correspondent
Wednesday 29 May 2019 18:08 Comments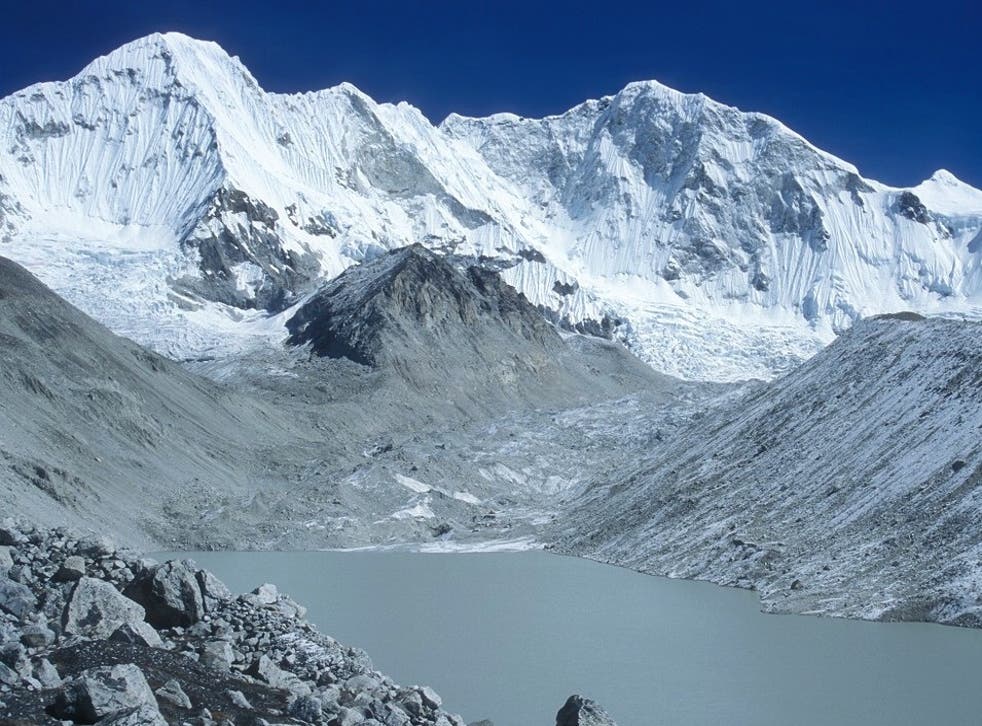 Hundreds of millions of people could be left without access to water as climate breakdown causes Asia's vast glaciers to shrink, researchers have found.
When the rains fail, glaciers in the high-mountain regions around the Himalayas are a life-saver, releasing 36 cubic kilometres of water – the equivalent of 14 million Olympic swimming pools – to drought-prone areas every summer.
Glacial loss in the region has been going on for a few decades. However, the rate has increased – between 2000 and 2016, glaciers were shrinking 1.6 times faster than the period between 1951 to 2007.
"A lot of the climate projections suggest the melt will continue to accelerate," lead researcher Dr Hamish Pritchard, a glaciologist from the British Antarctic Survey (BAS), told The Independent.
Using climate projections, Dr Pritchard believes the glacier melt will start to slow in around 2050.
World Water Day 2019 - our relationship with water in pictures

Show all 15
He added: "As we start to get drought stress hitting, there will be crop failures and a loss of livestock. It could cause people to migrate and if you can't migrate, it might cause conflict as people will need to fight with their neighbours for food."
This will hit areas such as the fertile Indus Valley, which has been inhabited by human civilisations for many thousands of years and today feeds 237 million people.
The increase in glacier melt is also causing a glut of water to come down, causing an increase in water consumption.
Hydroeconomies such as agriculture and hydropower plants are being built based on this water lasting.
This will cause an added "shock to the system" when the melting slows, said Dr Pritchard.
Populations in the high-mountain Asia region are particularly vulnerable to water shortages and in the past century, drought has caused more than 6 million deaths.
Dr Pritchard said changes to glacier melt "could be profoundly destabilising for this region". A total of 800 million could be at risk.
The study, published in the journal Nature, used climate datasets and hydrological modelling to calculate the volume of glacier water entering and leaving the region's major river basins.
The high-mountain region of Asia, known as the Third Pole, encompasses the Himalayas, Karakoram, Pamir, Hindu Kush, Tien Shan, Kunlun Shan and Alai mountains.
The area is home to 95,000 glaciers in total and fulfils most of the annual municipal and industrial needs of Pakistan, Afghanistan, Tajikistan, Turkmenistan, Uzbekistan and Kyrgyzstan.
Register for free to continue reading
Registration is a free and easy way to support our truly independent journalism
By registering, you will also enjoy limited access to Premium articles, exclusive newsletters, commenting, and virtual events with our leading journalists
Already have an account? sign in
Join our new commenting forum
Join thought-provoking conversations, follow other Independent readers and see their replies