Environmentalists launch 'emergency' campaign to persuade Trump climate change is real amid fears of 'planetary disaster'
US President-elect is 'not only mad and bad but he's also dangerous', UK politician says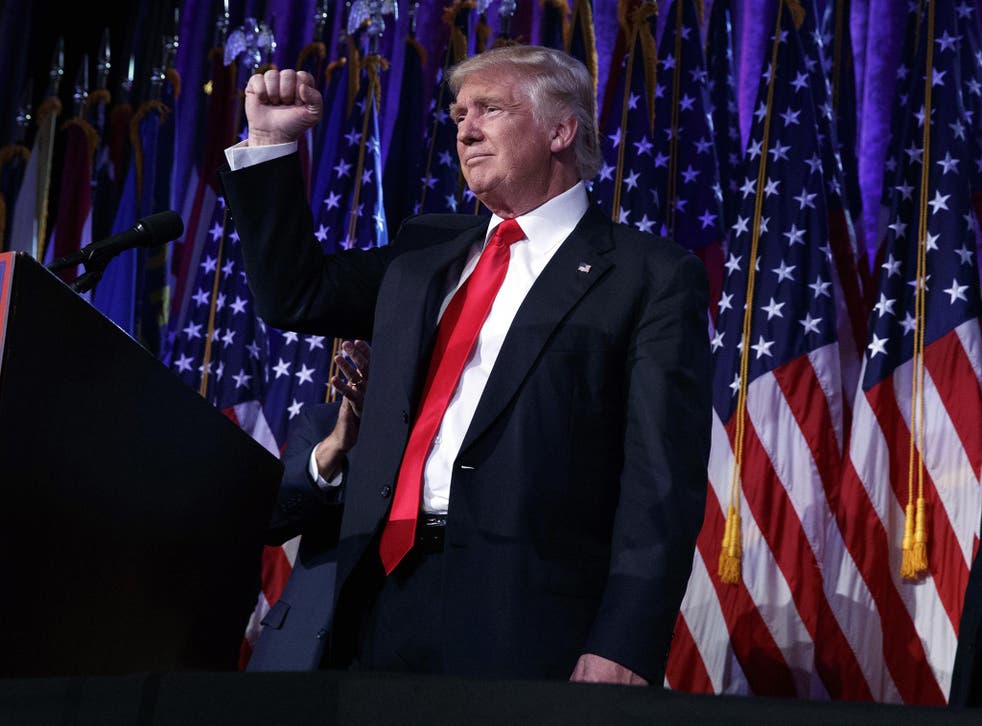 One of the biggest ever environmental campaigns has been launched by a group of the world's most eminent scientists and environmentalists in an 'emergency' effort to convince the President-elect, Donald Trump, that global warming is real before he becomes US President in January.
Mr Trump, who described climate science as a "hoax" perpetrated by China, has already appointed a prominent climate change denier, Myron Ebell, to a key environmental post and promised that he will rip up the landmark Paris Agreement climate deal when he enters the White House. Climate sceptics in Australia crowed that the Paris Agreement was "cactus" – meaning finished – following his election this week.
Among those now preparing for arguably the most important campaign ever designed to change the mind of a single individual in modern history is the Sierra Club – an environmental group founded by legendary conservationist John Muir in 1892, which now has more than two million members and supporters globally.
Visitors to the club's website are now being urging to "make an emergency donation". "We are not licking our wounds, we are preparing for the fights to come. Fight Back Against Trump," it explains.
Meanwhile the American Association for the Advancement of Science (AAAS) is bringing together leading scientists from across the US to urge Mr Trump to listen to the evidence, rather than accept the testimonies of conspiracy theorists and fossil fuel lobbyists. Dr Rush Holt, the chief executive of the AAAS, told The Independent: "During the campaign, Trump was all over the place, saying different things about different issues at different times, and so it is hard to know really what he will do.
"There are troubling signs in that he has appointed as a key member of his transition team a person who is, I guess I'd say, antagonistic to restricting carbon emissions [Ebell]. That's not a good sign. AAAS, for more than half a century, has been outspoken to policymakers and the public about the risks of human-induced climate change and the need to take action to mitigate it.
"I think we will be urging him to look at the evidence even before his first day because climate change is a major, historic, global problem and he should be looking at that even now."
Dr Holt, who described climate change as a "looming emergency", said Mr Trump might be swayed by the financial implications of removing the US from the signatories of the Paris Agreement or otherwise abandoning efforts to cut emissions.
"We would condemn such moves and say that such action would put our country and our friends and competitors around the world in dangerous situations and that climate change is already costly in lives and dollars. If strong action isn't taken, it will be only more so by all estimates, more costly than the cost of addressing it," he said.
"Maybe he [Trump] would respond to arguments of dollars and cents."
World reaction to President Trump: In pictures

Show all 29
Climate scientists have already warned of the dangers of having a climate denier in the White House.
Professor Michael Mann told The Independent that President Trump's term of office – coupled with new research suggesting the Earth is more sensitive to greenhouse gases than previously thought – could mean "game over" for hopes of preventing global warming from entering dangerous territory.
And Dr Kevin Trenberth, of the US National Center for Atmospheric Research, described the coming Trump presidency as "an unmitigated disaster for the planet".
John Coequyt, the Sierra Club's director of federal and international climate campaigns, predicted environmentalists would take to the streets. "I at least know there will be lots and lots of protests on this with the goal to change his position on it," he told The Independent.
"I think we'll put together the largest defensive legislative campaign the progressive community has ever put together in Washington DC. It will span all the issues the progressive community cares about form healthcare to climate change to gay rights to immigration."
President Donald Trump life in pictures

Show all 16
But Mr Coequyt said Mr Trump was surrounding himself with advisers with links to the fossil fuel industry and so politicians from other countries might actually be able to exert greater influence. "Right now, all of the people who have been identified as senior advisers, potentially take roles in cabinet, they are all fossil fuel lobbyists and people who run these companies. That's going to be the big challenge," he added.
"The only people who have a word in his ear are fossil fuel industry insiders. It's international pressure that's going to be the most effective. Domestically he's got advisers who will insulate him from the reality of the world."
He said that the US military would be another "voice of reason" in close contact with the new President.
"They have for some time believed climate change is a 'force multiplier', it's very clear they believe it is driving instability around the world," Mr Coequyt said. "I don't think they are going to give up that position easily. It's now a 15-year-old position."
Donald Trump's most controversial quotes

Show all 14
Deborah Barker-Manase is representing the Republic of the Marshall Islands – a Pacific island state already experiencing the effects of climate change – at the ongoing United Nations climate summit in Morocco.
She spelled out the kind of problems that that are also beginning to hit many parts of the world.
"We're experiencing frequent storm surges … anything just above the normal average high-water tide has a very big impact because we are no more than two metres above sea level," Ms Barker-Manase said.
"And we are experiencing prolonged drought events, which for an atoll nation is pretty serious even if it is a month long because there are no freshwater sources other than rain.
"I think it's not a matter of convincing someone … you just have to look around."
British politicians were scathing of Mr Trump.
'Dangerous' climate change could arrive as early as 2050
Barry Gardiner, Labour's shadow minister for international climate change, said "even though a Trump administration will present a significant threat to continued action at the federal level in the USA, it cannot hold back the global tide that is sweeping us to a low-carbon future".
"I will be calling on Theresa May to make clear to Mr Trump that the world expects the USA to stay solidly behind the Paris Agreement," he added.
Liberal Democrat leader Tim Farron said Mr Trump was "frankly is a disaster for our future", particularly as Congress is controlled by the Republicans.
"He has talked about ripping our climate change agreements, rolling back green energy schemes and downsizing the Environment Protection Agency," Mr Farron said. "He is not only mad and bad but he's also dangerous and this is exhibit A."
And Green Party co-leader described Mr Trump's election as "a potential hammer blow to the climate movement".
Even the World Coal Association (WCA) issued a plea to the soon-to-be 45th US President to try to reduce greenhouse gases. Benjamin Sporton, the WCA's chief executive, said: "We will encourage the Trump administration to collaborate with international development partners to work together to increase funding for low emission coal technologies."
Join our new commenting forum
Join thought-provoking conversations, follow other Independent readers and see their replies