Climate change is fuelling wars across the world, UN Secretary General Antonio Guterres says
'The cost of inaction is simply too high,' warns United Nations chief 
Chloe Farand
Friday 13 January 2017 13:27 Comments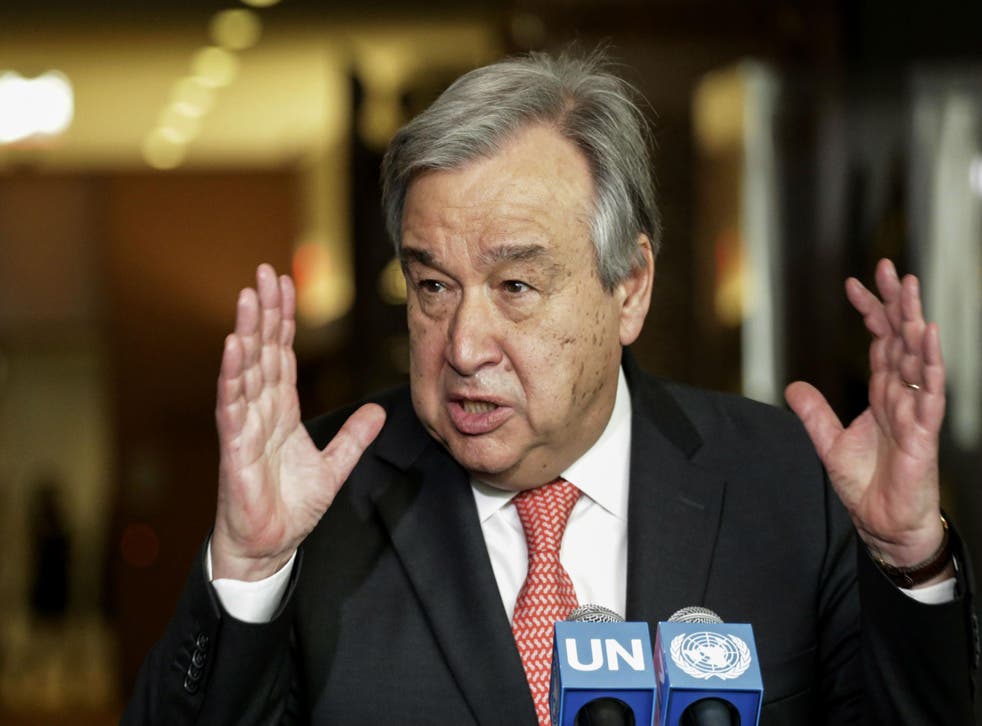 Tackling climate change will help prevent global conflict, the incoming UN Secretary General has warned.
The new head of the UN, Antonio Guterres, told the Security Council in New York that the organisation had to play a more active role in preventing conflict because "the cost of inaction is simply too high".
The former Portuguese Prime Minister and successor to Ban Ki-moon believes the UN is spending "far more time and resources responding to crises rather than preventing them" and that people and nations were "paying too high a price" as a result.
Mr Guterres said climate change was exacerbating internal conflicts and called for the UN to respond with a more multi-faceted approach.
"Most of today's conflicts... are fuelled by competition for power and resources, inequality, marginalisation and exclusion, poor governance, weak institutions, sectarian divides," he said.
"They are exacerbated by climate change, population growth and the globalisation of crime and terrorism. With so many factors at work, it takes very little to trigger a crisis that can engulf a country or a region, with global consequences," he said.
The link between climate change and conflict is a long-established one.
A study published in the journal Proceedings of the National Academy of Sciences (PNAS) last year shows 9 per cent of armed conflicts over 1980-2010 coincided with climate-related disasters such as heat waves or droughts.
In countries with deep ethnic divides, this figure rises to 23 per cent.
Although there is no evidence climate-related disasters act as direct triggers of armed conflicts, the reports says their disruptive nature "play out in ethnically fractionalised societies in a particularly tragic way".
In 2014, a group of American scientists from Columbia University published a study, which argues Syria's experience of the most severe drought on records between 2007 and 2010, contributed to the 2011 uprising.
The authors explain widespread crop failure and a mass migration of farming families to urban centres paired with poor governance and unsustainable agricultural policies had a "catalyst effect" and contributed to the political unrest.
Retired US Marine Corps brigadier general Stephen Cheney told Climate Home: "There's a fair percentage of conflicts today that have a linkage to climate change that was not previously there.
"These include the Arab Spring and Syrian civil war – two insurrections that define world politics and security today."
Mr Guterres told the Security Council efforts for peace and security had to be coupled with work to achieve sustainable development and human rights and the challenge was now to turn words into action.
"Let us make this year, 2017, a year for peace. I think it would be naïve to say that 2017 will be a year of peace, but at least it is our obligation to do everything we can to make it a year for peace," he said.
Kyung-wha Kang of South Korea was recently appointed to the newly created position of special adviser on policy and she will be in charge of coordinating the UN's conflict prevention programmes.
Register for free to continue reading
Registration is a free and easy way to support our truly independent journalism
By registering, you will also enjoy limited access to Premium articles, exclusive newsletters, commenting, and virtual events with our leading journalists
Already have an account? sign in
Register for free to continue reading
Registration is a free and easy way to support our truly independent journalism
By registering, you will also enjoy limited access to Premium articles, exclusive newsletters, commenting, and virtual events with our leading journalists
Already have an account? sign in
Join our new commenting forum
Join thought-provoking conversations, follow other Independent readers and see their replies