'A perfect storm': People must change diet and stop destroying land before it is too late, says major climate change report
'Earth has never felt smaller, its natural ecosystems never under such direct threat,' says UN adviser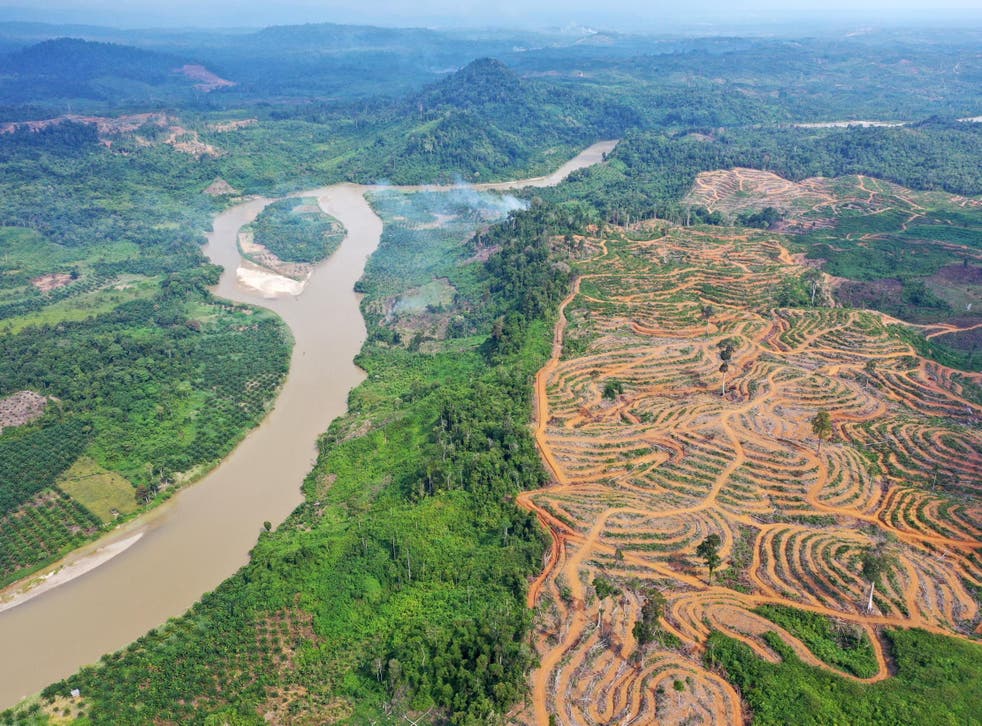 Humans must urgently change their diets and stop destroying land so it can absorb more carbon if there is any hope of avoiding catastrophic levels of global warming, according to a major new report from the United Nations (UN).
The organisation's first comprehensive report about the relationship between climate change and the land suggests more sustainable farming, making changes to our diet and cutting food waste will all help to tackle global warming.
Human activity has caused significant land degradation, deforestation and destruction of natural habitats, says the report from the UN's Intergovernmental Panel on Climate Change (IPCC).
All of this has resulted in carbon dioxide being released from the soils and into the atmosphere.
For centuries, natural land was an important way of absorbing carbon dioxide and keeping it in the land, but it is now responsible for a third of greenhouse gases.
Extinction Rebellion: Climate change protests cause chaos in London

Show all 46
At the same time, climate change-induced wildfires, permafrost melt and desertification are putting strain on the land, which means it is releasing even more greenhouse gases back into the atmosphere.
"This is a perfect storm. Limited land, an expanding human population, and all wrapped in a suffocating blanket of climate emergency," said Professor David Reay from the University of Edinburgh, who advised the report's authors. "Crop yields are already being hit hard by climate change, staples like wheat, maize and rice are all at risk. The global web that is our food system means that impacts on farms thousands of miles away ripple right back to our own dinner plates.
"Earth has never felt smaller, its natural ecosystems never under such direct threat."
Soils now hold just 1 per cent of the planet's total carbon, but they once contained as much as 7 per cent.
To escape this vicious cycle, the UN report suggests humans need to urgently stop chopping down rainforest, degrading soils and peatlands. Sustainable farming, replanting forests and protecting habitats can also help curb global warming.
"Balanced diets featuring plant-based foods, such as coarse grains, legumes, fruits and vegetables, and animal-sourced food produced sustainably in low greenhouse gas emission systems, present major opportunities for adaptation to and limiting climate change," said Debra Roberts, co-chair of IPCC Working Group II, which contributed to the report.
Land must remain productive to maintain food security as the population increases, the report states.
The study also suggests the emphasis for farming systems should be diversification. Mixed systems of arable and livestock, or fallow and wooded land, gives greater resilience to climate change and also improves soil condition, carbon storage and biodiversity.
Professor Piers Forster from the University of Leeds, who was not involved in the study, said Brexit provides the UK with the chance to create a farming policy that could make the land a sink for carbon as opposed to a source. The National Farmers' Union wants to reach net zero agriculture by 2040, an ambition that IPCC authors say is achievable.
Vicki Hird from Sustain, a British charity that advocates better food and farming, said: "The IPCC report proposes adopting farming practices that work with nature rather than forcing production with overuse of artificial fertilisers. A key step would be to end harmful subsidies of big single crops, such as corn, sugar cane, soy, and fossil fuels."
Mark Carney warns companies that fail to respond to climate change 'will go bankrupt without question'
A good example of agroforestry is mixing banana plantations with coffee plantations as the bananas give shade to the coffee, according to Professor Reay. Growing two crops simultaneously means the farmer is less reliant on one monoculture that could be wiped out by disease or severe weather.
A spokesperson from the Pasture-Fed Livestock Association (PFLA) said: "Intensively grown grains have resulted in significant soil degradation and loss on arable farms. This can be remedied by reintroducing pasture and grazing animals as part of a mixed farming system, with both pasture and dung helping to rebuild soil fertility and health."
Scientists say reducing greenhouse gas emissions from all sectors will be essential if global warming is kept to below 2C, if not 1.5C.
The latest report from the IPCC comes after a study from the international body last year called for "unprecedented" action to slash carbon emissions to zero by 2050 and limit dangerous global warming.
Join our new commenting forum
Join thought-provoking conversations, follow other Independent readers and see their replies