Paris climate deal ratified by UK: Theresa May signs up to landmark agreement
The Prime Minister 'can be proud that she is upholding Mrs Thatcher's tradition of basing climate policies on scientific evidence'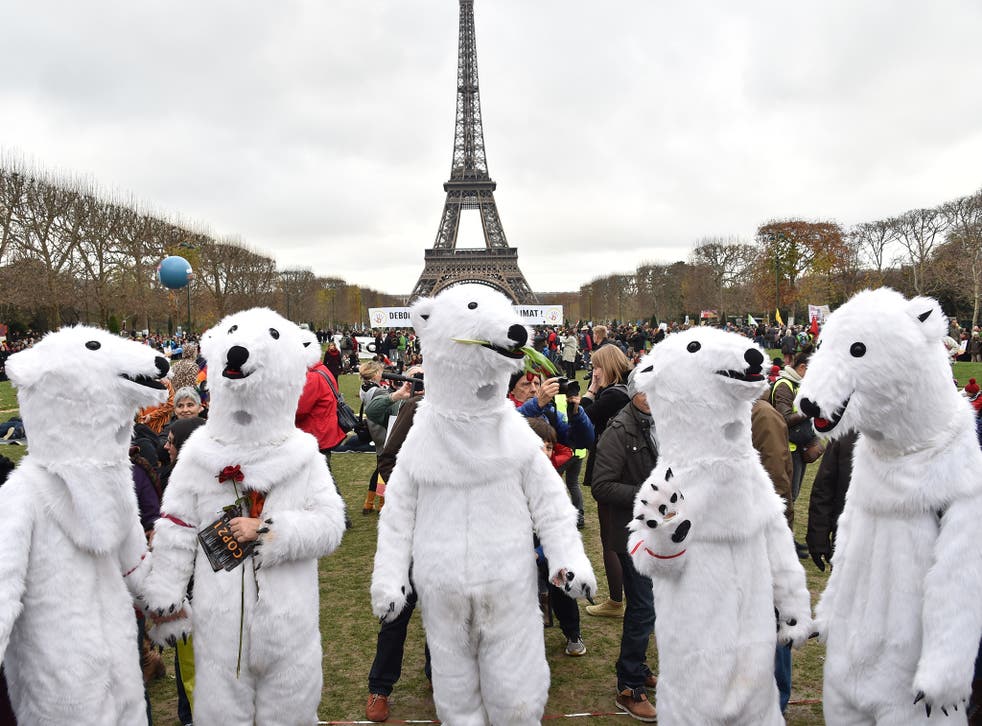 The UK has ratified the Paris Agreement on climate change – the landmark treaty hailed by Barack Obama as potentially "the moment that we finally decided to save our planet".
While President-elect Donald Trump has pledged to withdraw the US from the deal, which commits countries to try to limit global warming to as close to 1.5 degrees Celsius as possible, efforts are currently under way to dissuade him.
Despite Mr Trump's apparent opposition, Foreign Secretary Boris Johnson, acting on behalf of the UK Government, formally ratified the agreement at the United Nations climate summit in Marrakesh on Thursday, after parliament signalled its approval.
In a statement, Nick Hurd, the UK's Climate Change and Industry Minister, said: "The UK is ratifying the historic Paris Agreement so that we can help to accelerate global action on climate change and deliver on our commitments to create a safer, more prosperous future for us all.
"COP22 [the UN summit] in Marrakech is an important milestone which marks the shift from aspiration to implementation. We are going to use this positive momentum to grow the UK low-carbon sector, which is already worth over £46bn, as we continue to provide secure, affordable and clean energy to our families and businesses."
Speaking at a briefing in Marrakech, Mr Hurd refused to speculate on the policies of a Trump administration.
But he said the UK's ratification sent a powerful message to the world that it was time to get on with the job of fighting climate change.
"Boris has just signed the instrument of ratification and it is on its way to New York," he said.
"It is very important that this COP [conference of the parties] sends a clear message to the world that everybody is still committed to the Paris Agreement.
"People realise this COP is about everyone doing what they said they were going to do."
Mr Hurd said Britain was making such progress on climate change in part because it is "very much still at the table" of the EU negotiating team.
And, in a reference to the explosive news of Mr Trump's US election victory, he said: "There's been bigger news than Brexit at this COP."
Mr Hurd said he was speaking to the EU commissioner in Marrakech "every day", adding that the UK's continued involvement "informs our negotiations here".
"We've done a lot in the last few months to reassure our European colleagues," he said. "We are still a full, paid-up member of the EU – until we are not."
The minister said Brexit did not mean the UK was turning its back on collaboration with the rest of Europe. He said that when the time comes for Britain to withdraw from the bloc altogether, there was "a whole set of decisions to be made about how we go forward on climate".
Barry Gardiner, Labour's shadow Minister for International Climate Change, welcomed the move but criticised the Government for increasing taxes on solar power and pressing ahead with fracking for shale gas.
"In September we challenged the Government to be one of founder countries to ratify," he said.
"And though the agreement actually came into force earlier this month, it is good that there is now cross-party support to get on and implement it.
"This strong signal of the UK's commitment to international co-operation on climate change is even more important following the US election.
"The UK Government must now show their commitment through climate action on the ground. We face a 47 per cent shortfall to meet our 2030 climate target. Pursuing fracking and a six-fold tax hike on solar business rates only take us in the wrong direction."
Speaking from Marrakech, Dr Stephen Cornelius, chief adviser on climate at environmental campaign group WWF-UK, said it had "never been more important for the world to stand together on climate change".
"The UK joining the Paris Agreement is a welcome signal. As the first industrialised nation to commit to phase out coal, and a key architect of Paris, the UK is well placed to show courage and leadership by fronting a diplomatic push for low-carbon policies worldwide.
"This must be backed by urgent action to decarbonise our domestic economy and to help firms capitalise on huge and growing markets in low-carbon technology.
Paris climate talks in pictures

Show all 12
"We are already seeing a huge decline in species populations worldwide, with a projected reduction of almost 70 per cent on 1970 levels by the end of this decade.
"Climate change is a contributor to the degradation of habitats and natural resources on which all living creatures depend, and we cannot afford to delay action to tackle this challenge."
Sir Crispin Tickell, the former British Ambassador to the United Nations, has been credited with helping persuade Margaret Thatcher to speak out about the dangers of climate change.
She told the United Nations in 1989 that humans were "changing the environment of our planet in damaging and dangerous ways", although she later became concerned that left-wingers had hijacked the issue.
However Sir Crispin hailed the UK's ratification of Paris as a moment of comparable importance.
"Theresa May can be proud that she is upholding Mrs Thatcher's tradition of basing climate policies on scientific evidence and on our responsibility to the rest of the world."
Join our new commenting forum
Join thought-provoking conversations, follow other Independent readers and see their replies