Climate change: Government criticised for scrapping project intended to limit CO2 emissions
Government accused of hindering attempts to become greener through a series of subsidy cuts since taking office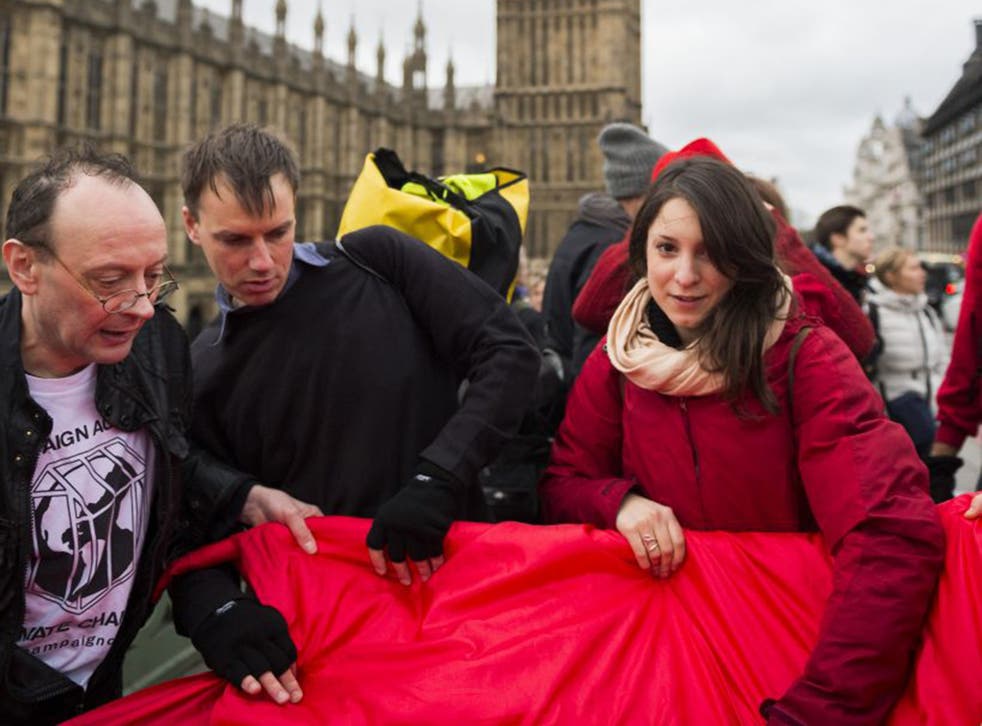 The Government has undermined the global campaign against climate change after it scrapped a project that could have played a key role in limiting CO2 emissions, leading scientists have said.
A day after a historic action plan was agreed in Paris to tackle climate change, critics accused the Government of hindering Britain's attempts to become greener through a series of "damaging" subsidy cuts since taking office.
These would make it harder for the UK to hit its climate change targets and could also set back the worldwide campaign to curb global warming, politicians, business leaders and academics said.
"While the UK is making its voice heard at global talks, more needs to be done at home," Carolyn Fairbairn, director general of the CBI industry association, said. "The Government must provide a stable environment that enables investment in cleaner, more affordable and more secure energy generation, including renewable technologies and gas plants."
Maria McCaffery, chief executive of the green power industry group RenewableUK, added: "We hope that in the months to come we can see the Paris accord translated into necessary policies at home to achieve these goals without the Government seeking to exclude successful and cost-effective technologies such as onshore wind from our energy mix."
Opponents accuse the Government of badly damaging the prospects for a much-needed renewable energy revolution in the UK by scrapping subsidies for onshore wind – the cheapest of all forms of electricity – and by significantly cutting support for solar power.
These and other policy changes are scaring off potential investors in green energy who fear the Government may impose further sudden cuts that could leave them out of pocket. But the critics are most angry about George Osborne's decision at last month's the Autumn Statement to scrap a £1bn pilot project to develop a new technology to capture CO2 emissions and pipe them into giant underground storage facilities. This technology – known as carbon capture and storage (CCS) – is yet to be proven on a large scale but is seen as essential if the world is to have any chance of meeting the climate change targets agreed in Paris.
The UK pilot was seen as one of the world's most promising opportunities to crack a technology that has so far proved elusive.
As David Cameron hailed the Paris Agreement as a "huge step forward in helping to secure the future of our planet", his former Energy Secretary, the Liberal Democrat Ed Davey, was scathing about the Government's decision to axe the pilot project. "The way they've cut the carbon capture storage programme – where the UK was one of the leaders in the world – is a national disgrace," he said.
Paris climate talks in pictures

Show all 12
Geoffrey Maitland, professor of energy engineering at Imperial College London was also highly critical of the move. "The demanding Paris reduction targets can still be met whilst continuing to use fossil fuels as long as we rapidly implement carbon capture and storage on a massive global scale. The recent UK decision to scrap the £1bn project seem even more short-sighted and irresponsible in the light of the Paris agreement, which it strongly supports," he said.
Professor Myles Allen, of the University of Oxford, added: "Global efforts towards large-scale CO2 disposal capability took a serious knock with the UK Government's recent inexplicable decision on the CCS project. Coming out of Paris, it would be great to hear how we plan to take this essential technology forward."
It is understood that the possibility of another government-backed CCS project is "completely off the table" due to the Chancellor's clampdown on spending. Meanwhile, private investors are reluctant to back development of such an expensive and financially risky technology.
The UK Energy Secretary, Amber Rudd, insisted the Government had not been wrong to scrap CCS just a few days before the Paris Summit began. "I don't think it was a mistake... There are some CCS plants that are going forward at the moment, they are still expensive. I think for the UK we were having a tight spending commitment so it as the right thing to do there," she said.
Register for free to continue reading
Registration is a free and easy way to support our truly independent journalism
By registering, you will also enjoy limited access to Premium articles, exclusive newsletters, commenting, and virtual events with our leading journalists
Already have an account? sign in
Register for free to continue reading
Registration is a free and easy way to support our truly independent journalism
By registering, you will also enjoy limited access to Premium articles, exclusive newsletters, commenting, and virtual events with our leading journalists
Already have an account? sign in
Join our new commenting forum
Join thought-provoking conversations, follow other Independent readers and see their replies