Climate change is increasing hurricanes, tropical storms and floods, scientists confirm
Report is latest to show global warming is already having devastating impact on lives
Phoebe Weston
Science Correspondent
Tuesday 23 July 2019 20:21 Comments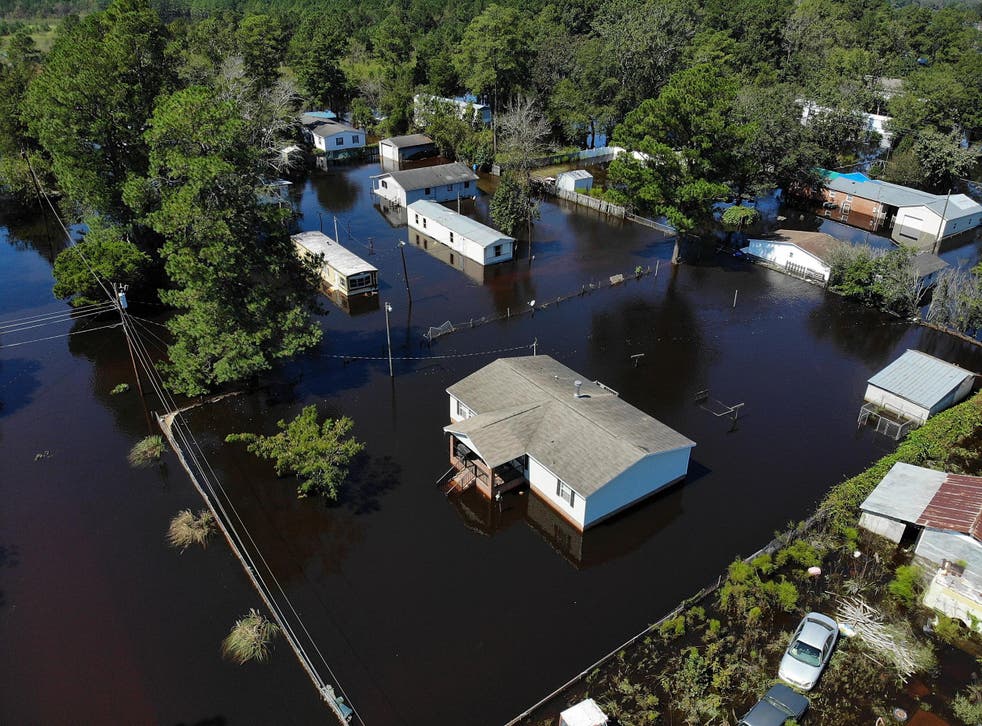 Climate change is increasing hurricanes, tropical storms and floods, according to a new study that looked at 120 years of data for the latest research to confirm a link between human activity and the dramatic rise of extreme weather events.
Increased temperatures not only make heatwaves more extreme and wildfires more likely, they also tamper with weather patterns, making storms more intense.
As part of the study, scientists looked at three storms in North Carolina from the past 20 years – hurricanes Floyd, Matthew and Florence.
They found the probability of them occurring randomly in such a short period of time is just two per cent.
"North Carolina has one of the highest impact zones of tropical cyclones in the world, and we have these carefully kept records that shows us that the last 20 years of precipitation events have been off the charts," said Professor Hans Paerl, lead author of the study published in the journal Scientific Reports.
Extinction Rebellion: Climate change protests cause chaos in London

Show all 46
The scientists analysed records of tropical cyclone landfalls and rainfall associated with Costal North Carolina storms since 1898.
They found that six out of the seven largest hurricanes, tropical storms and floods occurred in the last 20 years. This frequency is probably caused by "increased moisture carrying capacity of tropical cyclones due to the warming climate", the study said.
As well as more storms, North Carolina has also experienced unprecedented levels of rainfall since the late 1990s. In the long term it has also seen an increase in rainfall from tropical storms over the past 120 years.
This is increasingly problematic as the state is now home to more than 10.3 million people and climate change is already having a devastating impact on people's lives.
"The price we're paying is that we're having to cope with increasing levels of catastrophic flooding," said Professor Paerl, from the University of North Carolina's Institute of Marine Sciences.
"Coastal watersheds are having to absorb more rain. Let's go back to Hurricane Floyd in 1999, which flooded half of the coastal plain of North Carolina. Then, we had Hurricane Matthew in 2016. Just recently we had Hurricane Florence in 2018. These events are causing a huge amount of human suffering, economic and ecological damage."
Increased rainfall results in more runoff into coastal waters and estuaries. This results in organic matter and nutrient losses from soil erosion which results in damaging algal blooms.
David Attenborough says he is 'sorry' that there are people in power in USA and Australia who still deny climate change
"We are in part responsible for what's going on in the context of fossil fuel combustion emissions that are leading to global warming," Prof Paerl said. "The ocean is a huge reservoir that is absorbing heat and seeing more evaporation. With more evaporation comes more rainfall."
At the end of last year, research found that extreme weather events cost the world billions of pounds in the previous 12 months.
The report by Christian Aid identified 10 of the most expensive natural disasters that struck in 2018, all of which cost at least $1bn (£790m) each.
The costs established for these events are likely to be underestimates, as they often only included insured losses and did not take into account long-term costs to productivity.
Register for free to continue reading
Registration is a free and easy way to support our truly independent journalism
By registering, you will also enjoy limited access to Premium articles, exclusive newsletters, commenting, and virtual events with our leading journalists
Already have an account? sign in
Join our new commenting forum
Join thought-provoking conversations, follow other Independent readers and see their replies