Climate change: Is forest renewal the best way to tackle global warming?
Next week's crucial climate summit in Paris will debate how we can cut carbon emissions before it's too late. But what about the natural weapon at our disposal in the fight against global warming: reforestation?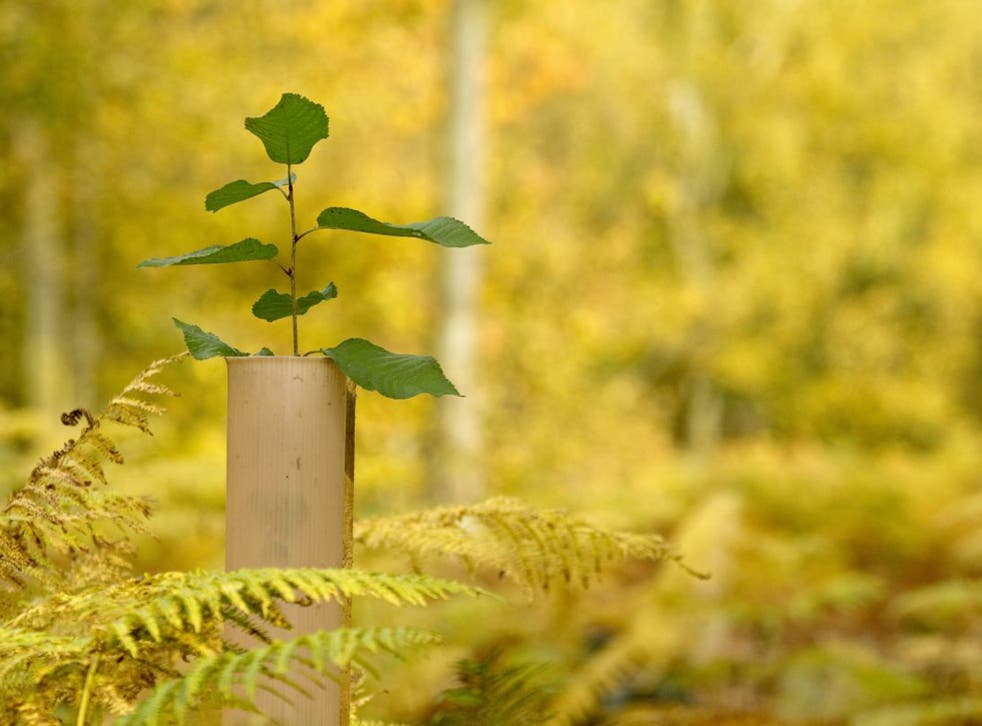 As the old green mantra goes, "think globally, act locally." That helps to explain why, on a gusty and showery November day, I'm not for the moment pondering the fate of Borneo or Brazil but gazing out over the young woodlands that spread over the site of a decommissioned surface coal mine in Leicestershire. Cycle routes now criss-cross this refurbished ground and, even today, visitors fill the Hicks Lodge café. Photographs from the 1990s still depict a hellish late-industrial wasteland, the face of the earth scraped and flattened into swathes of ugly black scar-tissue. These days, as Sam Lattaway – head of landscape and biodiversity for the National Forest – has just told me, Hicks Lodge is "probably the best place in the area for bird-watching. If you're up there in the summer, you will hear skylarks, you will see lapwings. Twenty years ago, when I worked in mining, that was an operating open-cast mine."
Our home-grown National Forest, which is gradually greening more than 200 square miles of Staffordshire, Leicestershire and Derbyshire, ranks as a tender sapling in a vast, dark wood. As the great climate-change circus rolls into Paris for the "COP21" conference of the United Nations, the vital role of the world's woods as both casualties of environmental ruin and potential saviours of the planet has begun to creep into the sunlight of public debate. Year by year, the loss of forests contributes an estimated 17 per cent of all greenhouse gas emissions: more than every mode of transport. Conversely, the ability of trees to store carbon dioxide in natural sinks – "carbon sequestration" – means that tropical forests alone may remove about a fifth of the chief cause of global warming.
Some of the science remains contested, while profit-driven schemes to "offset" greenhouse emissions by planting distant trees arouse the ire of green campaigns. Even the measurement of deforestation triggers commotion in activist copses. In September, the UN's Food and Agriculture Organisation (FAO) issued its latest "Global Forest Resources Assessment". The study calculated that, since 1990, the planet's total forest coverage has declined from 4.13 billion hectares to around 4 billion. Yet those 129 million lost hectares, "a total area about the size of South Africa", hide the good news. The rate of loss has slowed by over 50 per cent. FAO director-general José Graziano da Silva reports a positive "direction of change", with "many impressive examples of progress in all regions of the world".
Science news in pictures

Show all 20
Green shoots of recovery, perhaps? Cue a storm of dissent about data-gathering methods, with heated exchanges over (say) the value of reports by individual states against remote assessment by satellite. Do the optimists or the pessimists fail to see the wood for the trees? At any rate, the FAO records that, still, "the world's forests store an estimated 296 gigatonnes of carbon", but that degradation has cut capacity by 17.4 gigatonnes since 1990.
Whatever the figures, the carbon-storage treasure secreted in our woodlands is now beyond serious dispute. Dr David Coomes, reader in forest ecology and conservation at Cambridge University, confirms that "there is no question that forests serve globally as major sinks of carbon". Despite kneejerk doom-and-gloom, he points to successful programmes to limit deforestation and repair degradation in Brazil. "For the past seven or eight years, it's definitely been a source of inspiration and a good example of why we should not despair. They have protected large areas of the Amazon and committed resources to the restoration of the Atlantic forest." Although no panacea, forest renewal still looks like one of the sharpest weapons in the scanty armoury of large-scale measures to mitigate climate change. To Dr Coomes, "the silver bullet is still flying. We ought to continue to be optimistic about this."
We need every bullet we can find. This summer, more than 120,000 forest fires on carbon-rich peatlands in Indonesia pushed the country's daily CO2 emissions above those of the US. They struck at least 560,000 people with respiratory ailments, killed a minimum of 22, blanketed South-east Asia in the worst toxic haze since 1997 – and, most likely, made a future fortune for the oil-palm barons behind many of the criminally-set blazes. Greenhouse-gas statistics aside, the eyes and lungs of scores of millions have just experienced the scourge of deforestation.
Compared with the inferno of Sumatra, or the wilderness of parts of Amazonia, an afforestation project like Britain's National Forest may look about as fragile as a twig in a typhoon. Its new woodlands, which began to rise in the early 1990s, knit together former pit villages, market towns, clay-and-gravel works and farmland into a patchwork of varied landscapes. The area has seen 8.5 million trees planted and its "forest cover" – not always uninterrupted woods – rise from 6 to 20 per cent. These 7,000 hectares of fresh woods will cancel out 2.7m tonnes of CO2 emissions over 50 years.
Last year, the forest welcomed almost eight million visitors: to lakes, commons and leisure facilities, as well as into the woods. In English usage, the forest has always meant more than the trees. For Lattaway, "I think of 'forest' more in the medieval sense, rather than wall-to-wall trees." To John Everitt, chief executive of the National Forest Company (an agency sponsored by the Department of Environment), "the principles we want to promote are building on those traditions of having a mixed, mosaic landscape. We're not trying to create intensive forestry here."
Literally, as well as figuratively, great oaks sprout from tiny acorns. The seedlings of the 1990s now reach above adult heads. Everitt notes that "at the outset, you've got trees that are a foot tall in the ground. Taking people to that and saying, 'This is a forest', is quite a leap of faith." Now, "the next generation are planting young trees in an emerging forest. We've carried a generation with us." Meanwhile, buzzards fly in the sky and otters swim in the rivers. Lattaway has a wishlist of further reintroductions: woodpeckers, owls, but sadly not red squirrels. This low-conifer landscape simply would not suit them. "Admittedly, they tend to be quite charismatic species that people are going to get excited about. You're not going to find many slugs on that list."
Everyone – in the developed world at least – loves trees and wants to see more. As an aesthetic choice or a social duty, reforestation predates the discoveries of climate science by centuries. In his classic ramble through the forests of the world, Wildwood, the nature writer Roger Deakin quotes WH Auden: "A culture is no better than its woods." Governments began to grasp the value not only of keeping but reviving them long before the news of global warming hit.
In England, which contrary to Robin Hood myth has largely lacked dense woodland for most of its recorded history, protection dates back at least to the "Charter of the Forest" in 1217. That mandated penalties for "waste and assart": unauthorised felling and enclosure. In modern times, the much-maligned Forestry Commission began its march in the 1920s. It covered tracts of treeless terrain with the drab coniferous carpet that earned it such a bad name.
In contrast, traditional broadleaf species – such as oak, ash and birch – account for 87 per cent of plantings of the National Forest. As Lattaway makes clear, no one wants monocultural plantations. "You can plant trees willy-nilly. The challenge is creating new woodlands that contribute to wildlife, to public access, to health and welfare." In Britain as a whole, forest cover has reached 12 per cent: low by world standards, but a steep increase on a century ago.
Some other countries have gone much further, much faster. On a visit to Korea, I was astonished, and delighted, by the picturesque wooded hills that – against every expectations of a concrete Asian metropolis – not only surround Seoul but stretch down almost into the gardens of the city-centre royal palaces. They did not just survive by chance. More than anywhere else on Earth, South Korea re-grew its lost forests as a state priority after the ravages of the Korean War and breakneck modernisation. Under the National Reforestation Programme begun by President Park in 1962, cover rose from 35 per cent in the mid-1950s to 64 per cent today. It took paternalistic, even authoritarian, oversight, under the slogan: "Cutting trees is evil; planting trees is patriotic." But it worked.
Above all, Korea regained its forests because the country got rich. A recent report by the Korean Forest Service on the lessons learned from its half-century of re-greening charts the reduction of losses through wood-fuel harvesting, illegal logging or slash-and-burn agriculture. It concludes that "the underlying cause of all of these drivers was poverty". Hence the thorny paradox of many reforestation schemes. More affluent people no longer need to chop or burn down woodlands. Yet, as in Korea, the pursuit of affluence may have helped to raze those forests in the first place. Korea has had six post-conflict decades to study the problem and systematically address it. Elsewhere, time is running out.
As the clock ticks towards a level of global warming beyond the UN threshold of two degrees, advocates of climate-change mitigation have sought a quicker fix. Set up in 2005, under the UN's Kyoto Protocol, the so-called REDD+ mechanism allows for the creation of a "compliance carbon" market. Those assets stored in CO2-neutralising trees have become a tradeable resource. CO2-belching corporations can purge their emission sins in freshly seeded woods. REDD+ remains intensely controversial. Radical ecologists deplore the marketisation of a natural process, and the potential injustice of trapping poor people in a cash-forest that they merely curate for a pittance.
Serious money has certainly fallen in love with tall trees. The London-based Permian Global, for instance, finances forest recovery projects in Latin America and Asia run according to "the highest social and environmental principles", and sells the "high-quality verified carbon credits" they generate. It is headed by Stephen Rumsey: a life-long conservationist, and formerly a pension-fund manager and head of debt markets for Barclays. State actors also play their part. A billion-dollar deal with the Norwegian government helped Brazil to slash its forest loss. "Economically, it's not going to work against oil-palm" in still-smoking Indonesia, says Dr Coomes about the REDD model of transactions. However, "it could be effective against cattle-ranching" in Amazonia. "It's not a be-all-and-end-all, but that's no reason to discount it altogether. It's a financial mechanism to protect the forests, and there aren't many of those."
Back at the National Forest HQ in the former pit village of Moira, John Everitt has begun to pilot a carbon-finance project on a more neighbourly scale. "We want to move away from the idea of 'trading'," he explains. "If you plant trees, in 50 years' time they will have sequestered an amount of carbon. That carbon has value, and that value can be charged out to people who want to pay for it." Companies will "have to make a commitment to keeping the trees for a 50-year period". Lattaway admits: "Offsetting makes me nervous. It shouldn't be greenwash. You minimise and you mitigate wherever you can. And whatever's left over that you can't avoid, you offset that." Above all, Everitt wants local businesses – many attracted by the amenities of the forest – to balance out their CO2 emissions by investing, quite specifically, in their own woody backyard.
On both its ethical and economic branches, the carbon-offset business has a lot of growing still to do. Clearer, and less contentious, are the social benefits that woodlands bring. Around the National Forest, schoolchildren plant trees; families dedicate them to loved ones; farmers and landowners raise woods to diversify their income. Forest industries support 300 jobs; leisure and tourism over 4,000 more. Everitt cites the grounds of a stately home that, newly forested, can now host livery stables, festivals, weddings, shoots. A 75-mile walkers' route snakes across this mix-and-match landscape: not a spectacular showcase, but a patchwork re-greening that runs with the grain of the past. Lattaway insists that "we're not removing the evidence of what was there before". The "Black to Green" project celebrates local mining history: "We don't want to wipe that out of existence." Spoil heaps, as yet unclothed in trees, still dot the country around Moira and Donisthorpe. No one wants to re-name nearby Coalville.
Everitt contrasts his mission with the conservation paradigm of, say, an officially designated Area of Outstanding Natural Beauty. "We're creating heritage, whereas a lot of those other places have heritage that they're protecting. I think it's a really interesting distinction." To Lattaway, "it's a plus-point for us, a selling point. Every time you come, it will have changed."
Even magnified a thousand-fold, across the tropical carbon sinks of Kalimantan, Madagascar or Minas Gerais, in Brazil, initiatives such as the National Forest can hardly hold back the emissions tide. That will take the sort of binding global deal that Paris aims to deliver. As Dr Coomes reminds me, "The bottom line is that any seemingly intractable problem cannot be solved overnight."
Still, new woods, wherever they grow, bring new hope – locally or globally. Like the living things they are, they also change. Healthy forests mature, mutate, even die. "The woods decay," as Tennyson wrote in Tithonus. "The woods decay and fall." They may also rise again, as in this modestly mingled coal, clay and farming country of the Midlands. "At the risk of throwing off silly sound bites," says Lattaway, "this is just the next stage of evolution."
Register for free to continue reading
Registration is a free and easy way to support our truly independent journalism
By registering, you will also enjoy limited access to Premium articles, exclusive newsletters, commenting, and virtual events with our leading journalists
Already have an account? sign in
Register for free to continue reading
Registration is a free and easy way to support our truly independent journalism
By registering, you will also enjoy limited access to Premium articles, exclusive newsletters, commenting, and virtual events with our leading journalists
Already have an account? sign in
Join our new commenting forum
Join thought-provoking conversations, follow other Independent readers and see their replies