As Greta Thunberg inspires a world revolution, one young Ugandan is bringing the climate fight home
Thanks to her recurring Friday demonstrations, sprightly Leah Namugerwa has shot to prominence with her empowered activism. But, as Portia Crowe finds, her biggest challenge may be mobilising the youth at home
Saturday 28 December 2019 16:07 GMT
Comments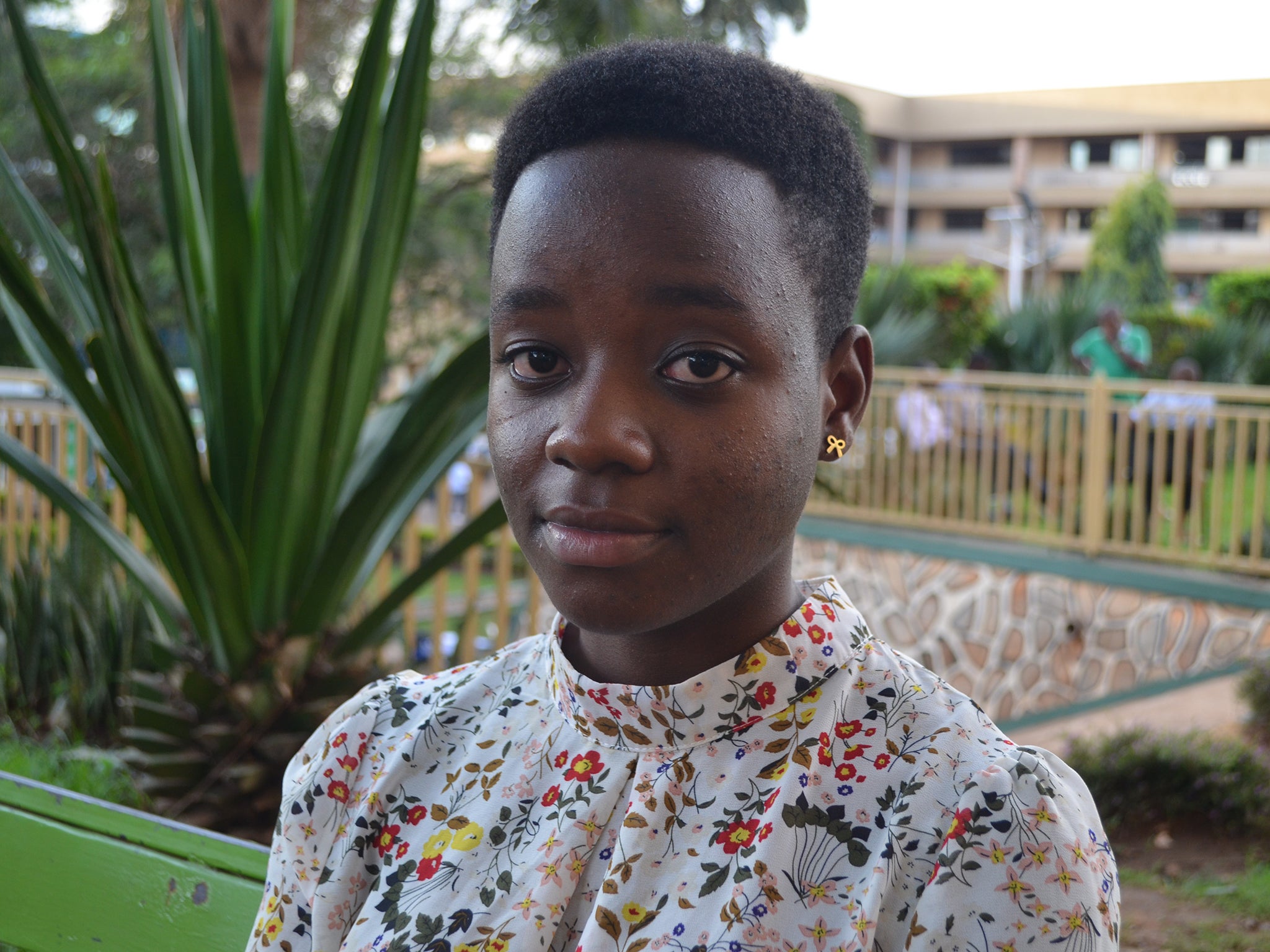 Gravely brandishing a banner reading "Climate Justice" and guiding a crowd of young people through a muddy Kampala market, Leah Namugerwa is in her element.
To mark the global climate strike on 29 November, the 15-year-old Ugandan activist, who co-runs Africa's most prominent chapter of Fridays for Future, marches along the shores of Lake Victoria, leading a chant until her voice grows raw.
Namugerwa has made waves in her short time as a climate activist, meeting foreign ambassadors and Uganda's speaker of parliament and attending conferences in Rwanda, Kenya, and Switzerland. But she appears most comfortable in her gumboots on the picket line.
"I want to raise a generation that cares about the environment," she says. "At least if the leaders can't make a difference, we can make a difference. We, as kids, we're not too young to make a positive difference."
Young east Africans stand to be among the worst affected by climate change, which can impact everything from crop production to malnutrition and the spread of disease.
Climate change: Decade's defining issue in pictures
Show all 20
Uganda is increasingly experiencing prolonged droughts in the north, landslides in the east, and flooding caused in part by the loss of tree cover. In one recent week, 36 Ugandans reportedly died as a result of unusually heavy rainfall.
Namugerwa, who has been walking out of classes every Friday since February, has spearheaded a tree-planting campaign and a petition to enforce the country's plastic bag ban. She was inspired to take action at 13, after watching news reports of mudslides and flooding in rural parts of the country.
"[This was] not people being hit by gunshots – this was nature," she says. "My fellow students losing schools, losing their parents, losing crops… It was really disturbing."
When her father and uncle, the latter an outspoken environmentalist, explained that the root cause of the damage was climate change, she began researching online and created a Twitter account dedicated to climate awareness.
She tweets prolifically, occasionally tagging the president, but is not even demanding new environmental policies. Rather she is merely calling for existing legislation to be enforced. The government has unsuccessfully tried to ban plastic bags half-a-dozen times, for example, and like many countries, Uganda has signed and ratified the Paris Climate Agreement but done little towards implementing it.
It was through Twitter that Namugerwa discovered Greta Thunberg and was inspired to stage her own school strikes.
"Leah held her first strike in February and I remember it was not even a Friday," says Fridays for Future Uganda co-founder Sadrach Nirere, a student at Kampala International University. "It was like a Tuesday, then the next Friday, the next Tuesday – she was very eager."
Her first placard simply read "School Strike for Climate", inspired by Thunberg's frank message. (The two teenagers met at COP25 in Madrid, but had previously been direct-messaging on Twitter, according to Namugerwa.)
She joined forces with Nirere, Fridays for Future Uganda's co-founder Hilda Flavia Nakabuye and her cousin, Bob Motavu to form Fridays for Future Uganda, and they began planning larger events in addition to the weekly walkouts.
The group has not received much institutional support.
"The first teacher I talked to about it told me that what I'm doing is useless," says Nakabuye. "He thinks climate change is God's plan and I cannot do anything about it since I'm human."
Attendance does not directly affect the students' grades, but in a country where education is all-important, missing class every week is severely frowned upon. That has made it difficult to grow the organisation – many of Namugerwa's friends are prevented by their parents from taking part.
Her own parents, however, are more encouraging.
"I'm not worried," says Namugerwa's father, Lukwago Cephas. "The education might also be useless if we don't have a future."
He and her siblings were present for the 29 November strike at Kampala's Ggaba Beach. About 40 young people spent an hour picking up plastic and rubbish from the lakeshore before marching through Ggaba market. (The organisers say previous protests have drawn nearly 1,000 participants but this one took place when many students were sitting exams and others had already gone home for the holidays.)
Dorothy Nalubega was there on behalf of a women's agriculturalist and environmental group.
"We have to join the young ones," she says. "You cannot separate climate change with agriculture… With the prolonged droughts, the floods, you cannot achieve the yields with the climate crisis."
Other participants included girls from a home for orphaned and disadvantaged children, as well as Peter Selujja, a fisherman who lives and works in Ggaba market.
"This is my country – I want everything to be clean," he says, pointing to plastic bottles washing up on shore. "Fish are dying. I cry from my heart when I see it."
Such protests are technically illegal in Uganda, where police permission is required for gatherings of three or more people that could be deemed political. The permit process often gets bogged down in bureaucracy until the date of the intended event has passed. "Now imagine if we never went on to do what we do [because of this]," says Nirere.
"You have to be big-headed," Nakabuye adds.
They do worry about their safety, however. With the rise of the opposition People Power movement, comprised mainly of young people and led by reggae-musician-turned-member-of-parliament Bobi Wine, the students fear their climate activism could be misconstrued as politically driven.
"People are trying to politicise youth action," Nirere says.
That can be dangerous in a country where even prominent opposition leaders are openly attacked in public. But Namugerwa is less concerned.
"My safety? I think that will make more climate awareness, if they try to [arrest me]" she says. "If that happens, [the media] will have to come."
Support free-thinking journalism and attend Independent events
Then there is her online security – she faces bullying from internet trolls both in Uganda and abroad. Some criticise her choice of cause, others take a more racist tone.
Namugerwa's uncle, Tim Mugerwa, whose organisation Green Campaign Africa informally supports Fridays for Future Uganda, acknowledges the pressure she faces at such a young age, but says as long as she is happy to do it, nobody should stop her.
"It's part of her learning process – it's part of the training she's supposed to get in class," he says.
Mugerwa, who intends to run for president in 2021 on a green platform, says political issues like unemployment and inequality are symptoms of the broader climate change problem.
Namugerwa agrees. Her hope lies in the youth – Uganda has one of the world's youngest populations, with a median age of just 15. It's a potentially important resource, though tapping it may be easier said than done. She admits she has a larger following abroad than at home, and winning over her young peers will be her next big challenge.
"But I'm not giving up on Ugandans," she says.
Join our commenting forum
Join thought-provoking conversations, follow other Independent readers and see their replies