Climate change must stay on political agenda, say protesters
Thousands march in central London on the 'most important issue of our times'
Hannah Boland
,
Nick Willoughby
,
Alice Harrold
Sunday 08 March 2015 01:00 Comments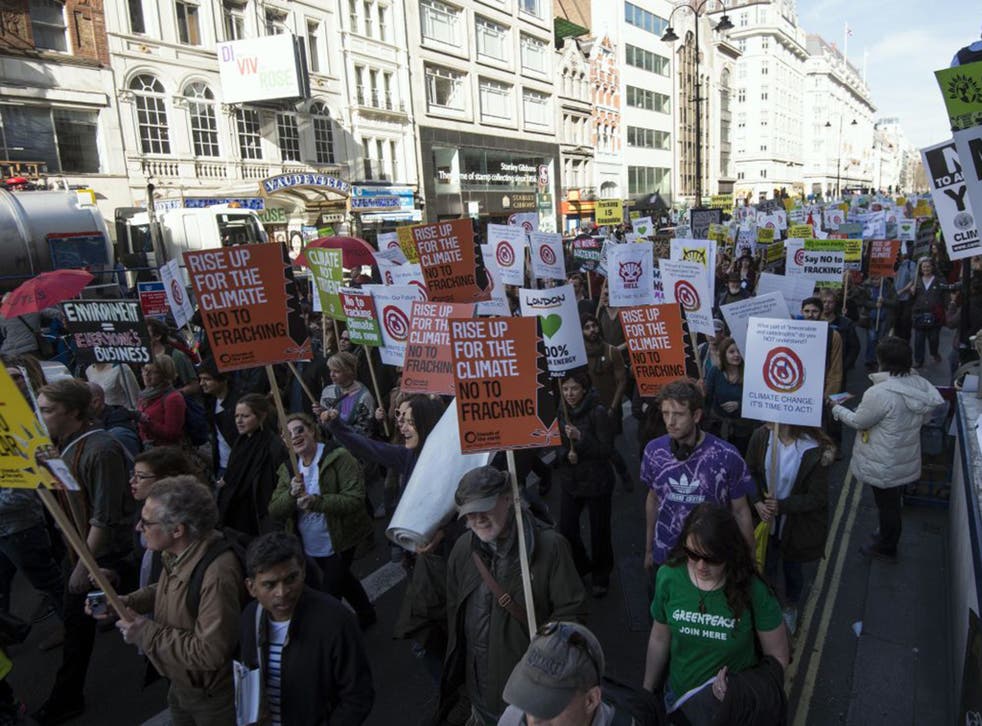 Thousands of climate change activists marched on the Houses of Parliament yesterday to urge politicians to start taking global warming seriously.
The march, called "Time to Act", was designed to increase support for action ahead of the United Nations Framework Convention on Climate Change in Paris in November.
Organisers said that 20,000 people turned out, but other estimates put the crowd at about 5,000.
Demonstrators held banners and painted their faces, while some carried portable music systems. The march finished in Parliament Square, where prominent campaigners gave a series of speeches.
Caroline Lucas, the Green Party MP for Brighton Pavilion, said: "The most important thing is that we are making a difference. The way forward that we're suggesting here is an incredibly positive one. I think that's the frustration with the politicians across the road.
"If the climate change activists are right, then the consequences are going to be extremely grim. If they're wrong, then our policies, such as not using fossil fuels, are good in themselves."
The march organisers, the pressure group Campaign Against Climate Change, said that they wanted to ensure that the environment was at the top of the agenda for May's general election.
Rashid Nix, Green prospective parliamentary candidate for Dulwich and West Norwood in London, said: "Climate change is the most important issue of our times. We need to keep it on the political agenda."
Motioning towards his four- year-old son, he said: "This young man here, he's going to inherit the madness that we adults create today. You don't really find many black people on climate change marches. It's important that this message is a universal message, discussed all over."
Sara-Jane Trebar, 42, an allotments campaigner from Watford, said: "I think it's important that the kids see all this and that they get involved from a very young age. I like to think that our campaign to save our allotments has opened them up a bit and made them realise about climate change issues."
Register for free to continue reading
Registration is a free and easy way to support our truly independent journalism
By registering, you will also enjoy limited access to Premium articles, exclusive newsletters, commenting, and virtual events with our leading journalists
Already have an account? sign in
Join our new commenting forum
Join thought-provoking conversations, follow other Independent readers and see their replies