Climate change activists who occupied International Criminal Court arrested by Dutch police
Extinction Rebellion activists demand legal protection for ecosystems sustaining life on Earth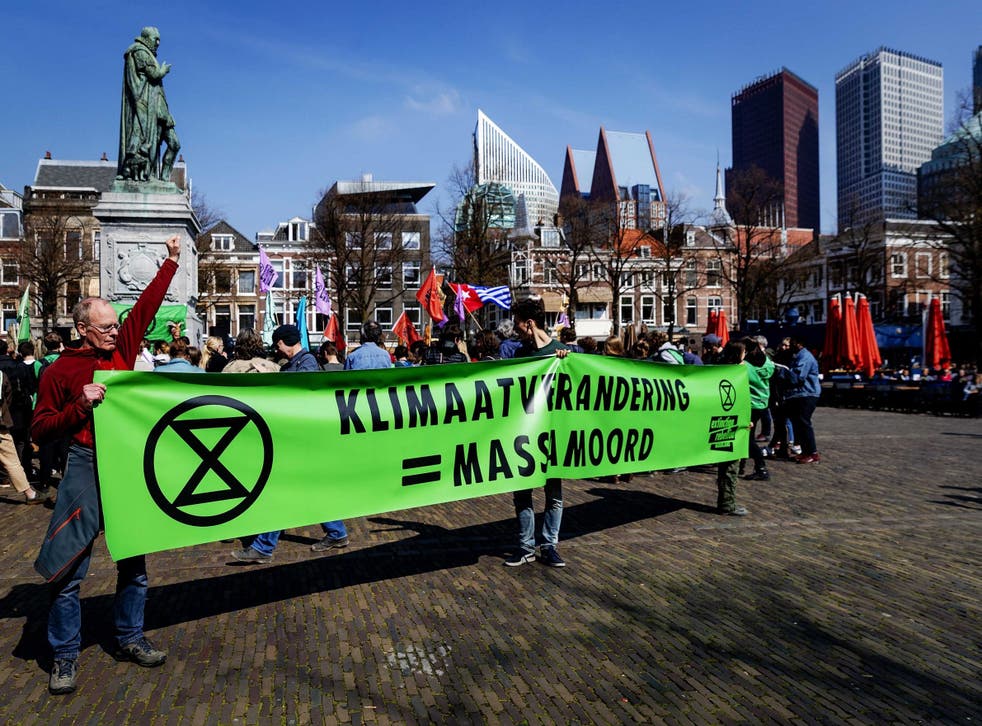 Climate change activists occupied part of the International Criminal Court in The Hague on Monday, unfurling banners and forming human chains before being arrested.
The demonstration by Extinction Rebellion, is the same group leading climate protests in London.
The group said they were not protesting the work of the ICC, but that they wanted ecocide recognised as an international crime.
In a statement the group said: "Currently, the ICC recognises four international crimes: crimes against humanity, war crimes, genocide, and crimes of aggression. The ongoing violence against the ecosystems that sustain all living beings including us has been left unpunished."
Extinction Rebellion activist Jonathan Leggett said: "We demand that ecocide is amended as a fifth international crime alongside the other abhorrent crimes dealt with by the court".
International climate protests enter fourth day: London sites occupied

Show all 38
"This action is not aimed against the ICC. We share their philosophy that those responsible for the worst crimes committed should be held accountable," he added.
Activists unfurled banners reading: "Make ecocide law", and formed human chains, before 22 members of the group were arrested.
The Netherlands' branch of the group tweeted: "After our successful action at the @IntlCrimCourt 22 Rebels have been arrested.
Extinction Rebellion says direct action is needed to force governments to act urgently on climate change and wildlife declines and halt a "sixth mass extinction".
It is calling for an ecological emergency to be declared, greenhouse gases to be brought to net zero by 2025, and the creation of a citizens' assembly to lead action on the environment.
Since its first demonstration last year the group has injected fresh energy into the environmental cause, capturing headlines, recruits and high-profile supporters.
It has grown into an international movement backed by celebrities, academics and writers, calling for "radical change in order to minimise the risk of human extinction and ecological collapse".
"Only a peaceful planet-wide mobilisation of the scale of the Second World War will give us a chance to avoid the worst-case scenarios," the group said.
Register for free to continue reading
Registration is a free and easy way to support our truly independent journalism
By registering, you will also enjoy limited access to Premium articles, exclusive newsletters, commenting, and virtual events with our leading journalists
Already have an account? sign in
Register for free to continue reading
Registration is a free and easy way to support our truly independent journalism
By registering, you will also enjoy limited access to Premium articles, exclusive newsletters, commenting, and virtual events with our leading journalists
Already have an account? sign in
Join our new commenting forum
Join thought-provoking conversations, follow other Independent readers and see their replies