Last year's weather proves climate change is real with 'no room for doubt', say scientists
'Human-driven climate change is now an empirically verifiable fact ... those who dispute [it] are not sceptics, but anti-science deniers'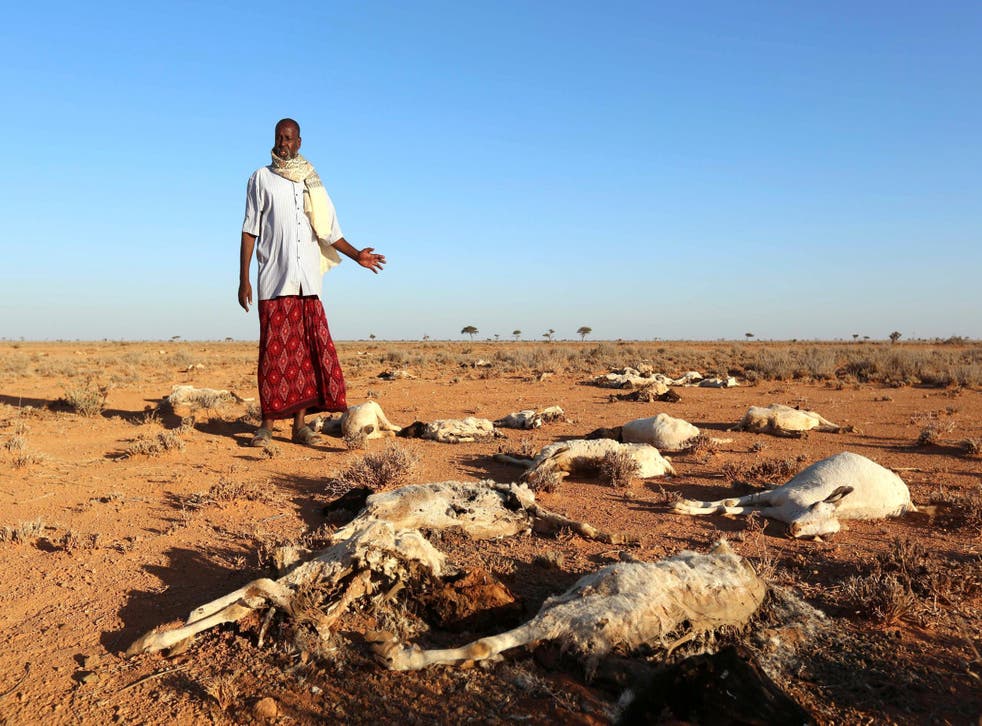 There is "no room for doubt". The astonishing weather experienced by the world last year and advances in climate science demonstrate conclusively that fossil fuel emissions are causing global warming – and something must be done about it.
That was the reaction from scientist after scientist to a new report by the World Meteorological Organisation (WMO), which documented record-breaking droughts, heatwaves, rainfall, melting of sea ice and a host of tangible signs observed in 2016 that the Earth's climate has changed.
Amid fears that Donald Trump will withdraw the United States from the Paris Agreement on climate change, the Secretary-General of the WMO said it was "vital" to slash carbon emissions and prepare for increasingly dangerous weather.
Writing in the report's foreword, Petteri Taalas said: "The influence of human activities on the climate system has become more and more evident.
"This influence is increasingly being demonstrated by attribution studies for some of the most critical weather and climate extremes, in particular extremes related to heat.
"It is vital that [the Paris Agreement's] implementation becomes a reality and that [it] guides the global community in addressing climate change by curbing greenhouse gases, fostering climate resilience and mainstreaming climate adaptation into national development policies."
The WMO Statement on the State of the Global Climate in 2016 pointed to multiple signs that our planet's weather is getting more extreme, including:
• the record average temperature for the year of about 1.1C above pre-industrial levels;
• millions of people going hungry after crops failed in parts of Africa as rainfall fell up to 60 per cent below average;
• flooding that displaced hundreds of thousands of people in south-east Asia;
• record low levels of sea ice in both the Arctic and Antarctic;
• the wettest ever winter on record in Scotland and China's wettest year;
• France's driest July and August and the record driest winter and spring that helped produce Canada's worst-ever wildfire at Fort McMurray, Alberta;
• extreme temperatures which saw records fall from Santiago in Chile, which hit 37.3C, to Svalbard in the Arctic, which was 6.5C warmer over the year than the average between 1961 and 1990;
• devastating wildfires in Tasmania amid a prolonged drought;
• and then devastating floods in Tasmania after the drought ended and the island experienced it wettest May to December on record.
Climate scientists have been forecasting just such an increase in bad weather driven by the rising global temperature, with a huge amount of extra energy now being trapped in the atmosphere as a result the greenhouse gases humans pumped into the atmosphere.
Increasingly, researchers have been able to show scientifically how individual weather events are made much more likely and more extreme by human-induced climate change.
But there was a distinct note of desperation in a round-up of reaction from leading experts to the WMO report, produced by the Science Media Centre.
The election of Mr Trump – who has appointed a string of climate science deniers to key positions in his administration, such as Scott Pruitt, the head of the Environmental Protection Agency – has given new currency to so-called sceptics the world over.
This was a major theme of the American Association for the Advancement of Science's annual meeting in Boston last month, and a March for Science and a Climate March are planned in Washington DC and other major cities around the world next month.
Climate science 'scepticism' is far from confined to American right-wing politicians. Ukip's leader, Paul Nuttall, has suggested Al Gore's seminal film about climate change, The Inconvenient Truth, is "in fact a convenient lie used by propagandists".
But Dr Phil Williamson, an associate fellow at the University of East Anglia, said: "The WMO's statement on the 2016 climate leaves no room for doubt.
"In the Olympics, records are broken by smaller and smaller amounts; in climate change, the opposite now seems to be true, not just for temperature, but for carbon dioxide in the atmosphere, sea-ice cover and global sea level rise.
Bill Nye to Bernie Sanders: The effects of Trump's climate change denial could be catastrophic
"Human-driven climate change is now an empirically verifiable fact, combining year-to-year variability with the consequences of our release of extra greenhouse gases. Those who dispute that link are not sceptics, but anti-science deniers."
Professor Dave Reay, chair in carbon management at Edinburgh University, said: "The Guinness Book of World Records now needs a whole new chapter for climate change.
"From soaring temperatures and carbon dioxide concentrations, to disintegrating ice and coral this new report on global change over the past year makes startling reading.
"The need for concerted action on climate change has never been so stark nor the stakes so high."
CIA director nominee Mike Pompeo refuses to accept Nasa's findings on climate change
For Dr Emily Shuckburgh, deputy head of polar oceans at the British Antarctic Survey , last year was simply "exceptional".
"The Arctic stood out as experiencing particularly extreme conditions," she said.
"During winter the region saw the polar equivalent of a searing heatwave, with temperatures in January breaking previous records by a staggering 2C.
"The changes we are now seeing in the polar regions are a stark reminder of the scale and urgency of the climate challenge."
However, in an age when the likes of then Cabinet Minister Michael Gove can insist people have "had enough of experts", there is a realisation that many people have stopped listening to scientists and hard evidence.
Professor Sir Robert Watson director of strategic development at the Tyndall Centre for Climate Change Research at the University of East Anglia, said: "While the data show an ever-increasing impact of human activities on the climate system, the Trump Administration and senior Republicans in Congress continue to bury their heads in the sand and state that climate change is a hoax and does not need to be addressed.
"We are now living in an evidence-free world, where facts are irrelevant.
"How much more evidence does the world need to recognise the dangers confronting our society?"
The repeated warnings about climate change by scientists from different fields the world over had become like a "broken record" endlessly playing the same refrain, said Dr Jeffrey Kargel, a glaciologist at Arizona University.
10 photographs to show to anyone who doesn't believe in climate change

Show all 10
"But that's just the point. One new broken record after another: global warming on land and sea and other big effects across the Earth's surface," he joked grimly.
"Earth is a planet in upheaval due to human-caused changes in the atmosphere. In general, drastically changing conditions do not help civilization, which thrives on stability.
"We have to change, and our leaders must come face to face with reality and understand that their decisions will affect the future for better or worse. Every nation has a role to play in easing our dilemma and moving us away from worst-case scenarios."
According to the Intergovernmental Panel on Climate Change, the world could experience a rise in temperatures above pre-industrial levels of between 2.6 and 4.8 degrees Celsius by 2100 if humans carry on emitting fuels under a 'business as usual' scenario.
However more recent research has suggested the Earth's atmosphere could be more sensitive to greenhouse gases than previously thought, putting the planet potentially on course for more than 7C of warming.
It is thought that 'dangerous' climate change would occur after 2C of warming, although the Paris Agreement urged the world to try to restrict it to 1.5C if possible.
Somewhere between warming of 3C and 4C, it is thought significant feedback loops would start to kick in, such as the release of vast amounts of methane from the Siberian tundra, which is already causing concern.
This would drive global warming faster and, if it hit 6C, this would be "game over" for human civilisation as we know it.
Join our new commenting forum
Join thought-provoking conversations, follow other Independent readers and see their replies