UK can cash in on revolution for heating and cars to halt greenhouse gas emissions, say climate advisers
Landmark experts' report calls for ban on petrol and diesel cars to be brought forward and for large-scale hydrogen production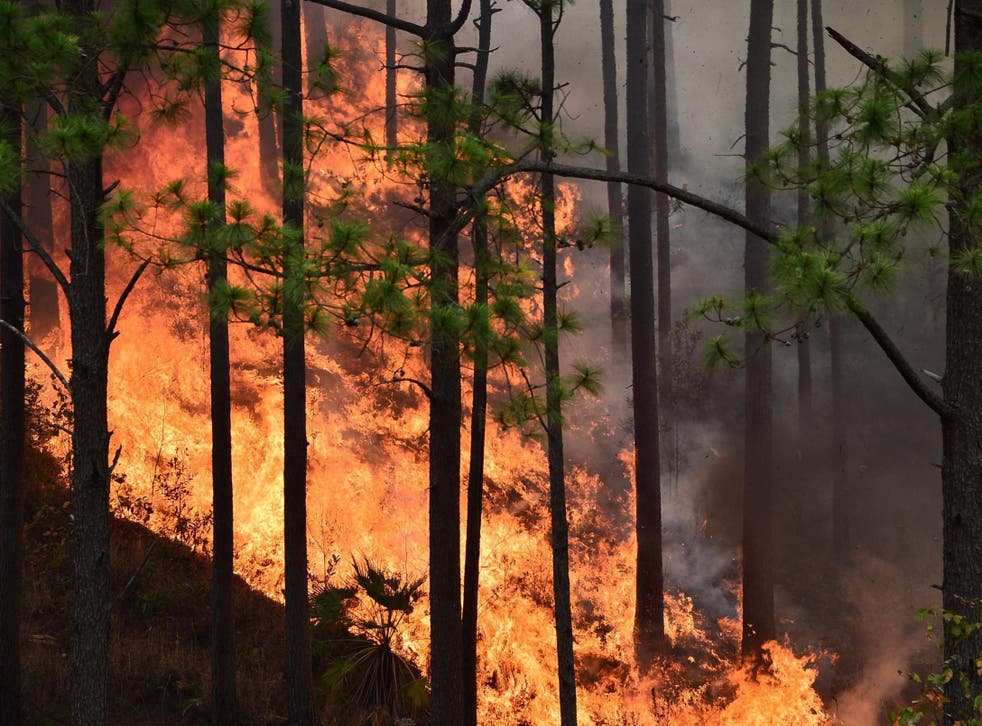 Ministers must urgently bring on a new economic revolution to end greenhouse gas emissions including changing the heating in every building to green sources such as hydrogen, the government has been told by its climate change watchdog.
The experts insist Britain can make money by leading the globe in overhauling power, transport, industrial, agricultural and aviation systems – because the rest of the world will want the UK's pioneering technology.
Eco-friendly electricity supplies should be quadrupled, based on new large-scale hydrogen production, the advisers say in their most ambitious report yet on tackling climate change.
And they call for a ban on sales of petrol and diesel cars to come forward by 10 years to 2030.
Setting out a vision for Britain to stop contributing to climate change by 2050, the Committee on Climate Change said such steps should be put into law as soon as possible.
Extinction Rebellion: Climate change protests cause chaos in London

Show all 46
Mass tree-planting, cutting meat consumption and making planes more efficient will also play a role, as will stopping biodegradable waste going to landfill and cutting farm emissions, the report says.
But environmental campaigners insisted the middle of the century was too distant a target and even more urgency was needed.
Experts agree the world is currently heading for droughts, floods and wildfires caused by climate change.
Signalling the importance of net-zero emissions target to the world would have a big impact diplomatically, said committee chief executive Chris Stark.
"This is a moment for the UK to lead. We have a lot of leverage. If the UK doesn't do this it will be very difficult for others to follow," he said.
The landmark report says current policy is not enough even for the existing target of an 80 per cent reduction, and action needs to be significantly ramped up.
The changes are "achievable with known technologies, alongside improvements in people's lives".
Offshore wind and solar is now cheaper than fossil fuels, meaning the cost of inaction is higher than acting, Mr Stark said.
The panel insists that developing ways to capture and store carbon is "a necessity not an option".
When carbon in the earth is released into the atmosphere by deforestation and the burning of fossil fuels, it causes the planet to warm, raising temperatures and sea levels.
Significantly, for the first time emissions from global aviation and shipping have been taken into account; previous targets from the UK, EU and elsewhere, including the Paris agreement, have excluded them.
The report also recommends Scotland reach net-zero emissions by 2045 but Wales could achieve only 95 per cent cuts because of its large sheep-farming industry.
In 2008 the UK set a legally binding target of reducing greenhouse gas emissions by 80 per cent by 2050 but the committee now says upping that to 100 per cent is realistic.
However, ending Britain's contribution to global warming will be done only with significant changes in government policy and approaches, members warned.
The Scottish and Welsh governments have this week both declared a climate emergency.
On Monday, a cross-party group of politicians warned the government must be put on a "war footing" to tackle climate change, just hours before Extinction Rebellion members were due to meet environment secretary Michael Gove to press for an earlier target of 2025 to eliminate greenhouse gas emissions.
How hydrogen could be used
Hydrogen is considered greener than the natural gas that is used to heat more than four in five homes, because when burned it produces only water vapour.
Using it as power could involve installing heat pumps to replace gas boilers which may require bigger radiators, or retrofitting hybrid heat pumps.
On a larger scale, gas distribution grids could be changed over to hydrogen, area by area, which would take up to 20 years.
There are also hybrid heating systems, with a heat pump providing most heat, and a boiler kicking in on the coldest days.
Plans for two year-long trials of using hydrogen to heat 750 homes in the north of England are already under way.
Costs
The report says that falls in green technology costs mean that achieving net-zero emissions is now possible within the economic cost that MPs accepted when they passed the Climate Change Act in 2008.
The cost of overhaul is thought to be 1-2 per cent of GDP. Committee chairman Lord Deben – the former agriculture minister John Gummer – said: "We started the industrial revolution and have been responsible for the biggest segment of climate change and we need to be not only responsible for the leadership to overcome those damages but also we have an opportunity of leading the new industrial revolution which will be based on that sustainable economy.
"This is the key to a very considerable amount of economic benefit – we'll make money as a nation out of this if we do it properly because the rest of the world will want it."
The committee's calculations do not rely on carbon credits, he said.
Instead, "we in Britain will be able to satisfy a lot of the technological changes that other countries will need".
The costs of the transition must be fair, and must be seen as such by workers and energy bill payers. The committee wants the Treasury to review how the costs can be managed fairly.
Lifestyles
Mr Stark said the plan involves planting trees covering 30,000 hectares a year.
It will mean less monoculture and more mixed farming, people eating 20 per cent less meat and dairy, and driving electric cars, said Lord Deben.
Last month the government promised £40bn of infrastructure spending over a decade to deliver a third of the UK's electricity needs by 2030 through offshore wind.
And chancellor Philip Hammond announced the phase-out of fossil-fuelled heating in new homes.
Warming trend
Global average temperatures have already risen by 1C from pre-industrial levels, and the five-year period to 2018 was the hottest ever recorded.
Under the 2015 Paris agreement the world's nations agreed to aim to keep global temperatures under 2C and to aim for no more than 1.5C, but at current rates the 1.5C mark will be breached within 20 years, the committee says.
Efforts in the past decade worldwide have eased forecasts of warming from above 4C by the end of the century to around 3C.
Six months ago scientists on the Intergovernmental Panel on Climate Change (IPCC) issued the most dramatic alert yet on the risks of rising global temperatures, warning of dying corals, melting sea ice and rising sea levels.
Reaction
The Climate Coalition, whose members range from the WI to the RSPB, Unicef and the Worldwide Fund for Nature (WWF), agreed with the 1.5C target but said action should happen faster, with a 2045 deadline that would stop contributing to climate change "before it is too late".
Clara Goldsmith, of the coalition, supported the report's aims but added: "We call on the government to set in legislation a world-leading target for net zero greenhouse gas emissions by 2045 and put in place the ambitious policies and investment to back it up. This would put the UK in pole position to lead the global zero carbon revolution."
Beccy Speight, chief executive of the Woodland Trust, said: "To make an impact, new woodland creation and regeneration will need to happen faster and on a far greater scale than ever before and be sustained over several decades."
Friends of the Earth said more urgency was needed than the panel advised, and that breaching 1.5C "would sound the death knell for 90 per cent of coral reefs".
"It would expose tens of millions of people to droughts, floods and wildfires. And it could set in chain an unstoppable melting of the Greenland and West Antarctic ice sheets which would lead to a multi-metre sea level rise," the group said.
Aaron Kiely, of Friends of the Earth, said: "While this is a massive body of important and credible work, it needs to inject more urgency.
"A roughly 50-50 chance of exceeding 1.5C is worse odds than Russian roulette. Every government across the globe should be aiming to get to net zero as soon as possible.
"There are no speed cameras on the road to net zero, we can and must go faster."
John Sauven, executive director of Greenpeace UK said the government could no longer faff around with promises and half measures and it needed "plausible, deliverable plans".
"We might argue over the committee's 2050 date for a net-zero carbon economy but what nobody can argue is that the government's business-as-usual approach will suffice.
"We need to radically change course, and the sooner the better for the economy, people and nature."
Jonathan Church, of legal eco group ClientEarth, said: "We need this net zero by 2050 target to be put in place right away because every month of delay will make achieving it more challenging and less cost-effective in future."
Matthew Spencer, of Oxfam, welcomed the report, saying: "The recent cyclones in Mozambique have illustrated once again that despite having done the least to cause climate change, the world's poorest people are increasingly suffering the full, brutal force of the consequences. The UK must now take decisive action to reduce emissions across the board."
Support free-thinking journalism and attend Independent events
Join our new commenting forum
Join thought-provoking conversations, follow other Independent readers and see their replies