Climate strike: Schools should not punish protesting students with detentions, teachers say
'We should be alongside them and I don't mean in the detention room,' teacher says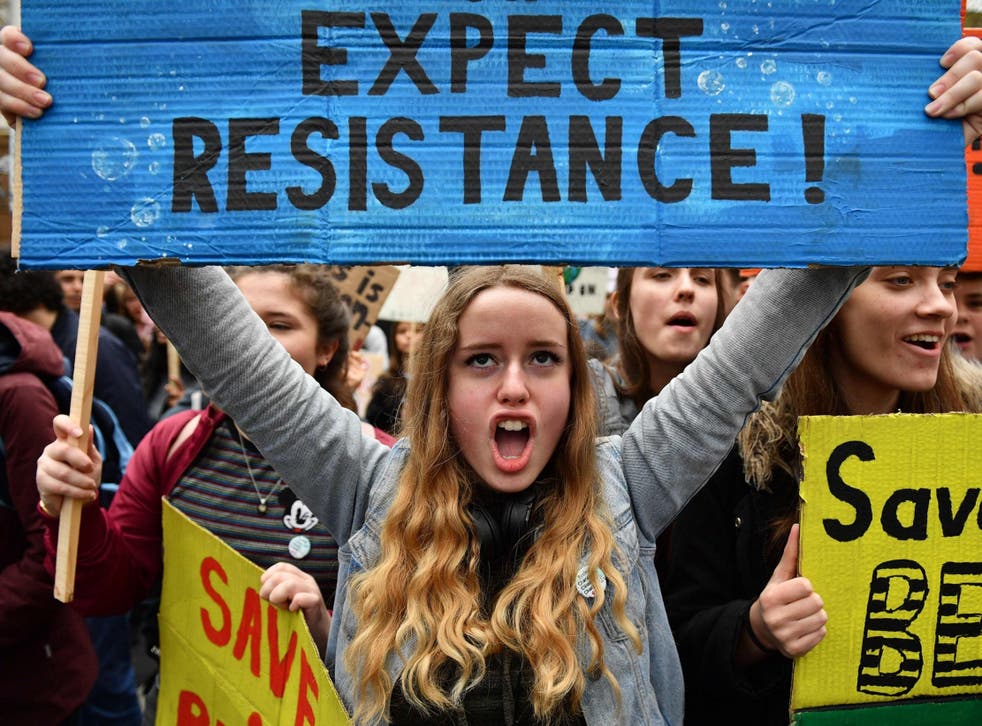 Students who miss school for climate change protests should escape detentions and exclusions, teachers have said, defying calls from a headteachers' union leader for pupils to be punished for skipping class to strike.
Delegates at the annual conference of the National Education Union (NEU) have backed a motion calling on school staff to stand in full solidarity with all students striking against climate change.
The vote came after thousands of students across the country walked out of school for the third time on Friday last week to demand politicians take urgent action on climate change.
Delegates have called on the NEU executive to lobby the government to do more against climate change – including prioritising the global issue in the school curriculum.
Speaking at the conference in Liverpool, Daisy Maxwell, a geography teacher from Tower Hamlets, said she was "proud" of her sixth-form students who missed three hours of lessons to take part in the strikes.
"Act now or swim later" - Children worldwide protest climate change

Show all 38
She said climate change was one of the "most important issues" to educate future generations about, but she warned too many were missing out on lessons.
"Increasingly children are being made to pick their GCSE options in year 8, which means a significant number of students are not getting that level of education and knowledge about an issue which is going to affect them all and that is not right. Every student should have that," Ms Maxwell added.
Tony Buttifint, from Islington, added: "Young people wrapped up in their Xbox, reality TV, social media – why don't they care about stuff? Do something? Well they do and they are. We should be alongside them and I don't mean in the detention room."
It comes after Geoff Barton, general secretary of the Association of School and College Leaders, said headteachers should consider issuing lunchtime detentions to students who miss school for the protests.
Skipping school to protest against the Iraq war was not acceptable, and walking out of class for climate change protests should not be condoned either, Mr Barton said.
He added that sanctioning protests opened the doors to more pupil absences over other issues such as knife crime and homelessness, and he said students should instead be in school learning about climate change.
Support free-thinking journalism and attend Independent events
Speaking in Liverpool on Monday, Simon O'Hara, from Warwickshire, said: "There are going to be many of us in this hall that probably won't directly experience the murderous consequences of climate change.
"But our children and our children's children certainly will and we must support everything they do because they are seeing further ahead then many people of my generation."
Speaking on the topic last week, Mary Bousted, joint general secretary of the NEU, said: "We support the cause, absolutely, but we have to say we can't support young children walking out of lessons and walking out of school."
Join our new commenting forum
Join thought-provoking conversations, follow other Independent readers and see their replies