Climate change strike: Tens of thousands of children take day off school in latest protest over climate catastrophe
Demonstrations taking place in more than 70 towns and cities across the UK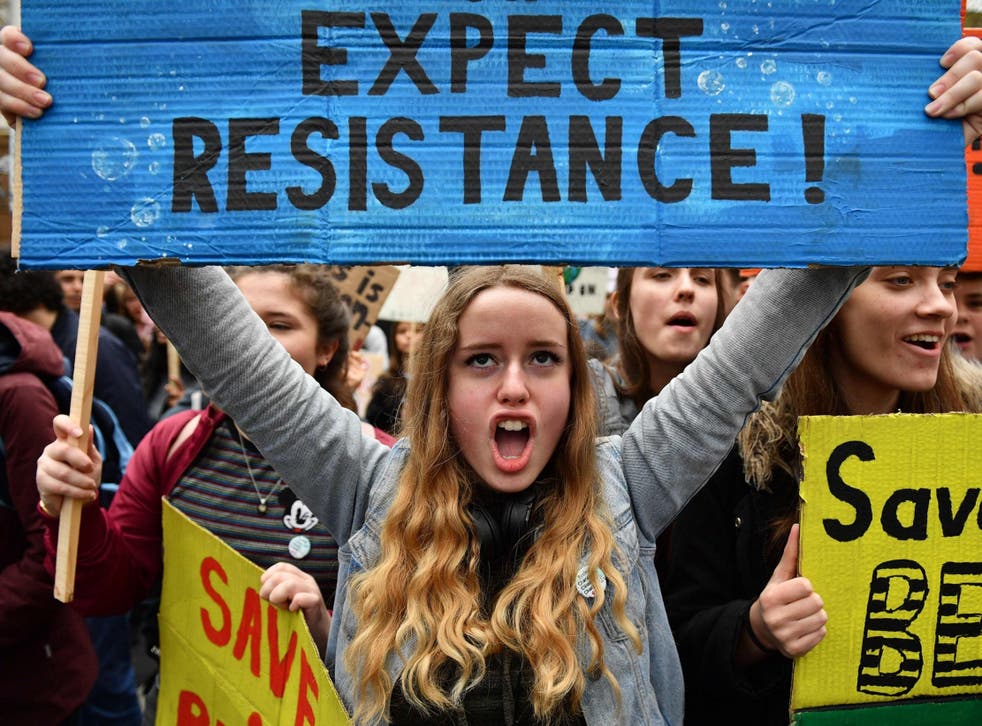 Tens of thousands of children and young people are expected to attend nationwide protests urging the government to introduce measures to address climate change and economic inequality.
Young people from the Youth Strike 4 Climate movement have organised protests in more than 70 towns and cities across the UK, in their third major demonstration this year.
Children are taking the day off school to call for the government to declare a state of climate emergency and implement a "Green New Deal" policy framework that would decarbonise the economy, and reduce social inequality.
"We've been angry for a long time," said Noga Levy-Rapoport, a 17-year-old student and protest organiser from London. "Previously, we didn't have a platform – and there was no way to express our anger.
"A whole generation has been ignored and now we aren't going to stop pushing for change until the government takes action."
Tens of thousands of children protest climate catastrophe

Show all 8
An estimated 20,000 young people skipped school and attended protests organised by Youth Strike 4 Climate in February and in March an estimated 50,000 took to the streets.
"Momentum is building," said Ms Levy-Rapoport. "As the protests get bigger more people are hearing about the movement."
George Bond, a 16-year-old from Devon, who is active in the UK Student Climate Network said: "To adequately address the climate crisis, we need bold and ambitious ideas that inspire people to think of a better world. A Green New Deal is one such solution.
"With a promise of well-paid and secure jobs in the renewable and other green sectors, it would go a long way toward addressing the economic inequality that has disproportionately affected so many communities and regions around the UK as well as tackling climate change."
He added: "Over the last three months attitudes have changed dramatically. The mainstream media and politicians are only just waking up to the power that young people have and what we can achieve."
The growing global youth movement to combat climate change has been galvanised by actions taken by the Swedish teenager Greta Thunberg, who began a solo protest in Sweden last summer.
She was nominated for a Nobel Peace Prize in March for her role in sparking climate protests in more than 100 different countries.
Jake Woodier is a campaign officer with UK Student Climate Network, an organisation that provides logistical support to the children organising protests in the UK.
"The children are spread out across the UK and mainly organise online," he said. "New technologies are allowing young people to organise on a global scale in a way that has never been possible in the past. This is the first generation that truly grew up with mobile technology and the internet and they are reimagining the way that it can be used."
Young people active within the UK Student Climate Network mainly communicate via mobile messaging applications and video conferencing technology, he added.
Protests earlier this year have seen police intervening as roads came to a standstill, activists scaled traffic lights and statues, and some sat in front of double-decker buses.
Support free-thinking journalism and attend Independent events
Demonstrators are also campaigning for the voices of young people to be considered when it comes to policy-making and for the voting age to be lowered to 16.
Environment Secretary Michael Gove has previously spoken of his support for strikes, saying: "Collective action of the kind you're championing can make a difference, and a profound one."
The latest strikes come in the wake of a United Nations report which warned that limiting global temperature rises to 1.5C above pre-industrial levels requires unprecedented action – including cutting global carbon dioxide emissions by almost half within 12 years.
Scientists have warned that the climate impacts, such as increased risk of flooding and extreme heat, will be become more severe as global temperatures rise beyond the 1.5C target.
Join our new commenting forum
Join thought-provoking conversations, follow other Independent readers and see their replies