'Millions of people may be headed your way': Governor says Californians will flock to Canada as wildfires get worse
Jerry Brown, Democratic governor of California from 2011-2019, says his family are considering buying property in Canada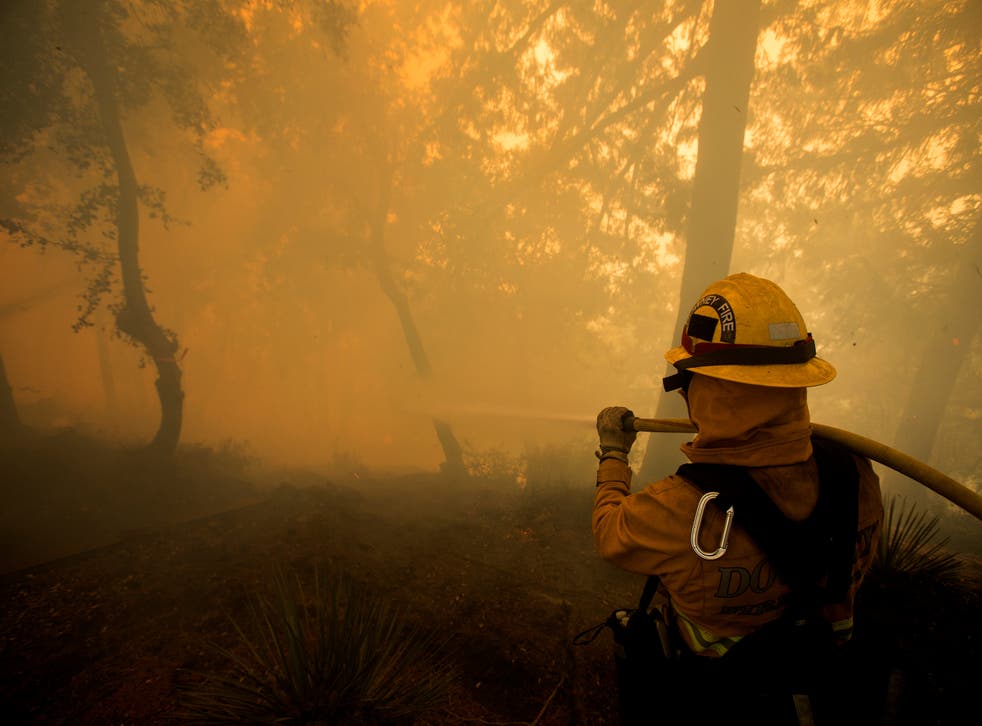 Leer en Español
The former governor of California has said that residents of his state should consider heading north of the border as the pattern of climate change-driven wildfires continues to worsen.
Jerry Brown, who served as Democratic governor of California from 1975-1983 and again from 2011-2019, also suggested that buying property in Canada was something his family was considering, in an interview with CBC Radio on Wednesday.
"My wife reminds me that her grandmother was born in Canada and that we ought to be looking for some property because if this smoke doesn't clear, she certainly doesn't think it's livable. So I would say that's a real possibility," Mr Brown told listeners.
"Of course, Canada is not letting Americans in. So we'll have to solve that problem if you want to have a little migration from California, which you may not want."
He added that "from the climate projections, California and the West in America is going to burn. Canada is going to have a lot of nice spots. It's going to have the water. So, yeah, you better be on your guard because I think you've got millions of people that may be headed your way".
Mr Brown, who lives outside of Sacramento, made climate change one of the central issues of his political career and now heads up the California-China Climate Institute.
He said that the wildfires, which have burned a record 3.4million acres in California and left 25 people dead, were the "chickens are coming home to roost" on climate change predictions that were made decades ago.
He said that Californians, along with the rest of the planet, must face "a hundred per cent" of the responsibility for the climate crisis caused by burning fossil fuels. But he added, "it's also the failure of leaders of the world".
When asked by the CBC host whether he could have done more during his time as governor, Mr Brown was blunt about his own record of success, saying that he believed he "did everything humanly possible" and that "most people said I did too much".
He went on: "Now, was it enough? No, it's not enough. But I can tell you, as a guy who's been around the political world for 50 years, I pushed the politicians to the limit.
"The fact is, the political class in America, with maybe a 20 per cent exception, does not want to make the hard decisions because they cost money and they require a price on carbon and they require regulations that constrain the way we're functioning today."
Mr Brown's belief in scientific consensus on climate change has led to past clashes with Donald Trump, an avowed climate change denier.
During the devastating 2018 California wildfires, the president blamed California's poor forest management for the blazes.
While Governor Brown acknowledged forest management was part of controlling the fires at the time, he also said: "Managing all the forests everywhere we can does not stop climate change — and those that deny that are definitely contributing to the tragedy."
Mr Trump repeated his refrain about forest management this week in the face of fierce opposition from California public officials and Democratic presidential nominee, Joe Biden, who pointed out the realities of climate change.
"When trees fall down after a short period of time, they become very dry — really like a matchstick. And they can explode. Also leaves. When you have dried leaves on the ground, it's just fuel for the fires," Mr Trump said on Monday.
California Governor Gavin Newsom acknowledged that his state had not done enough to manage forests. But he reminded Mr Trump with a colour-coded, piechart handout that 57 per cent of forests in California are under federal management — and just 3 per cent are state lands.
During a meeting with public officials in Sacramento, California Secretary for Natural Resources Wade Crowfoot told the president: "We want to work with you to really recognise the changing climate."
"It'll start getting cooler. You just watch," the president shot back.
In a rare public rebuke of a sitting president, Mr Crowfoot replied: "I wish science agreed with you."
Mr Trump countered: "Well, I don't think science knows actually."
Join our new commenting forum
Join thought-provoking conversations, follow other Independent readers and see their replies