Climate crisis: Most Europeans would support permanent ban on short-distance flights, EU survey reveals
Attitudes to flying nosedive amid worsening environmental impact of emissions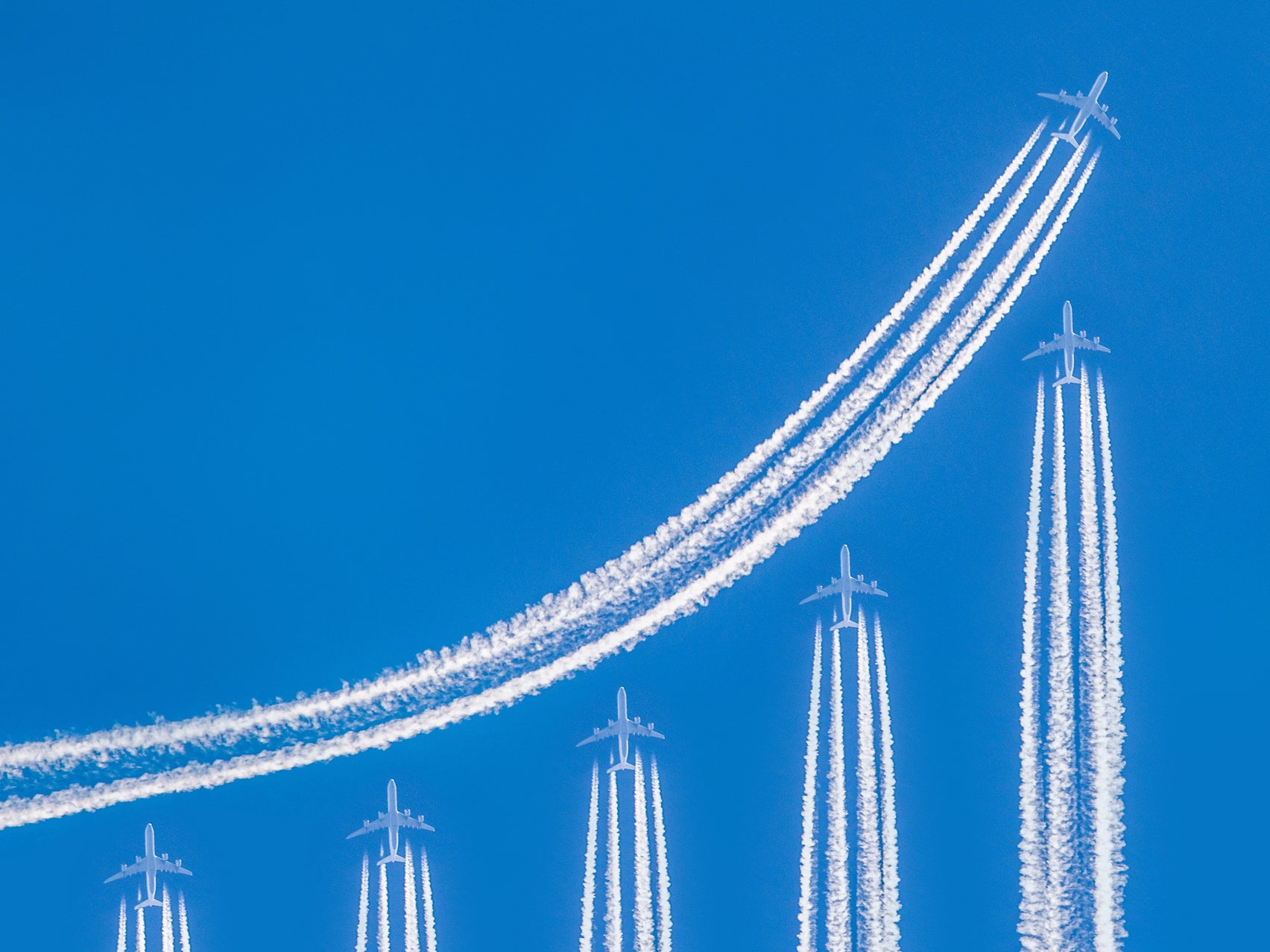 A Europe-wide poll on attitudes to flying and climate change has revealed a large majority of people now support a ban on short-haul flights and even more would support a carbon tax.
The European Investment Bank (EIB) polled 28,088 people, across all 28 European Union member states (including Britain, which was a member at the time) with 62 per cent stating they supported a ban on short-distance flights, and 72 per cent said they would support a carbon tax on flights.
The poll, carried out between September and October 2019, did not specify a maximum length of the flights which should be banned, but asked simply about support for a ban on short-distance flights.
Around the world, aviation is one of the fastest-growing sources of highly polluting carbon dioxide emissions – the main greenhouse gas causing the worsening climate crisis.
By 2020, global international aviation emissions are projected to be around 70 per cent higher than they were in 2005 and the International Civil Aviation Organisation (ICAO) forecasts by 2050 they could surge by a further 300-700 per cent.
Climate change: Decade's defining issue in pictures
Show all 20
In Europe, emissions from aviation increased every year over the five years to 2018, and aviation now accounts for about 3 per cent of the EU's total emissions according to the latest available EU data. However, its share is expected to grow rapidly due to rising demand.
Countries including the Netherlands and Spain are already exploring the option of using environmental taxes to make airlines pay for their pollution.
At the moment, airline flights within Europe are covered by the EU's emissions trading system (ETS), which is designed to incentivise lowering emissions.
The system works by providing a finite number of "emissions allowances", which caps the amount of emissions airlines can legally produce. Any unused allowances can then be traded between airlines.
However, many of these emissions allowances or "carbon credits" are currently issued free of charge by the EU, and overall the prices of the credits have been lower than intended with a large surplus of allowances available for sale. Critics have said this undermines the core reason for the existence of the ETS.
But last week a proposal by Poland to end free EU carbon allowances for airlines, which would force them to buy all the pollution permits they need, gathered momentum, with seven member states supporting such action.
These taxes would increase costs for airlines and passengers when carriers already face multiple challenges, including a drop in demand because of the coronavirus.
European Commission president Ursula von der Leyen has said all sectors must contribute to the EU's target to reduce the bloc's net emissions to zero by 2050.
Some airlines have already started voluntarily offsetting their emissions using carbon credits, although it is not clear whether the EU would accept these as a contribution to its 2050 goal.
The EIB, which is the long-term lending institution of the European Union and is owned by the bloc's member states, has ambitious goals on sustainable finance.
The bank said last year it would stop funding unabated fossil fuel energy projects at the end of 2021.
The EIB said its survey showed Europeans support action to tackle the climate crisis, even when it impacts their daily lives.
But they also said measures which would cause direct price rises tended to receive less support.
A large majority of respondents – 91 per cent – were in favour of schools teaching about climate change and recycling, while 85 per cent said they supported a ban on single-use plastic items.
The EU will ban single-use plastic items, including straws, cutlery and cotton buds, next year.
The poll found 59 per cent of respondents were supportive of higher prices for carbon-intensive food and goods, such as red meat, food transported over long distances and some clothing.
Additional reporting by Reuters
Join our commenting forum
Join thought-provoking conversations, follow other Independent readers and see their replies