Government spending just 0.01% of GDP on fighting climate crisis
Climate low priority for government as UK drops over 2 per cent of GDP on military every year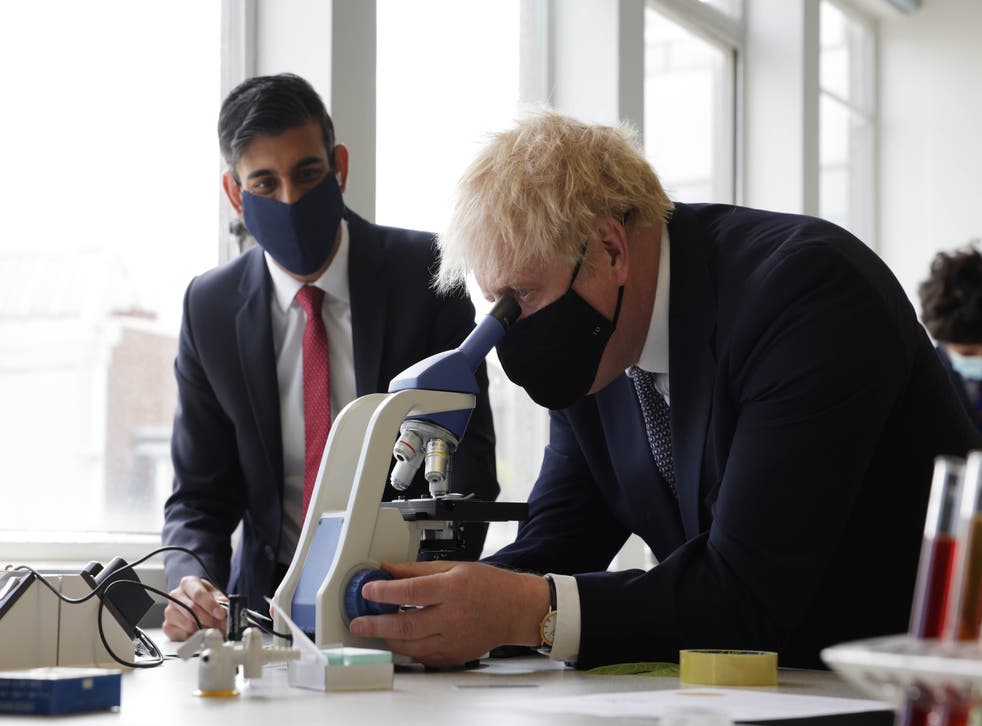 The government's budget for this year directs just 0.01 per cent of the UK's GDP towards fighting the climate crisis, according to an analysis by a leading conservation group.
The World Wildlife Fund (WWF) said Rishi Sunak's March spending plan "doesn't add up" when it comes to delivering on headline-grabbing climate change promises.
The warning comes just days after a landmark UN report said it was "code red for humanity" when it comes to tackling the environmental emergency.
Climate change mitigation policies set out in the March Budget equate to just £145m – contrasting with policies that are expected to drive up emissions, such as the fuel duty freeze – which equate to more than £40bn.
While the UK spends more than 2 per cent of its GDP on the military every year to meet a NATO target, the WWF's analysis found that "with nature in freefall and the climate in crisis", a vastly lower share of national income is being directed to climate mitigation.
"The latest Budget simply doesn't add up to the cleaner, greener future we all want to see. To turn things around, ministers must close the gap between their climate commitments and their spending plans, by adopting a net-zero test for all government spending ahead of the UK-hosted COP26 climate summit in November," said Isabella O'Dowd, the head of climate change at the WWF.
"We won't forget the government's climate promises and, together with our supporters, we will hold government to account for delivering on them."
The Treasury claimed the WWF's analysis is "misleading", but it fits with warnings by the government's own official Committee on Climate Change (CCC) that promises to cut emissions are not being met with real action.
The committee says about 1 per cent of GDP a year will need to be directed to delivering the transition to net-zero on time.
A recent analysis conducted by the All-Party Parliamentary Climate Change Group also shows the UK government has only met or partially met 61 out of 135 policies recommended by the CCC.
YouGov polling shows 68 per cent of British adults are not confident that the government will deliver on its target to slash emissions by 78 per cent by 2035.
The polling suggests more people would support immediately increasing spending on climate to save on climate mitigation costs down the line, than delaying and incurring higher costs in the future.
Luke Pollard, Labour's shadow environment secretary, said: "This government is putting off the big decisions required to cut carbon. Climate delay is now a bigger threat than climate denial and they're failing to bring forward the ambitious green recovery we urgently need. The UK is the sixth-worst for green infrastructure investment out of the G7 and is seriously off track to meet its climate targets.
"Labour has called for £30bn in planned investment to be brought forward to support up to 400,000 jobs in manufacturing and low-carbon industries, and for a robust net-zero and nature test to be applied to every government decision – from spending to infrastructure – to ensure it's consistent with our environmental ambitions.
"Acting now on climate will create new, well-paid green jobs but delaying action means we won't get those jobs nor the chance of averting the climate crisis."
UK news in pictures

Show all 50
It comes amid reports that Tory MPs are privately pushing the government to water down its climate commitments.
Right-wingers elected in red wall seats claimed their political fortunes would be harmed if they were seen to be expending too much energy fighting climate change.
A conversation leaked to the Sun newspaper shows one MP claiming: "We're simply not the problem" when it comes to climate change.
Responding to the WWF analysis, a government spokesperson said: "These misleading claims fail to recognise the £12bn we already pledged to spend at the recent Spending Review in support of our ten-point plan for a green industrial revolution.
"The Budget built on that with further funding allocations and ambitious plans on green finance and the UK Infrastructure Bank, which will help finance green projects across the UK.
"The UK is a world leader in the global effort to tackle climate change, growing our economy by 78 per cent while cutting emissions by 44 per cent over the past three decades and being the first major economy to legislate to reach net-zero emissions by 2050."
Join our new commenting forum
Join thought-provoking conversations, follow other Independent readers and see their replies