Climate crisis: Sir Keir Starmer condemned by environmental activists for flying to Edinburgh
Labour leader accused of lacking sincerity over green issues
Joe Sommerlad
Monday 19 April 2021 13:22 Comments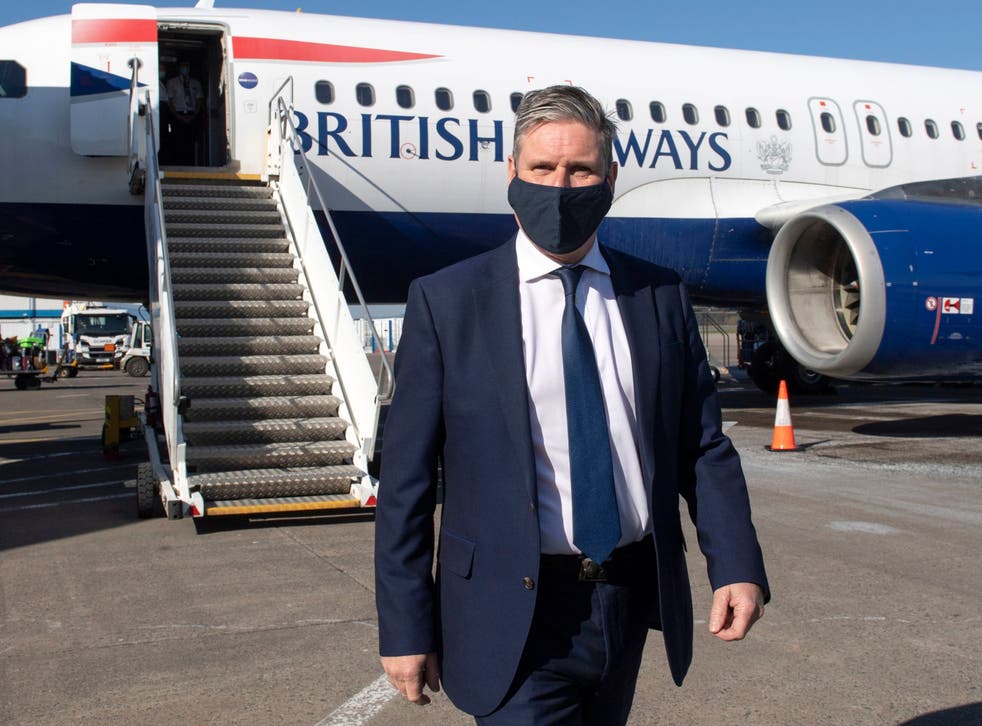 Labour Party leader Sir Keir Starmer is attracting criticism after flying from London to Edinburgh to film a campaign advert for the upcoming local elections.
Sir Keir flew to Edinburgh Airport over the weekend to meet with his Scottish Labour counterpart Anas Sarwar, posting a video of his arrival on Twitter in which he pointed to the facility's empty shops and promoted the party's national recovery plan, pledging 170,000 new jobs.
The airport is currently only open to "essential travel" because of the coronavirus pandemic and Sir Keir's political opponents were quick to point out he could have taken the train instead to reduce his carbon footprint, given that he has previously called for "a green new deal hardwired into every level of government".
Mr Sarwar meanwhile only launched his "Green Labour" initiative on 8 April, which includes a pledge to plant 15,000 new trees a year in Scotland.
Patrick Harvie, co-leader of the Scottish Green Party, tweeted in response: "Last week they were trying to pass themselves off as 'Green Labour'. This week, they don't seem to know there's a train from London to Edinburgh. Want Green? Vote Green. Vote like our future depends on it!"
Mr Harvie's co-leader Lorna Slater joined in, tweeting: "Launching your manifesto at an airport, isn't very green. If you want green, you have to vote Green."
"Quick update on how seriously the 'leader' of the 'opposition' takes the unfolding horror of the climate catastrophe... seen here taking a domestic flight from London to Edinburgh, talking up the aviation industry as central to economic recovery plans... Are you f**king KIDDING US?" wrote the Manchester arm of Extinction Rebellion in a tweet.
Members of the public were equally indignant.
"Did you seriously fly to Scotland?" Linsley Howell asked on Twitter. "When a train is under five hours? When we are due to host COP26? I wasn't sure that I could be more unimpressed by you but you've managed it."
Ness Williams tweeted: "We are in a climate emergency. Take a train or drive. Short haul flights needs to become a thing of the past. Absolutely disgusting."
The political blog Guido Fawkes meanwhile calculated that taking the train would have reduced Sir Keir's carbon footprint by 90 per cent.
A spokesman for the Labour leader responded: "Keir was on a visit to Edinburgh Airport to talk about providing crucial support for the airline industry at this difficult time."
Register for free to continue reading
Registration is a free and easy way to support our truly independent journalism
By registering, you will also enjoy limited access to Premium articles, exclusive newsletters, commenting, and virtual events with our leading journalists
Already have an account? sign in
Join our new commenting forum
Join thought-provoking conversations, follow other Independent readers and see their replies