Climate crisis: Australian islanders say homes being 'eaten away' by rising sea levels
'Something has to be done right now ... don't wait for the time when we're going to be moved off and be refugees in our own country'
Joe Sommerlad
Thursday 15 April 2021 13:48 Comments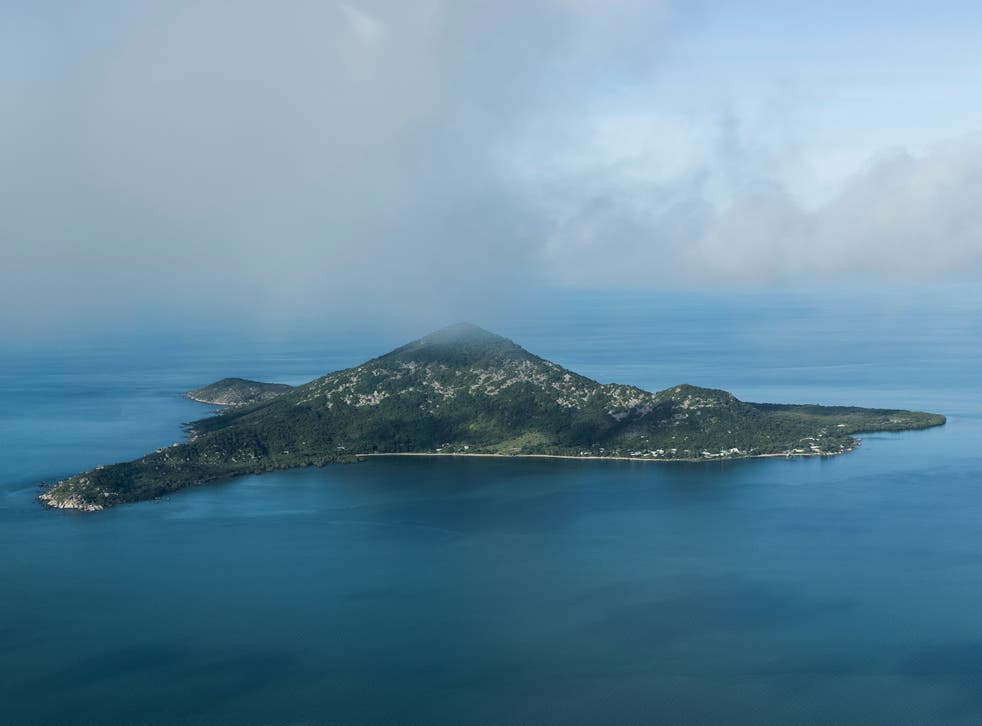 Islanders who live in the Torres Strait off the northern tip of Australia are awaiting a ruling from the UN Human Rights Committee after they complained that Canberra is not doing enough to protect them from the devastating effects of the climate crisis.
They fear they are slowly losing both their low-lying homelands and their way of life as a result of rising sea levels, which are thought to be increasing at a rate of 6-8mm a year because of global warming, as well as associated issues such as coastal erosion and flooding.
In 2017, crashing waves caused a sacred burial ground on Masig Island to become deluged with seawater and the bones of local residents' long-buried ancestors to be exhumed and washed away.
Local craftsman Yessie Mosby, 38, found the skeletal remains of his great-great-grandmother beneath a tree on the beach, prompting him and seven other islanders, known collectively as "the Torres Strait Eight", to file their complaint with the UN in May 2019.
"Our fear is getting evacuated off this place," Mr Mosby told the BBC. "Leaving our genealogy behind, our lineage behind, leaving our family remains behind. Having our life become a history.
"We've been free here for thousands of years. Our fear of getting moved off this home, off our home, is scary."
"We didn't contribute nothing towards the fossil fuels and all the burnings and hustles and bustles, what's happening around," he adds. "We didn't contribute nothing and yet we're at the frontline and getting the impact of everything. I know it's not right."
The case represents an unprecedented example of an indigenous group launching a legal battle against its own government over climate change, the Torres Strait Eight arguing that Australia should be doing much more to safeguard its citizens from the consequences of the environmental crisis, arguing for a drastic reduction in emissions and requesting £11m in funding for new sea defences in the South Pacific.
The claimants are being represented by UK-based counsel Sophie Marjana, who told ABC News Australia: "This claim is internationally important because it's the first case that is brought by very climate-vulnerable people against their own home state.
"It is the first time a claim has been brought based on the right to culture and the first claim directly against the Australian federal government's climate policy."
However Scott Morrison's administration claims it cannot be held individually responsible for a global catastrophe and has already committed to cutting its 2005 emissions levels by 26 per cent by 2030.
The UN, which is due to deliver its verdict on the matter soon, has previously stated that the country is not on target to meet that goal.
"The government's policies regarding climate change are consistent with its international human rights obligations," a spokesperson for the country's attorney general, Christian Porter, said.
"The government has responded to the complaint in accordance with the committee's procedures. It is now for the committee to consider submissions."
Warraber Island claimant Kabay Tamu laughed off Canberra's position in conversation with ABC, commenting: "They tried to say that it's not happening right now, but no one has come up to see the impacts."
The islanders have meanwhile won support for their cause on social media, with thousands signing a Facebook petition backing their protest.
"I think this is a really important and creative effort to better link human rights with the impacts of climate change," Professor Margaret Young of Melbourne Law School told the BBC.
"It's not always the case that countries follow the Human Rights Committee reports, which are intended as recommendations for countries and are not binding. However they are persuasive for other courts and for other legal bodies. I think factually the sea level rise in the Torres Strait lends itself to a case such as this in very stark terms.
"Were the Human Rights Committee to rule in favour of the Torres Strait islanders in this case, we would have on the record the very strong recognition of the impact that climate change is having on human rights," she continued.
"This would be a signal to Australia and the rest of the world that, in order to comply with our human rights obligations, we do need to mitigate climate change and increase our responses to the urgency of the problem."
But Mr Mosby says the need for a decision from the committee is urgent and will determine the future not just of the islands comprising the themselves but the survival of his people's native culture.
"As we are waiting, our home is being eaten away," he said. "Something has to be done right now. Don't wait for the time when we're going to be moved off and be refugees in our own country. Save it while you can now."
Register for free to continue reading
Registration is a free and easy way to support our truly independent journalism
By registering, you will also enjoy limited access to Premium articles, exclusive newsletters, commenting, and virtual events with our leading journalists
Already have an account? sign in
Join our new commenting forum
Join thought-provoking conversations, follow other Independent readers and see their replies